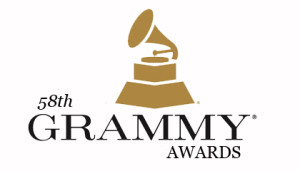 Artists that win big and/or performer on the Grammy Awards traditionally see an immediate and solid bump in their album sales. But for the most part, the big names at the 58th annual ceremony held last Monday received only a modest increase, according to StreetPulse. No surprise, as the TV ratings were their lowest since 2009.
This year's biggest gains? Hamilton (Atlantic Records), which won for Best Musical Theater Album, saw its sales more than double as it rose from #8 to #3. Sales of the 2016 Grammy nominees album (Republic Records) also doubled and climbed from #11 to #4.
Other top gainers were 3x winners Alabama Shakes whose Sound & Color album moved up to #7 from #12 and the evening's biggest winner, Kendrick Lamar, whose To Pimp a Butterfly climbed from #32 to #11.
The top spot continued to be held by Adele's 25 which received a 25% bump, followed by David Bowie's Blackstar which rose from #3-2. Adele had noticeable sound problems during her performance and Bowie received posthumous exposure via Lady Gaga's tribute medley of his hits.
Elsewhere, longtime music journalist Paul Grein, writing in industry trade magazine, HITS, appears to have stumbled upon imminent rules changes that the National Academy of Recording Arts and Sciences (NARAS) are prepared to enact. NARAS members have enjoyed voting privileges for life but it sounds like that may no longer be the case.
Grein asked NARAS President Neil Portnow about it and got this response: "If you're a member and you're about to renew, you will have to go through a requalification submission of the application. To the extent that you meet those requirements and you're current and actually a practicing member of the industry, you can continue to have the ability to be a voting member. If not, you can continue as an associate member, but not voting, so that's a big step in keeping the current membership relevant."
The upshot? Per Grein, who noted the "safe, establishment" choice of Taylor Swift's 1989 which earned Album of the Year honors, "the hipper choice may actually win." He notes: "So the Recording Academy will check to see that its members are still currently working in the industry every five years."
Click here for Best Classic Bands coverage of the broadcast.

Latest posts by Best Classic Bands Staff
(see all)