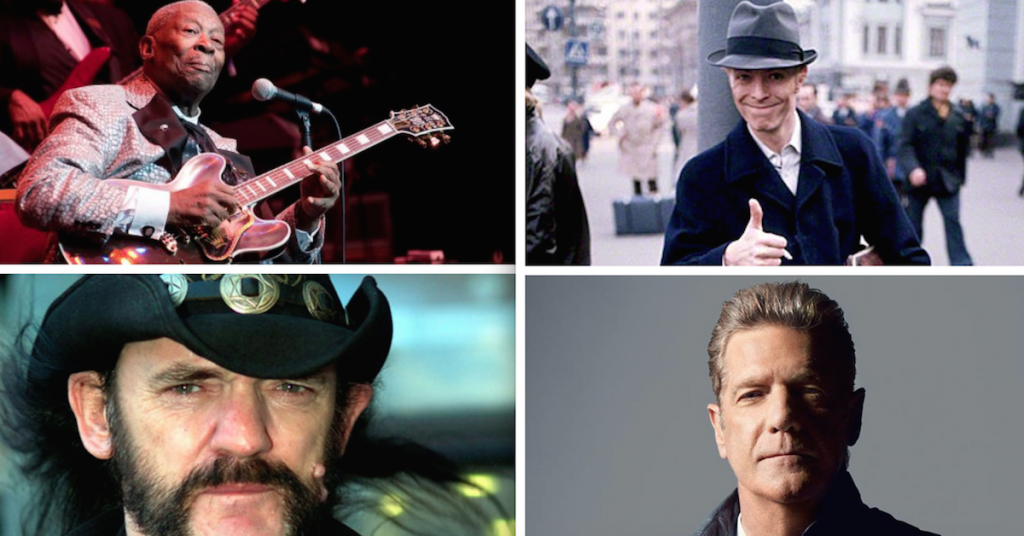 Music lovers were shaken by a sobering start to 2016 with the deaths of classic rock legends like David Bowie,  Glenn Frey, Jefferson Airplane's Paul Kantner and Signe Toly Anderson, Natalie Cole and Maurice White. This year's 58th Grammy Awards featured tribute performances for several of them as well as B.B. King, who died in June 2015, at the Staples Center in Los Angeles.
The first tribute was for White as Stevie Wonder and Pentatonix sang Earth, Wind & Fire's "That's the Way of the World."
Next up were Eagles members Don Henley, Joe Walsh and Timothy B. Schmit joined by their friend Jackson Browne and former Eagle Bernie Leadon to pay tribute at the Grammy Awards to Glenn Frey on "Take it Easy," the band's breakthrough hit that Frey famously helped Browne finish writing.
Supergroup The Hollywood Vampires put together a performance to honor Motörhead's Lemmy Kilmister who died in late December. "We started this band as a means to toast our 'dead drunk friends' at the Rainbow, all the ghosts at the bar, and now I guess Lemmy is involved in that too," Alice Cooper explained to Rolling Stone. The Vampires consist of Cooper, Aerosmith's Joe Perry, Guns N' Roses' Duff McKagan, Johnny Depp and a rotating cast of other musicians. As for Gaga's Bowie tribute, Grammys producer Ken Ehrlich says, "It's going to be a true homage to who David was, particularly musically, but not ignoring his influence on fashion and pop culture in a much broader way."
Before introducing The Hollywood Vampires, Dave Grohl talked about Lemmy: "He was a legend and I was proud to call him my friend."
Given Lady Gaga's outstanding rendition of the National Anthem at #SuperBowl50, we expected big things from her David Bowie tribute. With a full band – including Chic mastermind Nile Rodgers – she was dressed in a typically outrageous outfit and sang a career-spanning medley: "Space Oddity," "Changes," "Ziggy Stardust," "Suffragette City," "Rebel Rebel," "Fashion," "Fame," "Under Pressure, "Let's Dance" and "Heroes."
Another group of artists – Gary Clark, Jr., Bonnie Raitt and breakout country star Chris Stapleton – put together a Grammy tribute of their own for blues legend B.B. King, who died last May.
Raitt talked about "the thrill that is never really gone" in introducing the band, which launched into a heartfelt version of King's hit as Stapleton, Clark and Raitt took turns on lead vocals.
"It's been a tough year," Ehrlich admitted to The Los Angeles Times. "We knew we wanted to do something for B.B. He was really one of our special Grammy guys." Over the course of his life – 89 years – King received 15 Grammys as well as a Lifetime Achievement Award in 1987.
A few days later, Raitt wrote on her Facebook page: "It was my pleasure to honor the memory and incredible legacy of the great BB King on the GRAMMY stage on Monday night. The outpouring of support and appreciation for our performance has been very, very moving and I want to thank Chris Stapleton for asking me to join the tribute. Performing with Chris, Gary Clark Jr and the other musicians with BB shining down on us in the video montage, his beautiful guitar, Lucille, perched beside us, is something I will never forget. Thank you, Ken Ehrlich and the entire team at The GRAMMYs for pulling off another terrific show and making us always feel so welcome. Until next time… – Bonnie"
Read Best Classic Bands contributor Jim Sullivan's take on the deaths of older rock legends here.
(If you're a new reader of ours, we'd be grateful if you would Like our Facebook page and/or bookmark our Home page.)

Latest posts by Best Classic Bands Staff
(see all)