Gold Star Recording Studio: Behind the Scenes of Some of L.A.'s Earliest Rock Hits
by Harvey Kubernik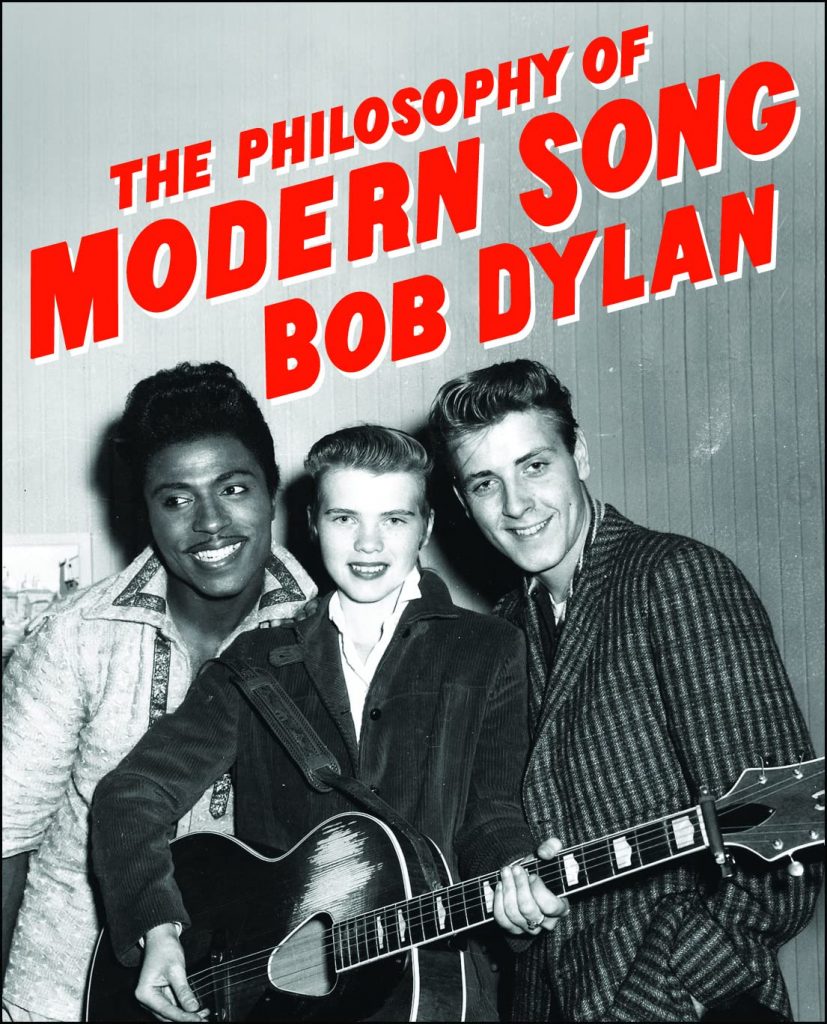 A 1957 photo (left) of American singers Little Richard, Alis Lesley and Eddie Cochran in Australia graces the cover of Bob Dylan's next book, The Philosophy of Modern Song, which will be published by Simon & Schuster in November 2022. Both Dylan and Cochran recorded at the landmark Gold Star Recording Studios in Hollywood, California.
Paul McCartney, as a 15-year-old, performed a version of Cochran's record "Twenty Flight Rock" when he auditioned for John Lennon on July 6, 1957, in Liverpool, England.
It's time to examine Gold Star's audio legacy and Eddie Cochran.
***
There it sat, another anonymous cinderblock facade in the working-class section of Hollywood, far off the map of celebrity homes. But discerning eyes and ears knew that, behind this unprepossessing veneer, there lurked an authentic powerhouse of star-making capacity. This was Gold Star Studios, ground zero for transforming the fervid imaginings of pop music's visionaries into three intoxicating minutes of backbeat and hum.
Like Merlin's apprentices, engineers Stan Ross, Dave Gold and Larry Levine presided over this exercise in alchemy, where inspiration and perspiration produced hit after hit. Their clients included—take a deep breath—Eddie Cochran, Ritchie Valens, Jack Nitzsche, Phil Spector, Herb Alpert and the Tijuana Brass, Sonny and Cher, Cher as a solo artist, Buffalo Springfield, Hugh Masekela, Gloria Jones, the Righteous Brothers, Brian Wilson with the Beach Boys, Iron Butterfly, Harry Nilsson, the Chipmunks, Chris Montez, Dick Dale, Bobby Darin, Johnny Burnette, Dorsey Burnette, Bob Dylan, Ronnie Spector, Darlene Love, Jackie DeShannon, Led Zeppelin, Duane Eddy, Kim Fowley, the Band, the Seeds, the Monkees and the Turtles. Even Boris Karloff.
Related: More about Dylan's forthcoming book
"Gold Star felt and sounded different from any other L.A. studio," said the Turtles' Howard Kaylan. "You could literally smell the tubes inside the mixing board as they heated up. There was a richness to the sound that Western and United, our usual studios, never had. Those two rooms sounded clean, while Gold Star felt fat and funky. Perhaps we were all reading too much of the Spector legacy into the room, but I don't think so. Our recordings from Gold Star always just sounded better to me. I miss that room."
Listen to the Beach Boys' "Do You Wanna Dance," recorded at Gold Star
***
Stan Herbert Ross was born in Brooklyn in 1929. At age 15, he moved with his parents to Los Angeles, where his father worked as an electrician in Hollywood. He enrolled at Fairfax High in 1946 and began writing a music column in the Fairfax Colonial Gazette called "Musical Downbeat."
As a teenager, Ross worked at Electro-Vox for four years and studied recording from a pioneer of modern disc recording, Bert B. Gottschalk. Following this apprenticeship, Ross was ready to set up his own shop.
In a 2000 interview with this author (portions were published in my 2014 book, Turn Up the Radio! Pop, Rock and Roll in Los Angeles 1956-1972), Ross described the history and mystery of the Gold Star atmosphere. "Gold Star used to be a dentist's office," he said. "We started pulling teeth a different way." Built in 1950, Gold Star endured at 6252 Santa Monica Boulevard until a fire destroyed the property in 1984. Upon closing that year, the property became a mini-mall.
"Gold Star was built for the songwriters," Ross said. "They were fun, wonderful people to be around—Jimmy Van Heusen, Jimmy McHugh, Frank Loesser, Don Robertson, Sonny Burke."
Johnny Crawford's "Cindy's Birthday," Dobie Gray's "The In Crowd" and Chris Montez's "Call Me" were Gold Star creations. Global music cult hero Scott Engel (later Scott Walker of the Walker Brothers) first cut his teeth at Gold Star doing a variety of menial tasks while attending Los Angeles High School and playing bass with the favorite band on campus, the Routers.
Phil Spector produced just about all of his 1958-1966 sessions inside Gold Star. Brian Wilson was a regular Gold Star visitor and client for many years. In that room, he produced the Beach Boys' "Do You Wanna Dance," "Wouldn't It Be Nice," the original version of "Heroes and Villains," and "I Just Wasn't Made for These Times," which featured the first usage of a theremin on a pop recording. A tiny portion of the first session of "Good Vibrations" was also tracked at the studio.
During 2000 I interviewed Ross. "We used Studio A. Eddie Cochran used our Studio B, down the stairs by the parking lot. He cut 'Summertime Blues,' 'Twenty Flight Rock' and 'C'mon Everybody' there. I cut 'Tequila' there, by the Champs The vocal of Ritchie Valens' 'Donna' was recorded at Gold Star. The backing track was done up the street at Bob Keane's studio. [He] owned Del-Fi Records. The studio's echo chamber] gave it the Wall of Sound feel. Dave [Gold] built the equipment and the echo chamber. We had so much fun with that echo chamber; it never sounded the same way twice.
"Gold Star brought an emotional feeling. It was not a dead studio. The room was 30 by 40 feet. It was all tube microphones. We kept tubes on longer than anyone else, because we understood that when a kick drum kicks into a tube, it's not going to distort. A tube can expand. The microphones with tubes were better than the ones without the tubes, because if you don't have a tube and you hit it heavy, suddenly it breaks up. But when you have a tube, it's warm and emotional. It gets bigger and it expands. It allows for impulse. We didn't use pop filters and wind screens—we got mouth noises. Isn't that life?"
No story on Gold Star would be complete without citing resident recording engineer Larry Levine, who passed away in 2008 on his 80th birthday. Levine joined Gold Star in 1952 and engineered albums for Eddie Cochran, the Beach Boys, and Sonny and Cher.
Levine won a Grammy in 1965 for his work on "A Taste of Honey" by Herb Alpert and the Tijuana Brass. Alpert later recruited Levine as chief engineer to design A&M Records' Studio B, modeled after Gold's "compact" studio blueprints, developed and first installed at Gold Star, and to oversee the first recording there.
"The Girl Can't Help It film. There's no soundtrack album to it," reflected former Rolling Stones manager/producer Andrew Loog Oldham in a 2006 interview we conducted. "The Gene Vincent and Eddie Cochran sequences aren't just slotted-in videos. I saw it before I saw Eddie play live. I saw them on-screen, and later in the U.K. at a personal appearance. Both galvanized me. Dark-haired guys didn't interest me, only blondes, because I could be it."
Watch Eddie Cochran sing "Twenty Flight Rock" in The Girl Can't Help It
"Eddie Cochran. A great one for sure," volunteered Slim Jim Phantom of the Stray Cats in a 2022 email. "We always say Eddie is the greatest rock star ever!"
During 2014, this writer interviewed record producer and songwriter Kim Fowley about Eddie Cochran and Gold Star.
"I went to Gold Star my first day in Hollywood, on February 3, 1959," he said. "It was the day Buddy Holly, Ritchie Valens and the Big Bopper died in an airplane crash in Iowa. I took it upon myself to take their place. I thought that they had passed the baton on to me from beyond. I thought it was my turn to take over.
"I met the legendary rockabilly cats Johnny and Dorsey Burnette in 1959. It was during that day in Hollywood at Gold Star, around a Champs recording session I was covering for Dig magazine. I was their campus correspondent and [was] invited to have lunch with Dorsey and Johnny, who were in to play on a long-forgotten B-side of a Champs single. Dave Burgess. The Burnette Trio were a band. In those days, pre-Beatles, you didn't sing and play at the same time and write. There was a songwriter, the musicians and there were the singers. Three different components who performed on the record. So Gold Star got me going.
"A year later, I was number one in the world. I produced 'Nut Rocker' in 1960 under the name B. Bumble and the Stingers on Transworld Records. I wasn't allowed to be in the room at the session, so I took a walk. René Hall was on guitar and bass, Al Hazan on piano, and Jesse Sailes was the drummer. I was just the publisher and the writer. I was 22 years old.
"I had a partnership with Gary Paxton. He was a hillbilly genius. One hustler and conceptualist. One musical and vocal guy. We did well, did work together, and we quit. We were both damaged goods, but interesting people in terms of what our product was. I then met Eddie Cochran and songwriters Sharon Sheeley, Jackie DeShannon and Eddie's record producer and co-writer, Jerry Capehart.
"I scored in 1960 with the Hollywood Argyles' 'Alley-Oop' on Lute Records. [They] were the white Coasters, with a black backing group that no one ever saw. Gary Paxton did the lead vocal, Sandy Nelson did the caveman yell, and a girl who was tall with red hair, who was dating Gary, was the high voice on the record. I was co-publisher and co-producer. Bill Parr was the engineer.
We did 'Alley-Oop' at American Recording Studio. The session recording had keyboardist Gaynel Hodge, a member of the Hollywood Flames who sang with the Platters and co-wrote 'Earth Angel' for the Penguins, as well as Harper Cosby, who was on Johnny Otis's 'Willie and the Hand Jive,' [and] drummers Sandy Nelson and Ronnie Selico, who worked with the Olympics and is heard on their 'Big Boy Pete.' Ronnie was also on the Marathons' 'Peanut Butter.' He later went with Ray Charles and Shuggie Otis, and is on Frank Zappa's Hot Rats album.
"I learned that you had to have black people with white people on my sessions to get the groove. We then marched into Gold Star, [which] had mastering facilities, and Stan Ross mastered the record. Stan proclaimed it was going to be a number-one record. He was right.
"As a visitor to Gold Star, it was the epicenter of teenage rock 'n' roll recording culture in 1959. If you were in Memphis, Tennessee, you would knock on the door of Sun Records. If you were in Detroit, Michigan, you would knock on the door at Motown. But in 1959, I went to Gold Star. 'Here I am. Let's see if I get accepted.' If you got accepted, you were off and running. You start at the top, and I did. So I will always be grateful.
"If a kid had a hundred dollars, he could cut a hit record at Gold Star if he saved it or got his friends and family to pitch in with band members. I later worked with their engineer, Doc Siegel, as well. You could go in there and not get intimidated, and you had equal footing with the legendary guys. I saw Eddie Cochran work at Gold Star. He invited me in to watch, listen and learn.
"I also attended Eddie's session for 'Sittin' in the Balcony' that came out on Liberty. I was the last guy to book Eddie Cochran in America before he died. He came out and did 'Three Steps to Heaven.' He died three weeks later in England.
"Go ask Paul McCartney and Keith Richards about Eddie Cochran. They've done his tunes on stage. So have Led Zeppelin and the Sex Pistols. The Who also did 'Summertime Blues.'"
Watch Phil Spector in action at Gold Star
Latest posts by Harvey Kubernik
(see all)