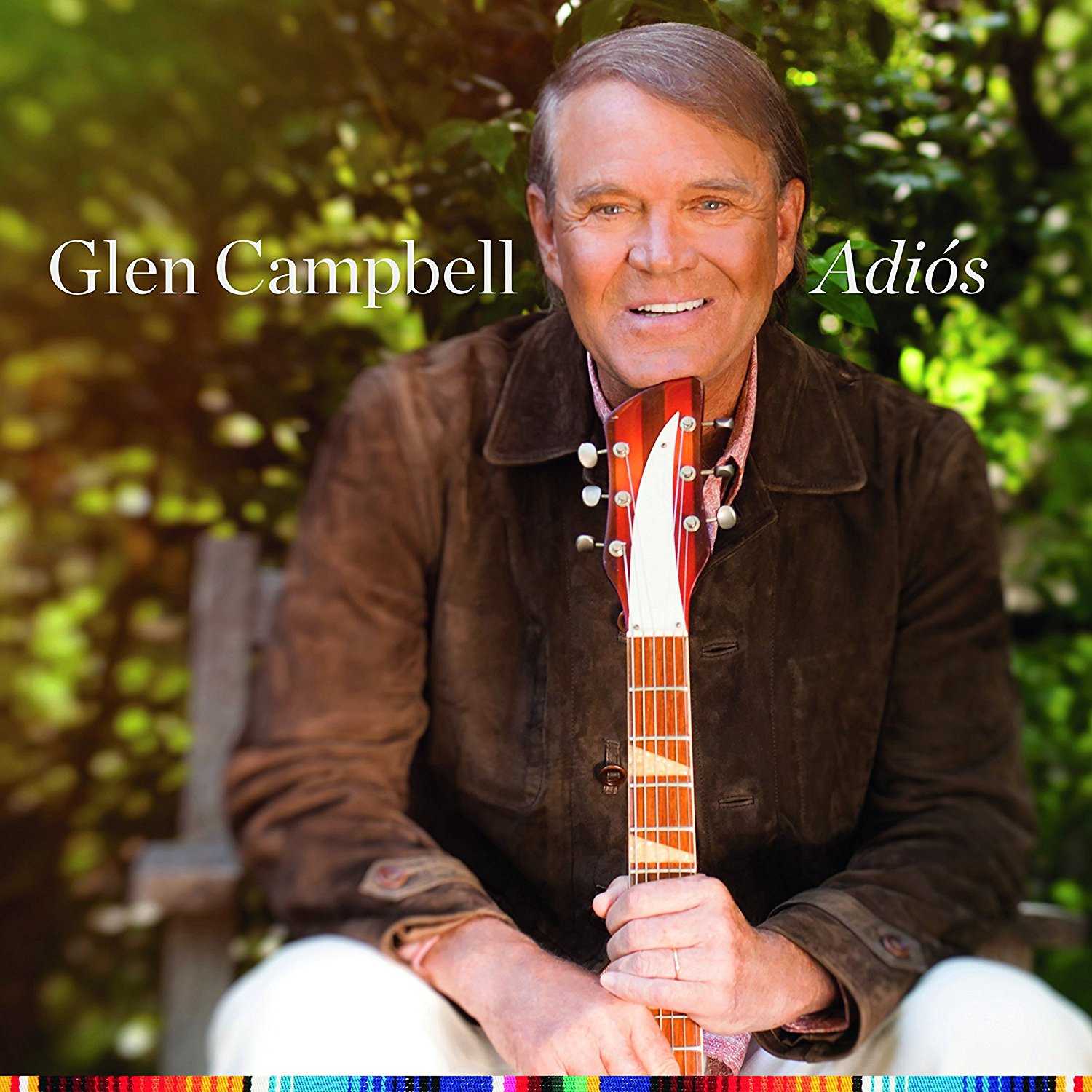 Glen Campbell's final studio album, Adiós, recorded following his 2013 "Goodbye Tour," will be released June 9 on UMe, capping off a career that has spanned more than five decades and 50 million albums sold. The album will be released on CD, vinyl and digitally and is available for pre-order here.
Two songs have been released: Campbell's cover of Fred Neil's "Everybody's Talkin'" and the title track, one of four songs from acclaimed songwriter Jimmy Webb. (Hear both below.)
Adiós was recorded at Station West in Nashville following the tour he launched after revealing he had been diagnosed with Alzheimer's disease. The album was announced on April 14 with an exclusive statement from Kim Campbell, Glen's wife of 34 years via People.com. In her notes, she reveals the genesis of the album, details the recording process and explains why Adiós is finally being released.
"A new Glen Campbell album coming out in 2017 might seem a bit odd since he hasn't performed since 2012, and even more odd – if not absolutely amazing – when you consider that he has Alzheimer's disease," she writes. "Glen's abilities to play, sing and remember songs began to rapidly decline after his diagnosis in 2011. A feeling of urgency grew to get him into the studio one last time to capture what magic was left. It was now or never."
An in-studio clip was released on May 22…
Listen to the album's first release, "Everybody's Talkin'," Campbell's take on the Fred Neil-penned hit made famous by Harry Nilsson in the film Midnight Cowboy…
From the announcement, the Campbells "turned to Glen's longtime banjo player and family friend Carl Jackson to helm the production and play guitar. Jackson, who joined Campbell's band in the early '70s as an 18-year-old banjo player, laid down some basic tracks and vocals for Campbell to study and practice. Jackson encouraged him every step of the way and although Campbell struggled at times because of his progressing dementia, he was clearly ecstatic about being in the studio."
The 12-track collection features songs that Campbell always loved but never got a chance to record, including several from Jimmy Webb, his longtime collaborator behind some of his biggest hits like "Wichita Lineman," "By The Time I Get To Phoenix," and "Galveston." In addition to the bittersweet title track, "Adiós," first popularized by Linda Ronstadt, Campbell also sings Webb's "Just Like Always" and "It Won't Bring Her Back." Campbell's sons Cal and Shannon and daughter Ashley join him on the album.
Related: Best Classic Bands' interview with Jimmy Webb
The announcement continues: Adiós sees Campbell putting his spin on several classic songs including "Don't Think Twice It's All Right," inspired by Jerry Reed's version of Bob Dylan's timeless tune. Other songwriters featured include Roger Miller with "Am I All Alone (Or Is It Only Me)," which begins with a home recording of Miller singing the tune at a guitar pull before going into Campbell's rendition with Vince Gill on harmonies; Dickey Lee's honky tonk heartbreaker "She Thinks I Still Care"; and Jerry Reed's Johnny Cash hit "A Thing Called Love."
Willie Nelson joins his old pal for a duet of Nelson's 1968 "Funny How Time Slips Away."
Campbell, who turned 81 on April 22, is in the final stages of Alzheimer's disease.
Listen to the title track, "Adiós"…
Before announcing his retirement from the studio and stage in 2013, after half a century of recording and touring, Campbell had won most every award and achieved every milestone available to musicians. Born in 1936 as the 12th child of a dirt poor sharecropper, he rose from his humble beginnings in rural Delight, Arkansas to become one of the best-selling solo male artists in U.S. chart history.
He first came to prominence as a guitarist with the Los Angeles studio musicians known as the Wrecking Crew, backing performers such as Elvis Presley, Frank Sinatra, The Beach Boys.
He has released more than 70 albums, selling 50 million copies. He helped bring country music to the masses as one of the genre's first crossover stars. He has earned 21 Top 40 hits, including two # 1's; 27 Top 10 Country singles, six Top 20 albums and nine #1 country albums.
Related: Three of Campbell's classic albums were recently re-released on vinyl
His biggest run of hits ("Gentle on My Mind," "By the Time I Get to Phoenix," "Wichita Lineman," "Galveston," "Rhinestone Cowboy," a signature song that became his theme in many ways, and "Southern Nights," just to name a handful) put him in the pop elite of the '60s and '70s, erasing the line between pop and country and helping pave the way for generations of others.
Watch Campbell perform one of his biggest hits…
A six-time Grammy winner, Campbell made history in 1967 with his first Grammy wins by sweeping the song and performance awards in both the pop and country and western categories. "By the Time I Get to Phoenix" won the pop honors and "Gentle on My Mind" took the two country and western trophies. Those two songs and "Wichita Lineman" are in the Grammy Hall of Fame. A member of both the Country Music Hall of Fame and the Musicians Hall of Fame, Campbell won Country Music Association's Entertainer of the Year, twice won the Academy of Country Music's Album of the Year award and was named Male Vocalist of the Year by both. In 2012, he was bestowed the Grammy's most prestigious honor, a Lifetime Achievement Award.
Campbell became an instant television success with his variety series, The Glen Campbell Goodtime Hour.
Related: The Glen Campbell variety show debuts in 1969

Latest posts by Best Classic Bands Staff
(see all)