Gerry Rafferty, 'Baker Street,' and That Sax Solo!
by Jeff Tamarkin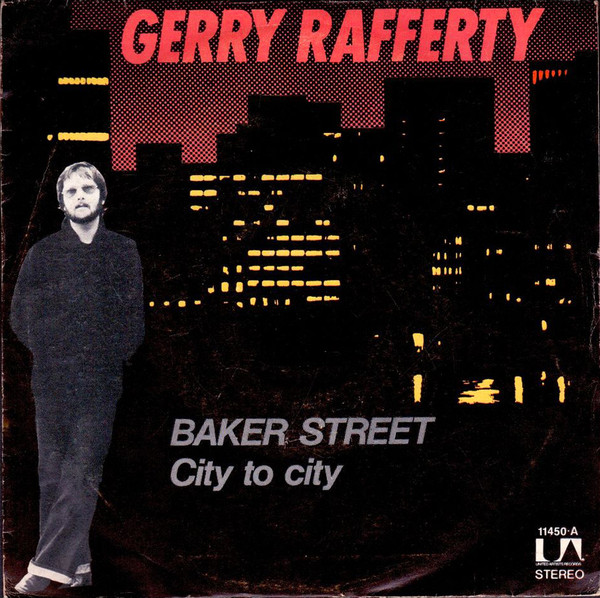 Countless hit vocal recordings include a memorable instrumental solo, but few are defined by them. Gerry Rafferty's "Baker Street" is one that is. The ex-Stealers Wheel co-leader ("Stuck in the Middle With You," #6, 1973) delivers a perfectly engaging vocal on his 1978 single—which peaked at #2 in Billboard in the U.S. and stayed there for six weeks—but it's arguable that just as many fell for that record because of the irresistible saxophone solo that turns up at the intro and the first break.
That saxophone was played by Raphael Ravenscroft, a British musician who was hired to contribute to Rafferty's first solo album, City to City, which included the soon-to-be-a-smash single. Ravenscroft, who died at age 60 on Oct. 19, 2014, was often asked about his role on the hit song—sometimes called the most famous saxophone solo of all-time, a dubious claim, beguiling though it is—and remembered, somewhat bitterly (and understandably) being paid a total of £27.50, the union session fee at the time, for his work on a recording that went on to sell millions of copies.
Ravenscroft's famous sax line is bold but simple and repetitive, not particularly innovative (Coltrane he isn't; he's not King Curtis or Junior Walker either) but catchy enough to connect with millions. Whether it was the sole reason that "Baker Street" was such a huge late-'70s hit is debatable, however. In fact, the ripping guitar solo that surfaces toward the end of the track, performed by Hugh Burns, is probably even more technically adept and original than the sax solo.
Watch Stealers Wheel perform "Stuck in the Middle With You"
But let's give Mr. Rafferty some credit here too—it was, after all, his record! Rafferty's composition—and its period-perfect arrangement, a straightforward tale set to a seductive melody and tied to an enticing chorus—was undeniably appealing on its own merits, and would likely have caught on even if Ravenscroft (and Burns) had never received the call.
Co-produced by Rafferty and Hugh Murphy, "Baker Street" was written, noted Rafferty (who was born on April 14, 1947), during a period when he was attending frustrating legal meetings to try to shake loose from his remaining financial ties to Stealers Wheel, the duo the Scottish artist had formed with Joe Egan earlier in the decade. Rafferty would often while away the after-hours with a friend at the latter's flat on London's Baker Street. Inspired at least in part by Colin Wilson's 1956 book The Outsider, about the longing for human connection, "Baker Street" became the focal point of Rafferty's debut solo album, recorded in 1977 and released on United Artists Records in January 1978.
"Baker Street" entered the American record chart that April, and although the newest rage was punk rock/new wave music, Rafferty's hit had nothing in common with that genre—instead, the track hewed closely to the folk-influenced singer-songwriter sound that was already in full bloom by the middle of the '70s. Like fellow Scotsman Al Stewart ("Year of the Cat," "Time Passages") and London's Dire Straits, Gerry Rafferty relied on good old craftsmanship and solid traditional singing and playing to put his mainstream music together. It caught on immediately.
The success didn't last though. Although Gerry Rafferty managed to squeeze out five more chart singles in the U.S. into 1980, and three albums as well—City to City went to #1; the two followups peaked at #29 and #61—his popularity soon receded.  (He reportedly declined to tour in the United States, which didn't help his visibility.) By the time MTV came into vogue in the early '80s, with its flashier artists and more modern techno productions, Rafferty was already old news.
Alcoholism claimed him, at age 63, on January 4, 2011, after a troubled post-success life that even found him making the news for an unexplained disappearance. Fellow singer-songwriters praised him upon his death, but to this day he is known largely as a two-hit wonder: one with the group he was trying to escape when he wrote the second hit, and that 1978 smash, which many remember not even for his role in it but that of the guy hired to play a £27.50 sax solo.
Listen to the extended version of "Baker Street" by Gerry Rafferty
Bonus video: Rafferty performs his hit on a German TV program in 1978
Related: The #1 singles of 1978

Latest posts by Jeff Tamarkin
(see all)