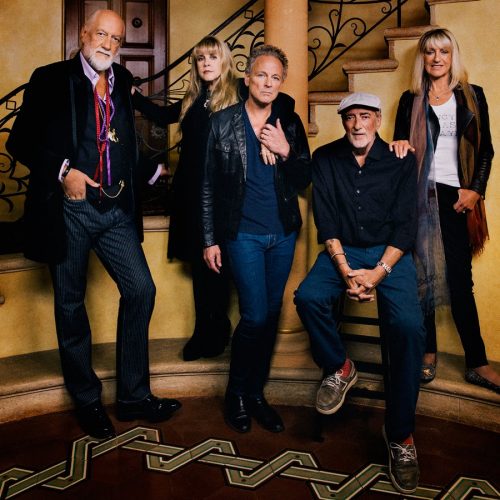 Their official itinerary only lists the two shows scheduled for this summer as part of the Classic East and Classic West festivals, but Fleetwood Mac reportedly plans a more wide-ranging tour for next year. Christine McVie, who on June 9 released her album of duets with Lindsey Buckingham (which also features Mick Fleetwood and John McVie), told a reporter in the U.K. on June 14 that the full band will begin rehearsals in March for a global tour that will launch next June.
Related: Our review of the Buckingham-McVie album
While Stevie Nicks, who has a handful of dates on her own calendar beyond the festival shows, has said that Fleetwood Mac will never again record as a group, she has not ruled out doing live shows. Nicks told Rolling Stone earlier this year that retirement is not on the table for her. "I'll never retire," she said. "My friend Doug Morris, who's been president of, like, every record company, said to me once, 'When you retire, you just get small.' Stand up straight, put on your heels, and get out there and do stuff. I want to do a miniseries for the stories of Rhiannon and the gods of Wales, which I think would be this fantastic thing, but I don't have to retire from being a rock star to go and do that. I can fit it all in."
Related: New Stevie Nicks song released
Nicks added that she didn't understand why Buckingham and Christine McVie felt the need to work outside of the group format. "I've been on the road [solo] since last September, so I don't understand their premise," she told Rolling Stone. "Christine was gone [from the group] for 16 years and came back, did a massive tour, and then it's like, 'Now I'm just gonna go back to London and sit in my castle for two years'? She wanted to keep working. I will be back with them at the end of the year for, I think, another tour. I just needed my two years off. Until then, I wish them the best in whatever they do."
Related: Recap of Fleetwood Mac's return to the stage at the July 16 Classic West concert
McVie appeared on BBC Breakfast on June 16 and reconfirmed the intention for the band to tour in 2018."Next year, fingers crossed, we're doing a Fleetwood Mac tour."
Watch McVie's extensive interview where she reflects on her career
Watch Fleetwood Mac in 2015 at the Isle of Wight
If you're a new Best Classic Bands reader, we'd be grateful if you would Like our Facebook page and/or bookmark our Home page.

Latest posts by Best Classic Bands Staff
(see all)