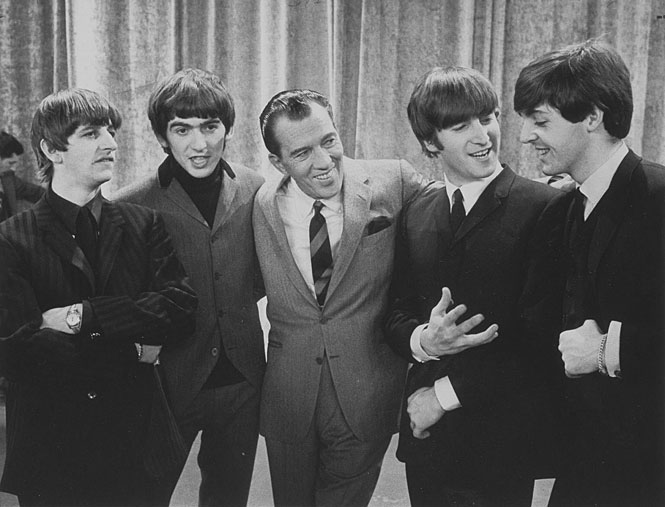 There was a time in America when Sunday night meant The Ed Sullivan Show. With its consistently strong ratings, a booking on the variety program was a golden opportunity for performers of any stripe, whether a puppeteer, plate spinner, comic or rock 'n' roll band, and everyone, it seemed—young and old—was in front of a TV set to watch the former newspaperman and his guests at the end of every weekend.
Sullivan wasn't a rock fan but he didn't let his indifference show, as some other hosts did. He was happy to present the biggest acts of the day and, of course, was instrumental in breaking some of the all-time greats, particularly Elvis Presley and the Beatles. He showcased R&B artists, including many of the Motown performers, and every type of rock band and solo artist. No matter how cool they thought they were, few turned him down (although Bob Dylan did walk off the set when told he could not sing the song he wanted to). Even if you'd played the hippest venues, you didn't really "make it" until you'd been on Sullivan.
Here are 10 classic Ed Sullivan Show performances.
10. The Rolling Stones—"Ruby Tuesday," "Let's Spend the Night Together" (1967)
Ed Sullivan didn't much like the Rolling Stones. Where he saw the Beatles as well-mannered gentlemen, he thought the Stones were a bunch of rude slobs. Nonetheless, the teenage viewers needed their fix of the day's biggest rock stars and Sullivan obliged, continuing to invite the Stones back after their initial 1964 appearance, in 1965, '66 and then again on Jan. 15, 1967, by which time they'd long become established as rock's bad boys. For their first song, the Brits, at their dandiest, with Brian Jones playing the recorder and Bill Wyman bowing an acoustic bass, first performed their hit "Ruby Tuesday." For their second song, they'd been cautioned earlier in the day that the CBS censors did not want to hear them sing the title phrase of "Let's Spend the Night Together." Instead, they were to substitute the phrase "Let's spend some time together." What happened—check Mick Jagger's eye roll at 4:28 in the clip—became rock 'n' roll history.
9. The Doors—"Light My Fire" (1967)
OK, so the Stones wimped out. And after that controversial "Let's spend some time together" moment earlier in the year, the Sullivan people just assumed that they could command any rock band to censor its lyrics and the musicians would comply, not wanting to jeopardize their chance to return to the show. So on Sept. 17, 1967, CBS informed the Doors that they could not sing "Girl, we couldn't get much higher" during their performance of "Light My Fire" because, well, drugs were bad. Needless to say, Jim Morrison was happy to follow orders and—nah, who are we kidding? This was Jim Morrison! He sang "higher" and when the Doors were later scolded and assured they'd never play Sullivan again, Morrison responded, "We just did The Ed Sullivan Show." (Unfortunately, only 40 seconds of the clip are available on YouTube.)
Read more about the Doors' controversial appearance on the show
8. Jefferson Airplane—"Crown of Creation" (1968)
You've got to wonder what the members of Jefferson Airplane were thinking when they agreed to appear on The Ed Sullivan Show. Here they were, the consummate psychedelic, anti-establishment San Francisco band, and Ed Sullivan was…Ed Sullivan. Did this mean they were selling out? Nah, everyone wanted to play for Ed, and the Airplane ("the number one rock group in the country," the host said) gamely did their part on Sept. 29, 1968, performing the title track from their fourth studio album, backed up by Glenn McKay's Head Lights with all of its pulsating liquid blobs.
7. The Beach Boys—"Good Vibrations" (1968)
They'd already been cranking out hits for nearly two years by the time Sullivan got around to showcasing the Beach Boys. He finally did so on Sept. 27, 1964, months after "I Get Around" had already landed the Californians their first chart-topper. It's all of two minutes but it's a keeper, Brian Wilson demonstrating his flawless falsetto, Mike Love hamming it up, Dennis Wilson driving the girls crazy, Carl Wilson ripping out a rocking lead and Al Jardine keeping the harmonies neatly in place. Four years later, on Oct. 13, 1968, they returned to offer "Good Vibrations," a much different sound, to the masses.
Related: The complete Sullivan archives are finally being released
6. Buddy Holly and the Crickets—"That'll Be the Day," "Peggy Sue" (1957)
"Four citizens of the sovereign state of Texas…the Crickets with one of their hit records," is how Sullivan introduced Buddy Holly and the boys on the Dec. 1, 1957, show. "That'll Be the Day" and "Peggy Sue" are faithfully reproduced, the group notably more subdued onstage than many of their contemporaries but packing a whole lot of pure rock 'n' roll into their two spots.
5. James Brown—"Papa's Got a Brand New Bag," "I Got You (I Feel Good)" (1966)
One can only imagine what some folks in the viewing audience made of James Brown's (or "Jim Brown," as Sullivan calls him before quickly correcting himself) fancy footwork and unfettered approach to soul music when he appeared on May 1, 1966. Sullivan provides an unusually long background intro ("he worked on a farm, picked cotton, worked in a coal yard and always sang his songs") and then there he is, unstoppable, at his peak, with those moves that no one else dared even try.
4. The Jackson 5—"I Want You Back" (1969)
The group of brothers from Gary, Indiana, had just started climbing the charts with their first hit for Motown when Sullivan—always a supporter of Berry Gordy Jr.'s stable of acts—booked them on the show. On the night of December 14, 1969, the nattily dressed kids first performed a cover of Sly and the Family Stone's "Stand" and a Smokey Robinson tune, "Who's Loving You." Then, for their third number, standing in a neat row and working out the choreography they'd been taught so well, they launched into their funky hit. Michael Jackson was 10 years old. From the moment he stepped up to the mic, there was no doubt that he was going to be a star—a very, very big star.
3. Janis Joplin—"Raise Your Hand" (1969)
By the late '60s, Ed Sullivan must have been wondering just what the heck was going on in popular music. Sure, he'd helped recharge the rock revolution when he brought over the Beatles, but these hippie types were something else altogether. Still, old Ed—or whoever was booking his musical acts by that point—understood success, and there was no denying that Janis Joplin was a superstar. Here, on March 16, 1969, she tears the roof off the place with her sweaty take on "Raise Your Hand," an uptempo soul stomper recorded a couple of years earlier by Eddie Floyd.
Related: When Bob Dylan walked out on Ed Sullivan
2. Elvis Presley—"Don't Be Cruel," "Love Me Tender" (1956)
Elvis Presley's first national television appearance did not take place on The Ed Sullivan Show but rather on The Dorsey Brothers Stage Show, in January 1956. Then came spots on programs hosted by Milton Berle and Steve Allen. It wasn't until September 9, 1956, that Sullivan—who had previously been reluctant to book him—finally showcased the singer, the first of three times he'd appear. Elvis sang four tunes on that maiden appearance, including a rollicking rendition of "Don't Be Cruel" on which he was accompanied by the Jordanaires vocal group, and "Love Me Tender," the theme from his first film. America was still here the next morning, but something about it was different. By the time Elvis made his third and final appearance on the show, he was famously shot only from the waist up, lest those impressionable young minds watching his gyrations be corrupted for life.
1. The Beatles—"I Want to Hold Your Hand" (1964)
The world changed—it really did—when Ed Sullivan introduced "these youngsters from Liverpool, who call themselves the Beatles," on Feb. 9, 1964. That initial appearance drew the largest television audience of all time, some 70 million people.
The Beatles—"Twist and Shout" (1964)
Every second of that first show was breathtakingly exciting, but the group's followups shouldn't be given short shrift. Watching them power through their definitive cover of the Isley Brothers' hit on Feb. 23, it's easy to get a feel for what it must have been like to be inside of the Cavern, knowing that some day, some way, the rest of the world would know what you already did.
Sullivan was born September 28, 1901, in Harlem and grew up in the New York City suburb of Port Chester, NY. He died at 73 on October 13, 1974, in New York.
Thanks to a 2020 deal with Univeral Music, thousands of clips from the program's library are being made available digitally for the first time. Many segments are being upgraded to high-resolution clips as part of UMe's curation efforts.
Related: Listings for 100s of current classic rock tours

Latest posts by Jeff Tamarkin
(see all)