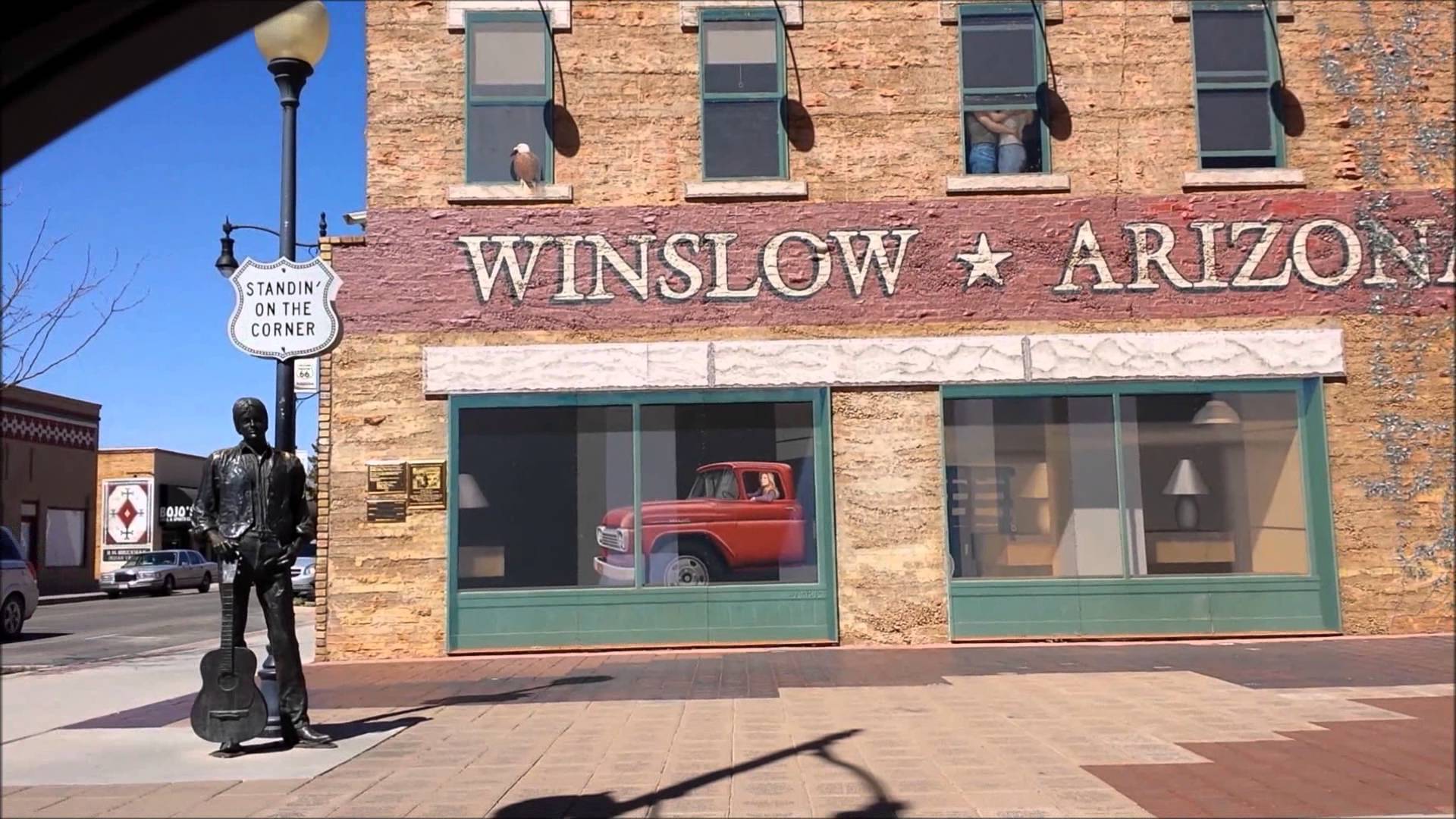 It's fascinating the impact that a classic rock song can sometimes have. In the summer of 1972, the first single from the debut album by Eagles, "Take It Easy," written by Jackson Browne and the band's Glenn Frey (who sings it), was a #12 hit. It includes the lines: "Well, I'm a standin' on a corner/in Winslow, Arizona/and such a fine sight to see/it's a girl, my Lord, in a flatbed Ford/slowin' down to take a look at me."
Situated on what was Route 66, once the main highway from Chicago, IL to Los Angeles, CA, Winslow was once the largest town in northern Arizona and a railroad hub. But when Interstate 40 bypassed downtown Winslow in 1979, the town's center took a hit. Tourism dried up, chain stores out on the Interstate led to downtown businesses closing, and the district becoming moribund.
But some enterprising locals decided to take a cue from the song, which is also on the band's best selling Their Greatest Hits (1971-1975) album, which has sold nearly 30 million copies in the U.S. and some 10 million more worldwide. They plopped down a life-sized statue of a fellow with a guitar on a downtown corner that used to be a popular local hang-out, had a mural with scenes from the song painted on a building wall behind it, and opened Standin' on the Corner Park on September 10, 1999.
For Winslow it's become such a fine sight to see, my Lord. Now some 100,000 people a year stop by to have their picture taken at the corner. There's an annual Standin' on the Corner Park Festival, which in 2022 takes place on Sept. 23-24. It has all given Winslow and its downtown a much needed economic boost.
Related: Eagles' 'Greatest Hits' now #1 U.S. album of all-time
Interesting factoid: The lyric refers to an actual incident in Browne's life that happened in East Flagstaff, AZ. But as far as the song goes, Browne told the Los Angeles Times, "It was always Winslow."
Related: Our review of a 2021 Eagles concert
Eagles tickets are available here and here.
If you're a new Best Classic Bands reader, we'd be grateful if you would Like our Facebook page and/or bookmark our Home page.

Latest posts by Best Classic Bands Staff
(see all)