Eagles Return to the Stage—Such a Lovely Place: 2021 Review
by Greg Brodsky
First a warning… If you're attending Eagles' Hotel California tour, be sure to be on-time. The classic rock legends returned to the stage in 2021 to resume the tour that was postponed in May 2020. The generous (31 songs) setlist begins with their 1976 album, performed in its entirety, sequentially. An Eagles 2021 tour review requires a reminder: Side One, Track One, is the title cut, which you won't want to miss.
The 2021 tour's second concert, on August 25, at New York's Madison Square Garden, was intended to be the first but it was delayed two days because of the drenching that tropical storm Henri did to the metropolitan area.
The band's performance was divided in two. Act One was led by their sole remaining founder, Don Henley, who at 74 still possesses one of music's finest male voices. He sang five of the album's eight vocal tracks, and at this performance his magnificent voice was bookended by "Hotel California" and the album's closer, "The Last Resort." Though the former has been one of rock's most-played tracks for its 45 years, it remains a treasure in concert. Henley carefully enunciates each familiar word and phrase ("colitas," "pretty, pretty boys," "you can never leave") and the twin guitar solos that conclude the song continue to amaze. (Steuart Smith, who has toured with them since 2001, performs the Don Felder part, which is juxtaposed with Joe Walsh's own solo.)
In between, Vince Gill, one of the group's "new kids," performed "New Kid in Town" (sung on the album by the late Glenn Frey) and "Try and Love Again" (written by and performed on the album by original Eagle Randy Meisner). On the former, harmonies by Timothy B. Schmit and Frey's son, Deacon, who, with Gill, joined Eagles' touring band in 2017, blended beautifully, earning a big ovation.
For "Life in the Fast Lane," Henley got up from his drum kit and strapped on a guitar. The song featured another pair of guitar solos from Walsh, including a lengthy one that finished its performance, as the audience cheered mightily.
Henley's vocal on "The Last Resort" was stunning and towards the end the stage lights revealed a full string orchestra, arranged by Jim Ed Norman, who served in the same role for the original album. "Everyone you see on stage has been vaccinated and tested today," said Henley. [Proof of vaccination was required to attend the performance.]
While Act Two, which they have dubbed "Every Other Song We Know," showcased all of their talents, its ringmaster was clearly Walsh. While he didn't take charge until the seventh song following the intermission, he was omnipresent with his backup vocals and nifty guitar work, in which he displays the "Joe Walsh face."
The hits set began with "Seven Bridges Road," with the whole gang lined up across the stage. Their harmonies were exquisite. It wasn't until the evening's eleventh number, with Henley back on drums, that young Deacon sang lead and he did so, fittingly, on "Take it Easy," the band's first hit in 1972, and that his dad originally sang.
More hits followed. "One of These Nights" ("It's good to be here," said Henley. "At this stage in the game, it's great to be anywhere."); "Take It to the Limit" (with Gill singing lead, as the audience joined in on such familiar lyrics as "would you still be mine"); "Tequila Sunrise" and "Witchy Woman."
Walsh led a rousing performance of his own "In the City," with a long extended solo, one of the evening's many highlights. Schmit delivered several songs including "I Can't Tell You Why." Frey returned to the mic. "It's such an honor for me to be up here with them," he said before singing "Peaceful Easy Feeling." He'd later sing "Already Gone." (Both are Jack Tempchin compositions.)
Before leading the band into "Life's Been Good," Walsh said, "It's easier being 20 in the '70s than 70 in the '20s," as the audience roared. [There needs to be a reality show called Being Joe Walsh. This must happen.]
More favorites followed, "The Boys of Summer," "Rocky Mountain Way," a super-funk-isized "Funk #49," and "Desperado," among them.
It was such a fine sight to see.
Eagles have announced their final tour. Tickets are available at Ticketmaster and StubHub.
Related: Our interview with Eagles producer Bill Szymczyk on the making-of the Hotel California album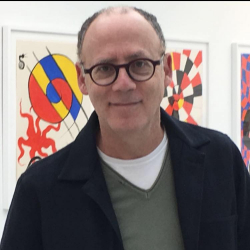 Latest posts by Greg Brodsky
(see all)