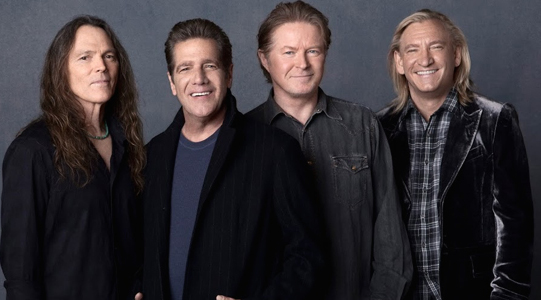 It'll be a bittersweet event this fall when the Eagles receive Kennedy Center Honors. The classic rock band are among five entertainers that have been chosen for the prestigious occasion, one year after they were selected but chose to delay the 2015 honor when band member Glenn Frey took ill. No one would've known at the time that Frey's medical issues would have resulted in the rock star's death, on January 18 of this year, due to to complications from rheumatoid arthritis, acute ulcerative colitis and pneumonia.
The John F. Kennedy Center for the Performing Arts announced the selection of five Honorees who will receive the 2016 Kennedy Center Honors. Besides the Eagles, the recipients to be honored at the 39th annual national celebration of the arts are: singer-songwriter James Taylor, actor Al Pacino, gospel and blues singer Mavis Staples, and Argentine pianist Martha Argerich. The event will be broadcast December 27 on CBS.
"The Kennedy Center Honors celebrates the spectacular talents of artists whose brilliance has left a lasting impact on our society," stated Kennedy Center Chairman David M. Rubenstein. "These Honorees represent what is possible when creativity is not just cultivated, but unleashed. The Eagles's ambitiously themed albums epically merged the American West and rock n' roll, paving the way for unconventional music makers and artists to come; Al Pacino has embodied some of the most powerful characters of our time on both the stage and silver screen; Mavis Staples's unmatched gospel and rhythm and blues masterpieces span 60 years and even served as a musical backdrop to Dr. Martin Luther King Jr.'s campaign for Civil Rights; and James Taylor's warm baritone and poetic lyrics embody the art of songwriting, making him one of the defining musical figures of our time and his music the soundtrack of our country."
Related: The Eagles postpone 2015 Kennedy Center Honors
On December 4, in a star-studded celebration on the Kennedy Center Opera House stage, the 2016 Honorees will be saluted by fellow performers from New York, Hollywood, and the arts capitals of the world. Seated with the President of the United States and Mrs. Obama, the Honorees will accept the recognition and gratitude of their peers through performances and tributes.
The Honors will be recorded for broadcast on the CBS Network for the 39th consecutive year as a two-hour primetime special on December 27 at 9 pm ET.
Among the Center's 200 recipients since they were started in 1978 are such rock and pop music legends as Led Zeppelin, Sting, Billy Joel, Paul McCartney, Bruce Springsteen, The Who, and many more. For years, it was strictly a highbrow affair with Honorees like Fred Astaire, Leonard Bernstein, and so on. It wasn't until 1994 when a more contemporary music icon, Aretha Franklin, was first selected. Since then, the committee has chosen performers from the classic rock era virtually every year.
Here are 2016 Honorees Taylor and Staples, ironically, paying tribute to McCartney at the 2010 event…
Don't miss a post! Sign up for Best Classic Bands' Newsletter; form is on every page.
For the second year, the Kennedy Center will launch a contest on social media (#SendMeToHonors) in which one winner will receive two tickets to attend the 2016 Honors Gala on December 4. Additional details will be announced at a later date.
The Honors recipients recognized for their lifetime contributions to American culture through the performing arts—whether in music, dance, theater, opera, motion pictures, or television—are confirmed by the Executive Committee of the Center's Board of Trustees.
The Eagles are one of the most influential and commercially successful American rock bands of all time. With their profound lyrics, harmonies, and country-tinged melodies, they created a signature Southern California sound. The Eagles have sold more than 120 million albums worldwide, have scored six number one albums, and have topped the singles charts five times.
Over the course of his celebrated songwriting and performing career, Taylor has sold more than 100 million albums, earning gold, platinum, and multi-platinum awards for classics ranging from Sweet Baby James in 1970 to October Road in 2002. In 2015, Taylor released Before This World, his first new studio album in 13 years, which earned him his first ever #1 album on the Billboard Charts and a Grammy® nomination for Best Pop Vocal Album. He has won multiple Grammy Awards® and has been inducted into both the Rock and Roll Hall of Fame and the prestigious Songwriters Hall of Fame.
(If you're a new Best Classic Bands reader, we'd be grateful if you would Like our Facebook page and/or bookmark our Home page.)

Latest posts by Best Classic Bands Staff
(see all)