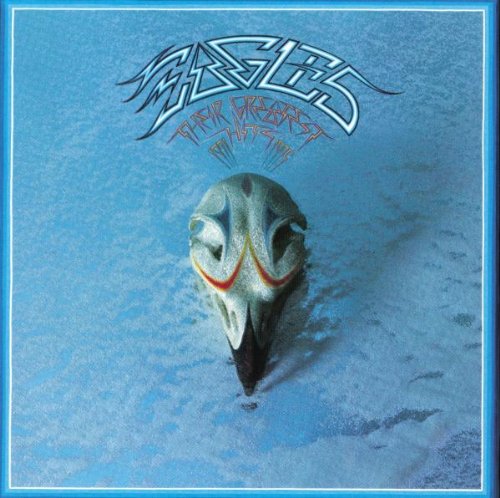 Upon its release on February 24, 1976, Eagles' Their Greatest Hits (1971-1975) became the first album to receive a Platinum award from the Record Industry Association of America, commemorating sales of one million albums (and cassettes and 8-tracks).
Twenty-three years later on this day, the RIAA named it the 20th Century's top-seller.  At that point, it had earned sales (in all configurations, including CD) of… 26 million! It hit the 29 million mark in 2006 putting it in a tie with Michael Jackson's Thriller for top U.S. sales.
That was the last time that sales were tallied, until 2018, when the RIAA announced that the Eagles' hits collection had achieved U.S. sales of 38 million, making it the sole #1. (Thriller's sales have slowed down, to 34 million.)
Their Greatest Hits features just 10 songs including the #1 hits "Best Of My Love" and "One Of These Nights," plus such early Eagles hits as "Take It Easy" (#12), "Lyin' Eyes" (#2) and "Take It To The Limit" (#4).
Ironically, some of these "greatest hits" weren't hits at all. "Tequila Sunrise" only reached #64. "Already Gone" peaked at #32. "Desperado" was never released as an Eagles single!
At the time of its release, the band had only put out four albums; one per year between 1972 and 1975. A second compilation, Eagles Greatest Hits, Vol. 2, followed in 1982.
Related: Their Greatest Hits now #1 U.S. album of all-time
The group's top-selling studio album is 1976's Hotel California, which includes two #2 singles: "New Kid in Town" and the title cut. It has sold a reported 26 million copies in the U.S..
Since 2017, the rejuvenated Eagles have been augmented with two live performance members—Vince Gill and Glenn Frey's son, Deacon. Tickets for their 2024 concerts are available at Ticketmaster and StubHub.

Latest posts by Best Classic Bands Staff
(see all)