There really was a band called the Sultans of Swing. They were playing their jazz in a near-empty pub in South London one night in 1977, noticed by no one—except Mark Knopfler. The guitarist and singer of a brand new band called Dire Straits, Knopfler found it amusing, in an ironic way, that this band with the fancy name was holed up in a seedy dive, doing their best to entertain and receiving a shrug for their efforts.
He went home and wrote a song loosely based on what he'd witnessed—these luckless but dedicated musicians, trying as best they could to reach the few people nursing their Guinnesses—but Knopfler wasn't especially happy with what he'd composed. Perhaps, he thought, if I play it on my new Stratocaster instead of an acoustic steel guitar, it might have more life to it.
That was the ticket. Knopfler retooled his composition, speeding it up and leaving plenty of space for his Strat to shine, and went into the studio in July 1977 with the band—his brother David on rhythm guitar and backing vocals, John Illsley on bass and backing vocals and Pick Withers playing drums—to cut a demo recording of the tune.
"Sultans of Swing" nabbed Dire Straits a recording deal with Phonogram in the U.K., which sent them back to the studio to re-record the song, and released on May 19, 1978, as part of what would become the group's debut album. Meanwhile, Warner Bros. in the U.S. inked the band to a contract. The album, simply titled Dire Straits, somehow found a following in the U.K., which, when you think about it, was somewhat unusual, considering that the country's rock audience was deeply into punk-rock at the time and openly contemptuous of anything that smacked of old-school, which Dire Straits undeniably did. Knopfler sang like Dylan, his guitar playing was crystalline and devoid of rough edges—the band's style owed more to what we now call Americana than anything that was happening on a large scale in England in 1978.
Perhaps, though, there was a backlash bubbling under—people who weren't all that interested in punk's aggression and minimalism and who craved good old guitar solos and songs that told a more universal story. Maybe there were just enough listeners who appreciated that this band had something substantial to offer. Whatever it was, the album landed at #5 in the U.K.
But what of the song that had gotten them signed in the first place?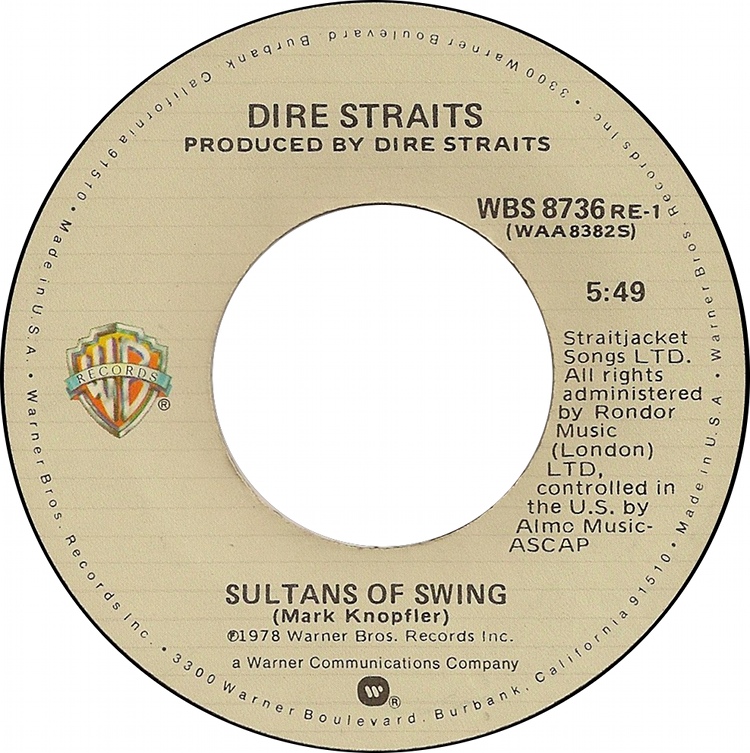 "Sultans of Swing" was not a hit at first. Despite the album's positive reception in the band's homeland, they couldn't crack the singles chart. In America, where the album was released in October 1978, nothing was happening with it either. Not until five months later, that is, when New York's WNEW-FM started playing it. Other American album rock radio stations picked up on the tune and when Warner Bros. re-released it as a single, this time it clicked, in early 1979. Eventually, "Sultans of Swing" climbed all the way to #4 in the U.S. and, with the U.K. label following suit, rose to #8 there. The Dire Straits album, meanwhile, benefited from the single's success, rocketing to #2 in America and #5 at home.
Watch Dire Straits perform "Sultans of Swing"
Related: Our Album Rewind of Dire Straits' breakthrough debut album
Dire Straits proved a solid investment on both sides of the Atlantic. Although there were personnel changes—with Mark Knopfler remaining the creative force throughout—they kept going through the late '80s, scoring their greatest success with the MTV-friendly single "Money for Nothing" and the chart-topping album Brothers in Arms in 1985. "Walk of Life," another track from that album, went top 10 in both countries as well. As of July 2016, Brothers in Arms, which won two Grammys, was acknowledged as the eighth-best-selling album in U.K. history.
Dire Straits remained a huge force throughout their initial run, performing at 1985's Live Aid extravaganza and headlining the 1988 Nelson Mandela tribute concert at Wembley Stadium. But that year marked the end of the line for Knopfler, who disbanded the group, saying it had all gotten "too big," that he simply needed a break. He concentrated on solo projects but by 1990 Dire Straits had returned to play the Knebworth Festival and the year after that, Knopfler and Illsley put together a new lineup of the group. That lasted until 1995, after which Knopfler went back to his solo career. Asked numerous times if he'd ever consider giving Dire Straits another go, Knopfler has repeatedly said he has no interest. Unless—just maybe—there was a charity event that he found worthy.
When Knopfler tours, tickets can be purchased here and here.
Related: Dire Straits' bizarre induction into the Rock and Roll Hall of Fame's Class of 2018

Latest posts by Best Classic Bands Staff
(see all)