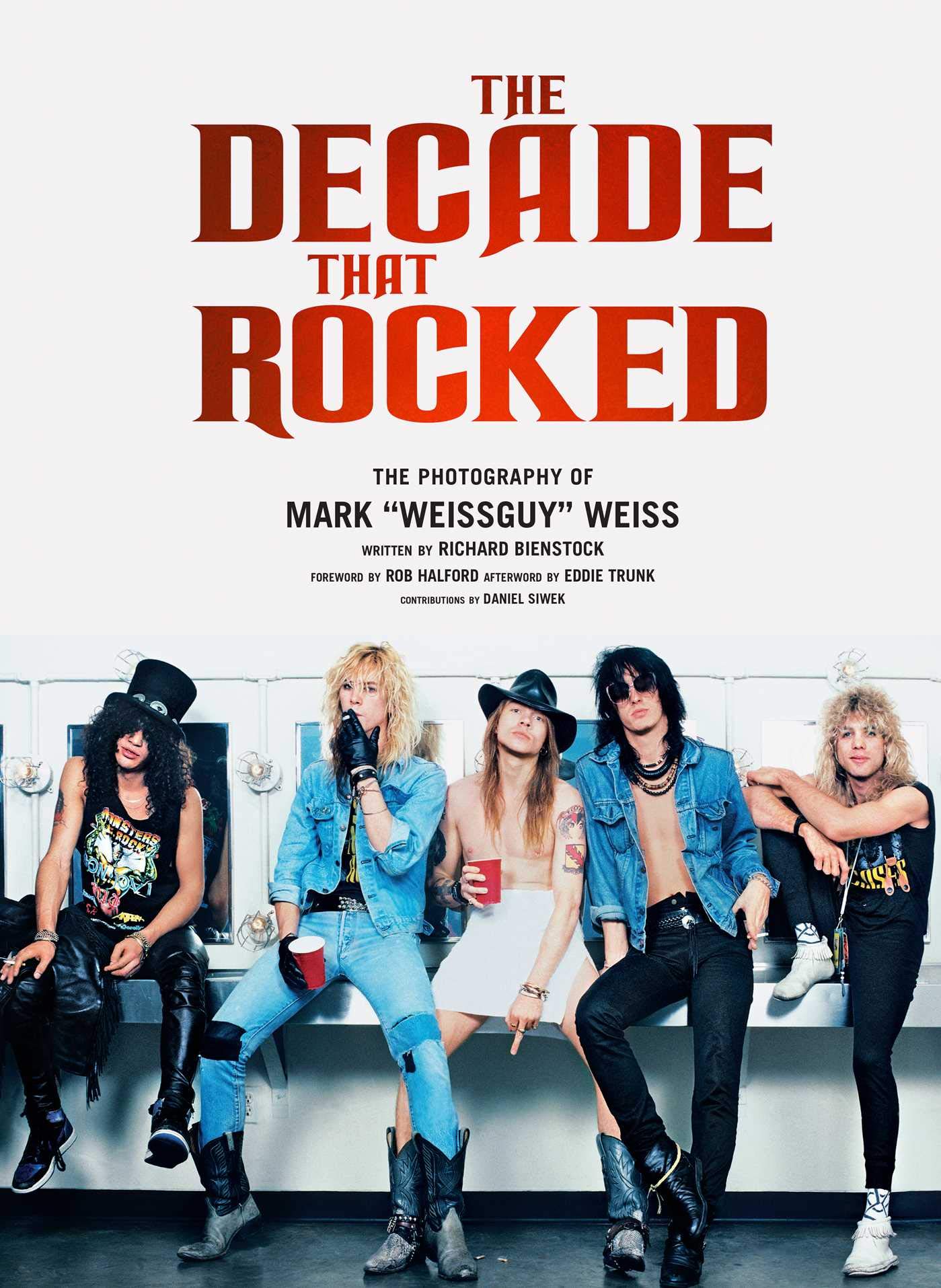 Many of the '80s biggest rock legends will be the subject of a new photo book. The Decade That Rocked showcases onstage and backstage moments and never-before-seen images from many of the era's most historic concerts, tours, and multi-platinum album covers—all captured through the lens of Mark "Weissguy" Weiss. The book, written with music journalist Richard Bienstock, arrives via Insight Editions on June 2 (and Aug. 1 in the U.K.).
From the book's announcement: The '80s were an era of musical excess, filled with spandex, makeup, big hair, groupies, and loud, guitar driven rock 'n' roll. Weiss lived at the heart of it all, documenting many of the biggest bands of the time—legends ranging from Van Halen, Ozzy Osbourne, Aerosmith, and Mötley Crüe to Metallica, Guns N' Roses, and Bon Jovi.
Weiss acquired his first 35mm camera as a New Jersey teenager and snuck into concerts to take pictures. After being arrested for selling photographs outside a KISS concert at New York's Madison Square Garden in 1977, he walked into the offices of Circus with his portfolio and soon landed his first centerfold spread—a photo of Steven Tyler. Soon after, he became the publication's staff photographer.
Throughout the '80s, his photos were seen by millions, appearing in countless magazines around the world. Weiss's images can be seen on the covers of albums by Twister Sister (Stay Hungry), Bon Jovi (Slippery When Wet), and others.
He traveled on tour buses alongside legends-in-the-making to capture it all on film. "I've known Mark since he was a teenager," says Ozzy Osbourne. "He was relentless in the pursuit of his art. He would knock on my hotel door all hours of the day and night wanting to take photos. He definitely has the rock and roll spirit."
"I don't remember Mark being there, but I don't remember Mark not being there," says Twisted Sister's Dee Snider. "He was an extension of our troop. Mark was our photographer."
Weiss was at Live Aid, the US Festival and the PMRC hearings in Washington, DC. The Decade That Rocked features more than 700 photos, new interviews, inside stories from Weiss himself, and a foreword by Rob Halford.

Latest posts by Best Classic Bands Staff
(see all)