A Chat with David Leaf, Author of a Classic Brian Wilson Bio, Now Updated
by Harvey Kubernik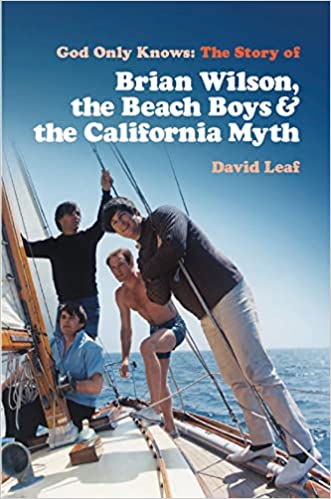 Originally published in 1978 as The Beach Boys and the California Myth, David Leaf's groundbreaking study was both the first full-length book on the band and the first to recognize Brian Wilson as one of the most significant and influential artists of the 20th century. Covering the turbulent family strife and internal conflicts, as well as giving proper attention to the remarkable music, the book was an instant classic. An intimate look at Brian's rollercoaster of a life and career, it's told through the eyes of those who were there during Wilson's most legendary productions, including Pet Sounds and "Good Vibrations."
Revised and updated, and retitled God Only Knows: The Story of Brian Wilson, The Beach Boys & the California Myth, the book will be published this summer, by Omnibus Press. It now covers the decades since the 1985 edition, including Brian's first acclaimed solo album, his startling return to live performing, the landmark Pet Sounds tour, the "All-Star Tribute to Brian Wilson" (which Leaf wrote and produced) and the triumphant and miraculous Brian Wilson Presents SMiLE world premiere in London. Filled with surprising revelations, insight and behind-the-scenes detail, this indispensable book, written by renowned Brian Wilson expert Leaf, also features forewords by Jimmy Webb, the Bee Gees' Barry Gibb and Melinda Wilson, Brian's wife, as well as a new intro by Paul McCartney.
We spoke with Leaf about the new edition of the book and more.
Best Classic Bands: In the first edition of the book, you put the spotlight on Brian Wilson, as opposed to the Beach Boys. That's not to say they were marginalized; everybody was covered. And you talked to a lot of behind-the-scenes people.
David Leaf: I wanted to speak with anybody and everybody who had something significant to say on the subject. Some only talked to me anonymously. I was just trying to present the story in words and pictures. The original edition of the book had over 300 illustrations of one kind or another.
What is new in this latest edition?
It's my journey, an eyewitness account. And the title has also been changed to better reflect the content.
Do you reveal any secrets?
I wouldn't call them secrets so much as relevant revelations. There are a lot of behind-the-scenes stories that nobody knows, because they came out of my experiences. I also write about what inspired me to write the book.
What was it like revisiting the book?
Simply put, back in 1977, I was on a mission.
You were there for personal salvation, as well as sending out kind of a service signal to support Brian Wilson's unfulfilled journey, as far as the specific SMile album project that never came to fruition.
When you say it like that, it feels like I was Commissioner Gordon sending out the signal for Batman. Yeah, I really believed when I wrote the book that it was like I was grabbing the world by the collar and saying, "You gotta pay attention to this guy Brian Wilson. He's really important." That was part of the mission too.
The new edition of the book begins with some big names, including essays from Barry Gibb and Jimmy Webb. But the first name that greets us in the new edition is Paul McCartney.
It's an honor that these genuine living legends, three of the greatest songwriters of all time, love Brian so much and respect my work that they contributed to the book.
Related: An in-depth interview with Brian Wilson
Even though you were on a mission, you always did other pop culture stuff: tribute shows and music retrospectives, your terrific John Lennon and James Brown documentaries, a Beatles doc, The Billboard Awards working with George Harrison, lots of TV, writing scripts, other books. In terms of Brian, you weren't obsessed, but you were perennially, constantly in exploration.
Actually, I was obsessed. But that was in my private life. It is a subject I loved and still love writing about. Writing about Brian and the Beach Boys was, for me, kind of an avocation. I wrote the books for the Beach Boys' Good Vibrations and Pet Sounds boxed sets, the liner notes for all the Beach Boys albums when they first came out on CD, essays for Brian's tour programs. I wrote a gigantic press kit for Brian's first solo album in '88.
One thing that's important about your original book is that so many people you interviewed are now gone.
The original book from 1978 was what we would call living history. I was able to extensively interview Audree Wilson, the Wilson brothers' mother. I spoke in depth with the people who were actually there, many of whom are no longer with us, as well as some of the key people who still are. One of the people I spoke with the most was Bruce Johnston, who had left the Beach Boys in 1972 and would rejoin them permanently after my book came out. I caught him at the right time, and what he had to say is fascinating and insightful. In this update, some of the interviews will be very surprising, but the focus is mostly on what I experienced with Brian. I don't have to ask anybody but myself.
Lots of new artifacts and pictures too?
Some cool new stuff, yes. But the major goal in writing the update was to tell readers stories they could not get anywhere else. And part of that comes from the fact that I'm the first person to write a book about Brian as an outsider in Wilson world who became an insider. I have to emphasize-this book isn't a "tell all."
How deep does the book get?
One of the things I am very conscious of is that there's a private Brian Wilson and the public Brian Wilson. Back in '77, when I interviewed people for the first book, everybody was concerned about betraying their friendship and the relationship. And so, I had that in the back of my mind as well for this edition. There's a lot of stuff that's happened that, in my opinion, is nobody's business. As with the original book, my guiding light was, is this relevant to the artist's journey?
Most of the reviews of the original edition of the book were very positive, but there have been concerns that some of the other band members, especially Mike Love, were marginalized a little bit in the first edition.
Fair question. But the update is focused on Brian Wilson. As Dennis Wilson said, "Brian is the Beach Boys. We're his messengers."
***
Last Nov. 19, Wilson released an all-instrumental album, At My Piano, of many of his famous compositions including "God Only Knows," "California Girls," and "Love and Mercy." He is also the subject of a documentary, Brian Wilson: Long Promised Road, that debuted at the 2021 Tribeca Film Festival.
Brian Wilson will be sharing a tour with Chicago this summer. Tour dates and tickets are available here.
Latest posts by Harvey Kubernik
(see all)