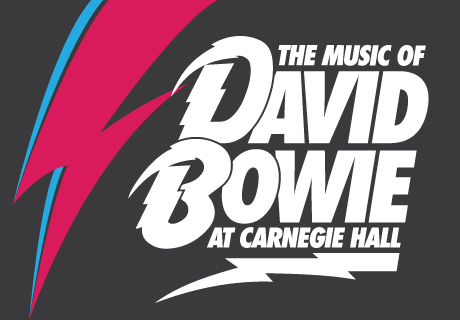 Update (1/15 11:30 am): The April 1st concert was moved to Radio City Music Hall to accommodate demand. However, amid rumors that Mick Jagger, Paul McCartney and others will participate, both concerts are already sold-out.
Best Classic Bands will continue to update this story. (If you're a new reader of ours, we'd be grateful if you would Like our Facebook page and/or bookmark our Home page.)
Update (1/14 5 pm): A second show has been added to "The Music of David Bowie" tribute event at Carnegie Hall. The additional date is April 1st. Confirmed performers include Ann Wilson of Heart, the Polyphonic Spree, Perry Farrell and Cat Power. Tickets are available here. It will sell-out quickly.
Meanwhile, the original, sold-out performance on March 31st has added Michael Stipe, Laurie Anderson and Cat Power to its lineup.
Producer Michael Dorf wrote: "While the booking is not complete, the talent for these special two nights will be off the hook. There will be overlap of many of the artists, but it is not clear yet. We are juggling many different schedules. We hope you can understand. But be assured this will be a very special way to celebrate The Music of David Bowie who we miss dearly already."
No official word yet on whether Jagger, McCartney and company are involved.
Update (1/14 9:30 am): Meanwhile Britain's Daily Star is reporting that classic rock royalty are being added to the lineup, specifically Mick Jagger and Paul McCartney. Producer Michael Dorf notes on Twitter (@michaeldorf): "This is NOT confirmed: Where do people get this stuff?" Best Classic Bands will continue to update this story about the sold-out event.
The David Bowie tribute concert at Carnegie Hall on March 31st, in the works for seven months, will proceed as planned. The event will feature Cyndi Lauper, Heart's Ann Wilson, Perry Farrell, The Roots, Jakob Dylan, Robyn Hitchcock and more, performing the musician's classic rock tunes with a house band coordinated by his longtime producer and collaborator Tony Visconti.
Bowie's unexpected death from cancer transformed the event into a memorial concert. All 2,800 tickets sold out when they went on sale on Monday, which coincidentally, was the same day the news first broke that Bowie had died – just two days after his 69th birthday and the release of his 26th album, Blackstar. (Read Best Classic Bands' coverage here.)
"The Music of David Bowie" is the 12th annual tribute at Carnegie Hall produced by City Winery's Michael Dorf, who has previously staged tributes for Prince, Paul Simon, Bob Dylan, Bill Withers and more. In addition to honoring talented musicians, the concerts benefit charity. This year's production aids a variety of music education programs serving underprivileged youth.
Prior to the tragic news, Dorf had hoped Bowie might attend the concert as other honorees had in the past. A statement on the concert's website reads: "While the series has featured surprise appearances and performances of honorees several times in the past, this year's concert will certainly be remembered as a poignant celebration of his music by his friends, peers and fans. We are all deeply saddened by this news. The timing of our public on-sale date is bizarre in its timing and the show is taking on many more emotions. RIP David and may god's love be with you."
For more information about the production, visit the "Music Of" concerts' official website.  Although there are no more tickets available at this time, Dorf is considering some kind of extension due to the circumstances. "There are no more tickets," Dorf said in an interview with Pollstar, "so we're looking at what else we could do the next day. How do we extend this? The whole thing is a benefit for charity. So if there's a way to add another day or something, we're exploring right now what else we can do. The whole thing is kind of unprecedented territory."
In other Bowie news, SiriusXM has launched The David Bowie Channel. The  limited-run channel will feature music from Bowie's entire career, from his earliest recordings through Blackstar, as well as rare tracks and demo versions of some of his greatest songs. It will run through next Monday, January 18th on SiriusXM's The Loft, channel 30.

Latest posts by Best Classic Bands Staff
(see all)