Wherever its music ranks in rock's grand pantheon, there's no debating that Alone Together is among the great visual experiences ever to land on a turntable. Dave Mason's June 1970 solo debut—with "solo" the key qualifier given his accomplishments to that point—featured on about a third of its copies striking "marble" vinyl, whose grays, whites, reds and browns swirled together hypnotically 33 1/3 times each minute. Packaged in a foldout sleeve designed to turn the record into a wall hanging, its presentation was emblematic of the album as a whole: thoughtful and vibrantly detailed, distinguished by impeccable craft.
Co-produced by Mason and Tommy LiPuma, Alone Together reached #22 on the Billboard album chart, the highest placement among Mason's 14 albums to make that chart between 1970-76.
Mason achieved renown as a founding member of Traffic whose on-and-off membership included a sizable contribution to the group's self-titled 1968 record, highlighted by Mason's "Feelin' Alright?" The song only reached #123 on the singles chart in its original version, but would be immortalized by Joe Cocker's rendition the same year, which reached #69. Mason was in the room for any number of rock classics that year. He contributed to the Rolling Stones' Beggars Banquet (blowing shehnai on "Street Fighting Man," for starters) and Jimi Hendrix's Electric Ladyland, providing lustrous 12-string acoustic guitar decoration on "All Along the Watchtower."
Mason's knack for accessible, pop-leaning folk rock stood apart from the jazz/blues musical dialects of Steve Winwood and Jim Capaldi, which resulted in Traffic projects that felt less like collaborations than band members taking turns with their respective visions. Mason was largely out of the group by the time it pieced together Last Exit in 1969, and when Winwood departed later that year, Traffic came to a stop. Winwood, Eric Clapton and Ginger Baker formed Blind Faith, but after that supergroup flamed out in short order, Winwood's next project evolved into a Traffic reunion, albeit without Mason. When Traffic's John Barleycorn Must Die debuted in July 1970, Winwood/Capaldi influences were ascendant, but listeners fond of Mason's compositions didn't have to go without, as Alone Together had arrived one month earlier in June.
The album is Mason's, but derives substantial benefit from well-positioned guests. The formality of structure in the stout, mid-tempo "Shouldn't Have Took More Than You Gave" is loosened by Leon Russell's drizzle of piano, which gilds the song with flavorful character. It's a triumph of design, with its arrangement providing an inviting atmosphere into which the chorus of Rita Coolidge and Delaney and Bonnie Bramlett nestles comfortably. The overall song is clinical yet easy to embrace, expansive without turning showy.
Whether vocal or instrumental, Mason takes the same approach: mannered, yet undeniably effective. Against the ballad backdrop of "Sad and Deep as You," his singing is deliberate, yet robust even at its most poised. His contemplative "World in Changes" is cool and simple, rock at its most thoughtful, even as he hoots loudly through its ascending closing swirl of organ, guitars and drums. There is no denying his rock bona fides, despite the restraint he consistently exercises—it's professional, but not soft.
Listen to "World in Changes" from Alone Together
Related: BCB's interview with Dave Mason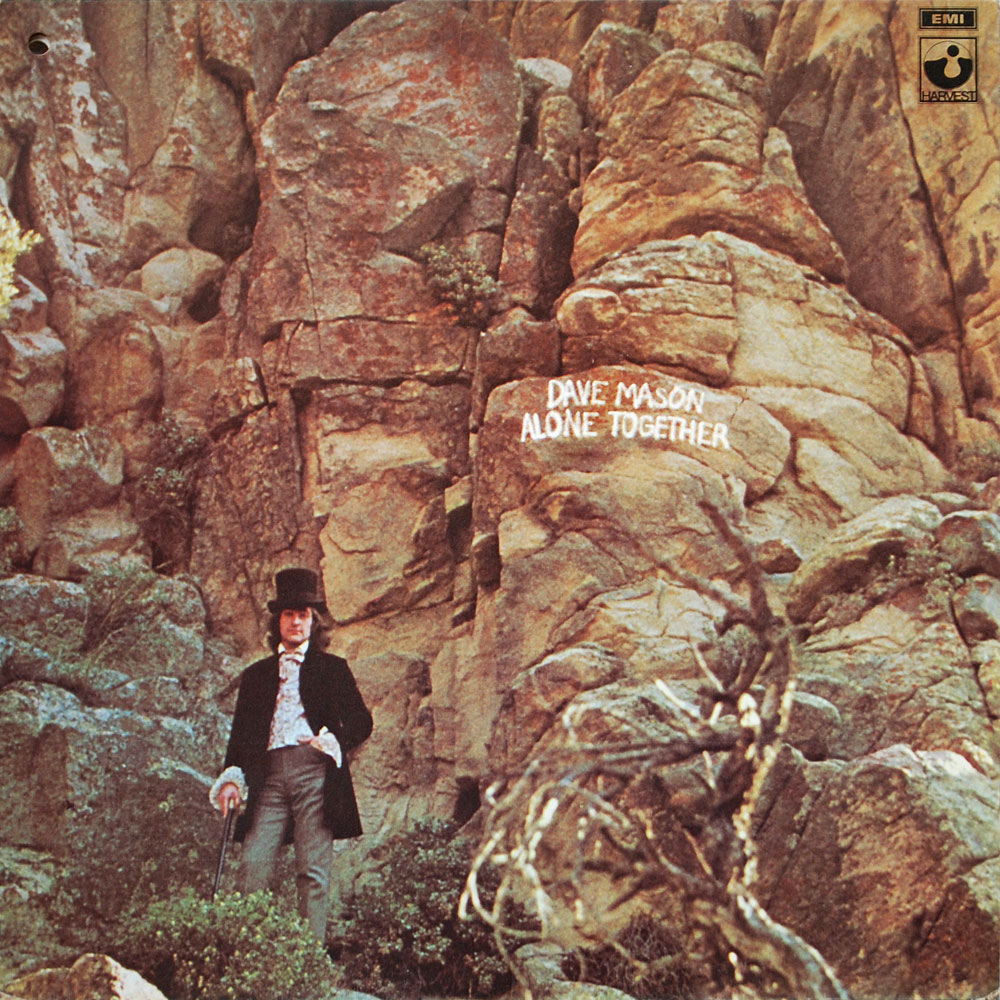 A partner for Mason years before and for decades after Traffic, Capaldi appears on the set, including the pair's co-written "Look at You Look at Me." With Capaldi's drums establishing a propulsive gait and Russell's piano as sturdy punctuation amid a wash of sonic colors, the whole is as wild as Mason gets, and even then it's not so much about energy as making pieces coalesce. Expertly manicured, it is among the most professional, groomed rock ever created, with every hair in place.
A top-shelf roster of session players including drummer Jim Keltner and bass player Carl Radle is mixed and matched across different tunes (it's enjoyable to guess who did what given that the album did not include track-by-track credits), but all find their place in immaculately crafted pieces. The billowing pulse of "Just a Song" is richly decorated by multiple instruments and voices, all of which coalesce into a singular whole. Electric piano dances in from the right and gritty electric guitar swoops from the left as Mason lands in the center of "Waitin' on You," anchoring a tune that oozes the unlikely pairing of ebullience and polish. His acoustic guitar playing is inevitably enticing, and when paired with the shape-defining drums of "Can't Stop Worrying, Can't Stop Loving," yields an assured, easygoing rock ballad. On an album of so many individual pieces, overarching design is driven expertly by Mason's vision.
The enduring appeal of the record is easy to hear in its signature cut, "Only You Know and I Know." It's the type of tune for which the term "classic rock" deserved to be invented, a blueprint for assembling an ideal rock structure. Rousing and sprightly, it drapes an assured vocal over a simple-sounding confluence of acoustic and electric guitars that fit like puzzle pieces, while an insistent backbeat adds only what is needed.
Listen to a live version of "Only You Know and I Know" from 1978
The whole is an exercise in holistic rock remarkable for its definition and design, which charted as high as #42, and remains one of Mason's best-known songs. It's an appropriate calling card for a project distinguished by meticulous performances and attractive arrangements, which offers rewards for the ear as colorful as any mixed into its decorative vinyl.
Related: Our exclusive excerpt from a book that details the sessions for the album
Mason is on tour. Tickets are available here and here.
[Mason reimagined the album for its 50th anniversary in 2020. "The main reason… was that I was never quite satisfied with how my vocals sounded," he says. "I like the songs and I like the performances but I was so young and it was my first solo album. The older I got the more the vocals bothered me and so I finally thought that I would sing the songs the way I first imagined them when I wrote them.
"It's a more accurate representation of what I think I sound like. And of course with the years comes a maturity and knowing in my voice that I think gives the songs an all new depth. It may have taken me 50 years, but I am now truly satisfied with all of the songs and I really count this as one of my most satisfying artistic achievements."]
Listen to "Only You Know and I Know" (2020)
Latest posts by Thomas Kintner
(see all)