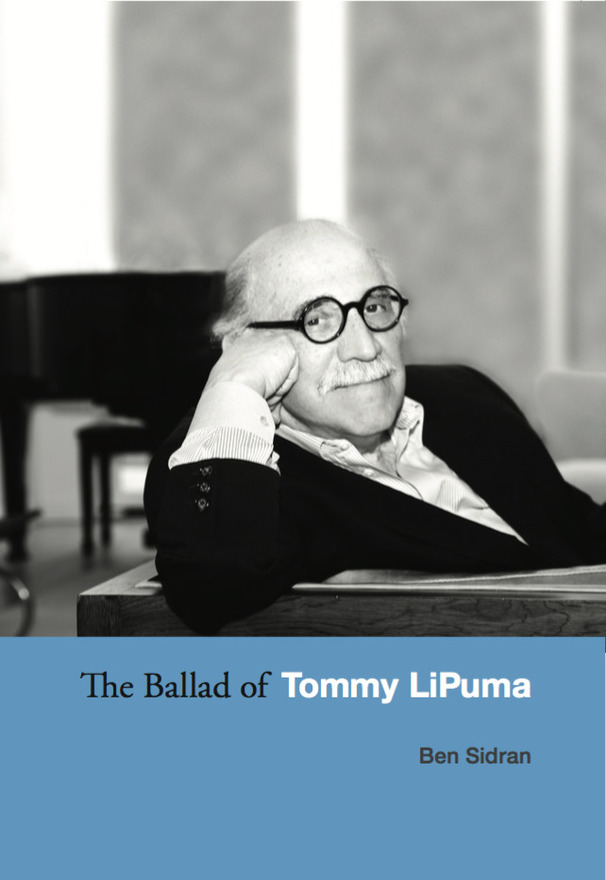 The career of one of the American recording industry's legendary producers and executives is told in musician, writer and broadcaster Ben Sidran's revealing new biography, The Ballad of Tommy LiPuma.
The Nardis Books volume, which arrived in print and as an e-book on May 5, is drawn from more than 80 hours of interviews with LiPuma by Sidran, who recorded three albums for LiPuma's Blue Thumb Records in the early '70s. (LiPuma died in 2017 at age 80.)
Related: Read our obituary of Tommy LiPuma
The biography spins the story of LiPuma's career, from his origins as a jazz-obsessed tenor saxophonist in Midwestern territory bands to fame and fortune as the Grammy Award-winning producer of such multi-platinum albums as guitarist-singer George Benson's Breezin' (1976) and Natalie Cole's Unforgettable … With Love (1991).
Sidran offers behind-the-scenes accounts of LiPuma's record dates with such pop superstars as Barbra Streisand, Paul McCartney, and Willie Nelson.
On the jacket of The Ballad of Tommy LiPuma, Paul McCartney—whose Grammy-winning 2012 collection of standards Kisses on the Bottom was produced by LiPuma—says, "Tommy was a fantastic producer. He always had a great sense of humor … He would sit in the studio with us musicians and make every session a complete joy."
Listen to "I'm Gonna Sit Right Down and Write Myself a Letter" by Paul McCartney, produced by Tommy LiPuma
LiPuma co-founded Blue Thumb in 1968 with record executive Bob Krasnow. In 1970 they signed former Traffic co-leader Dave Mason, born May 10, 1946, and whose debut album, Alone Together, was released on multi-colored vinyl. In this excerpt from The Ballad of Tommy LiPuma, author Sidran tells the story of Mason's time with Blue Thumb.
***
Their first real success came with the British singer/guitarist Dave Mason. Dave had been with the group Traffic and Tommy had been a big fan of the band and, particularly, of Dave's songwriting, like "Feelin' Alright" and "Hole in My Shoe." Traffic was long gone and Dave was now signed to Island Records as a solo artist. The word was that his contract was for sale.
This was a first-time challenge for Tommy, who didn't have a reputation as a rock and roll producer—he had been doing mostly the Sandpipers and Claudine Longet—and he knew he had something to prove. He took his time putting together the hippest band in town: drummers Jim Keltner and Jim Gordon, pianists Leon Russell and John Simon, and Carl Radle on bass. These were not just some of the greatest session players in L.A. but also sophisticated guys who could play any kind of music with an authentic feel. This record was going to be a statement about Tommy LiPuma's production chops as much as a first-class presentation of Dave Mason's compositions.
The first song they recorded, "Only You Know and I Know," took barely an hour to get down on tape, and it became the album's biggest hit. The way they put it together might seem haphazard at first. Dave played bass along with Jim Gordon on drums, then overdubbed several guitar parts. Next he sang the vocal and then doubled it, and finally he added some harmony parts. But what really made the song happen was Jim Gordon's drum part.
"The rhythm pattern he came up with," says Tommy, "which was like a march, just opened the door to the song. When I heard it, even though it was just bass and drums, I knew I had the goods."
Listen to "Only You Know and I Know"
At the time of Mason's signing, most hit records were from groups—Traffic, the Beatles, the Stones—and Dave was one of the first to step out of a hugely successful band and attempt a solo career. His album Alone Together became Blue Thumb's first gold disc.
Related: Our Album Rewind review of Alone Together
Blue Thumb pulled out all the stops to make sure the Dave Mason record got noticed. Another big factor was the packaging. This fell to the genius of Barry Feinstein and his design company, Camouflage Productions. Camouflage was the de facto art department for Blue Thumb, and Blue Thumb records not only sounded different from other labels, but they looked different as well.
For example, for Alone Together, Barry invented the "kangaroo pack," a three-fold album jacket that turned into a poster with a pouch at the bottom. And in every pouch they put a one-of-a-kind multicolored disc. It was Barry's idea, and it was completely unprecedented: every Dave Mason record actually looked different from every other one, because Barry had gone to the manufacturing plant and convinced the plant manager to drop colored pellets into the boiling plastic before the records were stamped. Hence each disc literally looked like its own spin painting.
It cost 14 cents more per album to do this, and the guy at the manufacturing plant thought they were all nuts, but when the record arrived in record stores, it had a serious impact on the hipsters. One big store on Broadway in New York City actually displayed the record going around on a turntable in the window with mirrors behind it, like a spinning Rorschach test; there were people standing outside staring at it and they couldn't even hear the music.
Listen to "World in Changes" from Alone Together
Dave Mason has 2020 tour dates. Tickets are available here.

Latest posts by Best Classic Bands Staff
(see all)