Dave Clark Is Still Glad All Over—An Interview With the British Invasion Legend
by Jeff Tamarkin
It's universally accepted that the Beatles were the uncontested leaders of the British Invasion that swept across America seemingly overnight at the beginning of 1964.
But who was number two?
If you guessed the Rolling Stones, nice try, but it would still be several months before they'd score their first top 10 single on these shores and more than a year before they'd hit the top of the charts.
The answer, unequivocally, is The Dave Clark Five, the quintet from Tottenham, England, that came storming in hot on the heels of the Fabs in February of '64. And storming is the operative word. The DC5, as they were often called—Clark on drums and vocals, Mike Smith on lead vocals and keyboards, Denis Payton on saxophones, harmonica and vocals, Lenny Davidson on lead guitar and vocals, and Rick Huxley on bass and vocals—offered up pounding, stomping rock 'n' roll that made them an instant sensation.
Their earliest hits—"Glad All Over" (#6), "Bits and Pieces" (#4), their cover of the Motown group the Contours' "Do You Love Me" (#11) and "Can't You See That She's Mine" (#4)—were an invasion in their own right, relentlessly throbbing slabs of 7-inch vinyl that gave tiny transistor radio speakers a workout their manufacturers never imagined.
The hits they kept on comin': "Because," a beautiful, melodic semi-ballad, may have been quieter but it vaulted even higher than the others, peaking at #3 in the late summer of that amazing year. Another hybrid ballad/mid-tempo gem, "Everybody Knows (I Still Love You)," followed by the blasting "Any Way You Want It," the lovely "Come Home" and Chuck Berry's "Reelin' and Rockin'," took the DC5 into 1965, and although none of them made the top 10 it would have been premature to count the group out.
Three consecutive top 10 singles were up next: "Chris Kenner's "I Like It Like That" (#7), the #4 "Catch Us If You Can" (the title song from their film, which was renamed Having a Wild Weekend in the U.S.) and "Over and Over," a remake of a 1958 song by Bobby Day that gave the DC5 their first and only U.S. chart-topper.
There would be others still, the band finally ending its run in the top 10 in 1967 with the #7 "You Got What it Takes," another cover of an R&B hit, this one originally by Marv Johnson. By mid-1968 the DC5 no longer found their way into the American charts, and by 1970 they'd called it quits, after a hugely successful run that found them, among other accomplishments, playing the top-rated Ed Sullivan Show a total of 18 times, more than any other British rock band.
There were several reasons why the Dave Clark Five were as successful as they were, and much of the credit can rightfully be given to Clark. While it was quite unusual for a rock band to be named after its drummer, his role as the resident thumper of the skins was only one of several he juggled: Clark also served as the band's manager, producer and co-songwriter, penning the vast majority of the band's original compositions with Smith, himself one of the most dynamic, underrated vocalists in rock.
Clark, born Dec. 15, 1939 (some reports peg the year at 1942), was an astute businessman, who, from the start of the group's recording career, shaped their image, planned their tours and recording sessions and shrewdly negotiated to retain ownership of the band's master recordings, a smart move that has allowed him to license out the catalog as he's seen fit ever since.
Clark has, admittedly, confounded many fans by holding back on the release of the DC5 catalog for decades at a time. But in 2020, for the first time since the early '90s, that drought once again ended, with the release of All the Hits, a newly remastered compilation of the original DC5 smashes, available on CD, digitally and, for the first time since the '70s, on vinyl. The CD and vinyl releases house 16 tracks. All of the versions end with a previously unreleased track from late in the band's career, "Universal Love."
Some time in the future, fans can also—finally—expect to see the rollout of the original DC5 albums, which have been remastered and remixed. They are already available on digital platforms such as Spotify.
Dave Clark does not give interviews often about his days as a rock star. He's generally a person who prefers to look forward. To help promote the releases, however, he spoke at length with Best Classic Bands. Here is part one of our chat.
Listen to the remastered "Glad All Over" from All the Hits
Best Classic Bands: Let's start at the peak of your fame. What was it like for the DC5, as guys in your early 20s, to walk out onstage and be barraged by screaming young girls every time?
Dave Clark: It was great! The only thing was I liked to be able to hear what we were playing. Today the sound systems are very sophisticated, and in those days, you had to bring your own sound system with you. But it was new, very exciting.
Related: What were the top radio hits of September 1964?
What was your first trip to America like?
Well, we'd never been to America. You only saw America in movies. It all happened because of The Ed Sullivan Show. We were still semiprofessional in the U.K. We'd had a big number one record, but I wouldn't go professional until we had two top five records. We wanted to be a top-of-the-bill act, and if not, we would have just carried on for the fun of it. And out of the blue, we got on a show here [in Britain], which was the biggest TV show, called Sunday Night at the London Palladium. They got 25-30 million people watching it. Ed Sullivan was at the airport waiting to go back to New York, and he watched the show. He contacted us, but I'd never heard of Ed Sullivan so I turned it down. Then, I think it was 10 days later, I found out he was huge in America and he said, "Look, I'll pay you $10,000, fly you all over, pay for the hotels." I said to the guys, "Quit your jobs and we'll all go over for the fun of it." That's how it all started. We really went in unknown. "Glad All Over" was in the American charts, I think in the top 10, and we went over, did the Sullivan show, and it went down so well that he came out on our last number and said, "I'm holding them over for next week." The show finished and I thanked him, but I told him, "The problem is we're already booked in England." He said, "I've just told 70 million American homes that you're going to be on." I said, "We're very flattered, but I've got a commitment." He said, "Well, I'll buy it out." Without thinking, I said to him, "Well, I couldn't stay in New York for another week," because we'd had big hits and it was crazy—we couldn't go out, couldn't do anything. And he said, "Where do you want to go?" Well, along the way to the airport there were these placards, one of them said, "Montego Bay, island paradise." I said, "Montego Bay." It could've been the other side of the world for all I knew. We stayed there for five days, came back to Kennedy [Airport] to do the second Ed Sullivan Show and there were 30,000 people at Kennedy Airport. They couldn't get us out, so they got us out by helicopter. And that was it.
Watch a clip of the group's performance on Sullivan in 1965
You played Sullivan more than any other British band.
We did 18 shows. When you think it's 70 million homes, and if there's two people, three people or whatever in a home, that's a lot of people. In those days, America only had three [TV] stations: CBS, NBC and ABC.
Related: 12 "lost" British Invasion hits
What is your fondest recollection of Mike Smith, and also can you talk a little about how you and he used to write the songs?
Mike was the most underrated singer of the '60s. I said this at the [Rock and Roll] Hall of Fame [induction, in 2008]. Mike was happy within the group; he didn't want to do anything else. I was very lucky because I knew Mike when he was 14 and I was, I think, 15 at the time. We were all mates. It's a bit like, years later, Springsteen and the E Street Band, with Steve Van Zandt and everybody. They were all there from the beginning, before they made records. It was the love of the music. But Mike was amazing. The combination of Mike and me worked because Mike was classically trained as a pianist, and he would say to me when we wrote things or on a session, "David"—he was the only one in the group who called me David—"musically, it's not right." I'd say, "But Mike, to the ear, it sounds right." So there was always that bit of banter, but it worked. The best hit records are when you come up with a saying that people can relate to. I mean, "Bits and Pieces" or "Catch Us If You Can" or "Glad All Over." You know, they are things you would use normally in conversation. And I think a hook is very important, and we worked well together. It was just the sound I wanted. He was so talented.
You've said that you wrote "Glad All Over" in less than an hour.
Yeah. In fact, the best songs you write, they don't take long. The quickest song I ever wrote was "Because." It was also done in under an hour.
You always had great taste in cover songs. Do you have a favorite?
Well, "Do You Love Me" was the first hit, and I was so excited, I couldn't sleep at night after we recorded it. We used to play the American [military] bases. You'd play for four hours a night, but at the halfway mark, they'd look out for you and give you hamburgers and food and everything. And on the jukebox, they'd play these amazing records: "Do You Love Me?" "Twist and Shout," "Over and Over," "You Got What It Takes." And they used to say, "Can you play them?" And I'd say, "Well, we don't know them. If you give us a copy of the record, we'll learn it and play it next week." So we were playing "Do You Love Me?" and all of these songs, long before we made records. I've always believed if you cover somebody else's work, you shouldn't copy them; you should try and make it your own. There was a very famous singer here, and I won't mention the name, who copied "Glad All Over" in the '80s. She did a great job of it, but she copied the original note for note and the radio stations were playing our version against hers. If she had made it her own, they wouldn't have done that.  "Do You Love Me" and "You Got What It Takes" were by great American artists that weren't really known in England; they were known in America. I always remember we did a version of Chuck Berry's "Reelin' and Rockin'," and a guy in Cheap Trick said to me that when he got it, he looked to see who'd written it and he said, "I realized it was an American." They didn't know it was Chuck Berry.
There's a previously unreleased track on the new collection, "Universal Love." What's the story behind that song?
It's a lovely song. It was one of those that we did near the end of our career when there were other things we wanted to bring out, but I always thought the song summed up how we felt. And I think it's very relevant today. I'm a child of the '60s, when it was all love and peace. John Lennon and the Beatles really summed it up. That's why we never got into those sorts of songs. I didn't want people to think we were copying them. I think "Imagine" and [Lennon's] Christmas song were great songs. Older people laughed at the love and peace, but it is the answer. I've always believed that.
Listen to "Universal Love"
Speaking of the Beatles, were you friendly with them or was there a real rivalry?
We always got on well. In fact, our first TV program in England we did with them. We were number two, and they had the number one, "I Want to Hold Your Hand." We went to their show in London and stood in the wings and it was amazing. And we all went out pubbing after.
What's the status of the reissues of the individual DC5 albums?
I've just remastered them, just to make sure the quality was up to today's standards, and I've just remixed them for vinyl for the first time in 40 years. It was great. I enjoyed it.
Did you discover anything new while you were doing that?
No, but I was surprised that they stood the test of time. I discovered more when we went to CD [in the '90s], like on "Any Way You Want It," there were little things we put on there that you didn't really hear on the vinyl. But once you got into CD, you could hear it. The same with "Glad All Over." There's a doubling up of Lenny's guitar underneath the drums—little things, little colors, that make it interesting.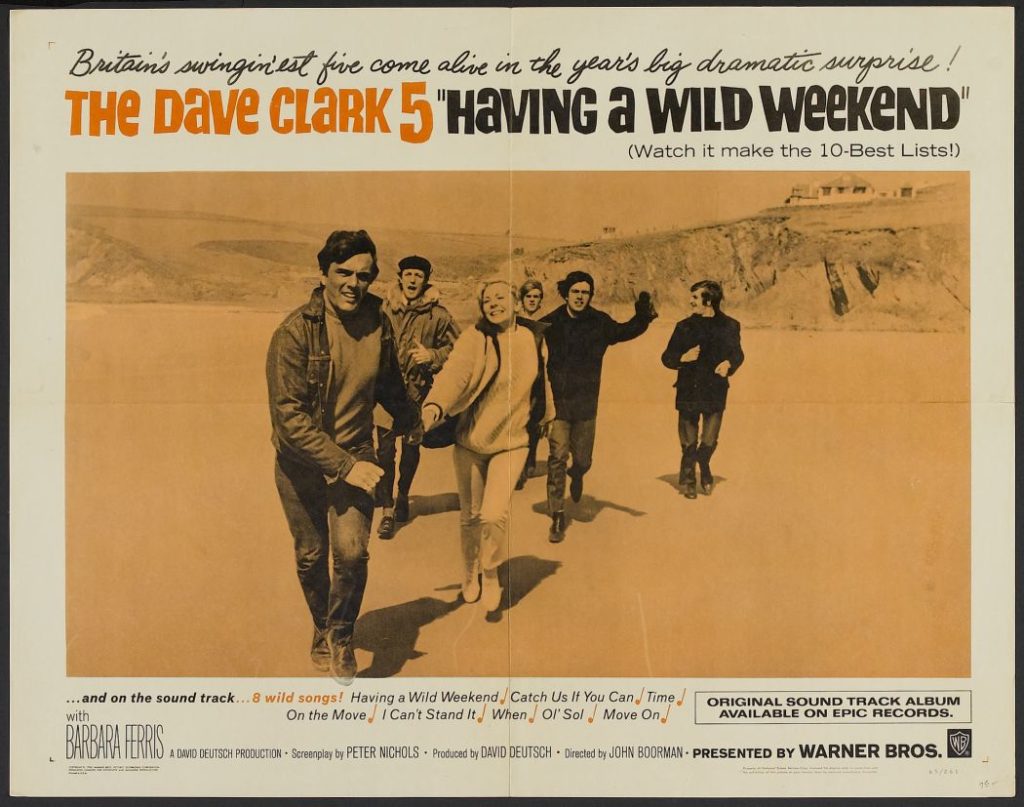 Was it fun making the DC5 movie (Catch Us If You Can in the U.K., Having a  Wild Weekend in the U.S.)?
Yes, it was fun. It was a shame that it had a different title in America. It was always going to be Catch Us If You Can, but I think it was 12 weeks before the movie came out, somebody registered the play on Broadway called Catch Me If You Can. So Warner Bros. said, "Look, we're worried there's going to be a lot of action that's not good for the film. Would you change the title?" We had song in the film called "Having a Wild Weekend." That's the reason it was changed for America. It was great fun and it was interesting, because I'd been a film extra before that. I'd done over 40 films where if you sneezed you missed me. I got director approval and I used a guy called John Boorman. I'd seen his work. Later he became very famous director. I didn't want to do a musical. I wanted to do something dramatic. We did the soundtrack.
What finally caused the group to split in 1970?
Well, I mean, going back to when we first started, when we were playing the Royal Tottenham [theater], I always said to the guys, and it was a mutual understanding, we wouldn't go professional unless we had two top five records. And then we went professional and I said, "If the fun goes out of it, we'll stop." We were still packing out—we played to a quarter of a million people in the Philippines and were still getting million-selling records. But not in America, because we stopped doing the Sullivan Show and stopped touring, including America and England. We just did television, so we could get back to being individuals. I wanted to get back to being Dave Clark.
How did the others feel about splitting?
There was never any animosity the whole time with the boys. Looking back now, it makes me very proud when I think of all the terrible things that happened with the Beatles and with everybody, which is sad. You get one chance and you ought to enjoy it. It made me very sad that a lot of my contemporaries were not doing as well because they were ripped off. It's wrong, but what can you say? We decided the year before that we were going to finish in the summer of 1970. There was also a change in the heads at Epic Records [the band's U.S. label], and they were never behind it as they should've been. That's life.
Why did the DC5 never reunite?
I don't think you can go back, but that's me. You can't go back to being a teenager or in your 20s or whatever. The people that carry on, from Elton and McCartney, Rod Stewart, they've never stopped. I can understand that, and good luck to them. We had lots of offers to reform and do a tour of America, and I always remember, in the latter part of the '80s, somebody kept offering, for America, huge money. I turned it down, and somehow they got my private number and woke me up at three in the morning. I said, "I'm very flattered but we don't want to tour." He said, "Come on, what's your price? Everybody's got one." And I hung up.
How did it feel to finally be inducted into the Rock and Roll Hall of Fame?
It was lovely. The sad thing is that Denis died before he knew about it, and Mike died just a week, 10 days before. That would've been the icing on the cake. We were up to do it the year before, but there was a controversy, but I don't want to get into that. All of the boys were important. It was all of their talents, the combination, that worked.
Watch Tom Hanks induct the Dave Clark Five into the Rock and Roll Hall of Fame
Read the second part of our interview!

Latest posts by Jeff Tamarkin
(see all)