Carole King's triumphant May 26, 1973 homecoming concert on The Great Lawn of New York City's Central Park has been released for the first time on CD and 2-LPs on its 50th anniversary. The title arrived on May 26, 2023, via Ode Records and Legacy Recordings, the catalog division of Sony Music Entertainment. The performance has also been made into a new feature-length concert documentary, Home Again: Carole King Live In Central Park. The film, presenting the musical icon before an estimated audience of 100,000, premiered Jan. 19, 2023 at New York's IFC Film Center. It was released wide on Feb. 9 – King's birthday – via an exclusive stream on The Coda Collection. Directed by George Scott and produced by Lou Adler and John McDermott, the film presents the complete multi-camera 16mm footage filmed and recorded by Adler in 1973 but never before released. Watch the trailer and listen to many of the performances, including "It's Too Late" and "You've Got a Friend," below.
Alongside the complete performance footage is the behind the scenes story of King's transformation from an in-demand, staff songwriter beloved for such timeless Goffin and King classics as "(You Make Me Feel Like) A Natural Woman" and "Will You Love Me Tomorrow" to an iconic recording artist in her own right. The May 1973 performance captured King at her critical and commercial peak, basking in the enormous popularity of her definitive album, Tapestry. "We wanted to do something special with Carole in New York," remembers Lou Adler. "I got in touch with [concert promoter] Ron Delsener and told him that Carole was coming home to New York. This was where her upbringing took place and where she got her start in music. New York was everything to her and she wanted to give something back to both her hometown and devoted fans." Adler and Delsener then agreed to stage a free concert—the first ever—on Central Park's famed Great Lawn. The event changed the landscape of live performances in New York, shepherding in an era of legendary performances in Central Park that continues to this day.
New interviews with King, Adler, Delsener and legendary Woodstock and Monterey Pop lighting and stage manager Chip Monck set the scene for her extraordinary performance. To the delight of the audience, King moved easily between her signature classics and songs from her soon to be released 1973 album, Fantasy. King rarely performed in concert during this era despite the enormous commercial success she had enjoyed. However, on this special occasion, she presented her performance in two parts—first alone, on piano and then fronting a powerhouse 11-piece band.
Watch the official trailer
"I brought Hank Cicalo, my recording engineer from Los Angeles, out to Central Park to record the show as it might possibly become an album," Adler explains. "Then I had the notion, having done the film Monterey Pop [Adler had produced the groundbreaking 1967 music festival together with John Phillips] I felt that something this big should be filmed. I had no idea what I was going to do with the film at that time, but I felt that something this important should be documented."
In the aftermath of the Central Park performance, Adler took the film and recordings back to Los Angeles where it remained unreleased for 50 years. "Recently, John McDermott came to me and said, 'This should be a film. This performance should be seen.'" explains Adler "His interest excited me and I said, 'Yeah, let's do it.'. I contacted Carole and we got started."
In his own legendary career, Adler produced the music and guided the careers of Jan and Dean, The Mamas and The Papas, and King, as well as the comedy of Cheech and Chong. His production includes such classics as The Mamas and Papas' "California Dreamin'," Scott McKenzie's "San Francisco (Wear Some Flowers In Your Hair)," Barry McGuire's "Eve of Destruction," Sam Cooke's "(What a) Wonderful World," and King's ground-breaking multi-platinum, multi-GRAMMY Award winning Tapestry album. The 1971 masterpiece set chart and sales records in the months after its release.
Related: Our January 2023 interview with Lou Adler
"Tapestry had become such a huge hit, and I really wanted to give something back to the people," remembers King. "When I first walked on stage, in Central Park, in front of the Great Lawn, and it's full of people…it was kind of terrifying for a minute. Then the crowd began to cheer, and it was like a wave coming toward me. There was just so much love. It was too much to take in, but I realized all I had to do was sit down and start playing. They were there to hear me. I knew how to deliver, and that's what I sat down to do."
Listen to King perform several favorites at the Central Park concert
More info about specific cities for the limited theatrical release is available here.
The film is available to stream exclusively on The Coda Collection — a unique, subscription streaming offering featuring an exclusive, curated selection of iconic music documentaries, concert films, and episodic series via Amazon Prime Video Channels, paired with a complimentary website exploring new perspectives on music.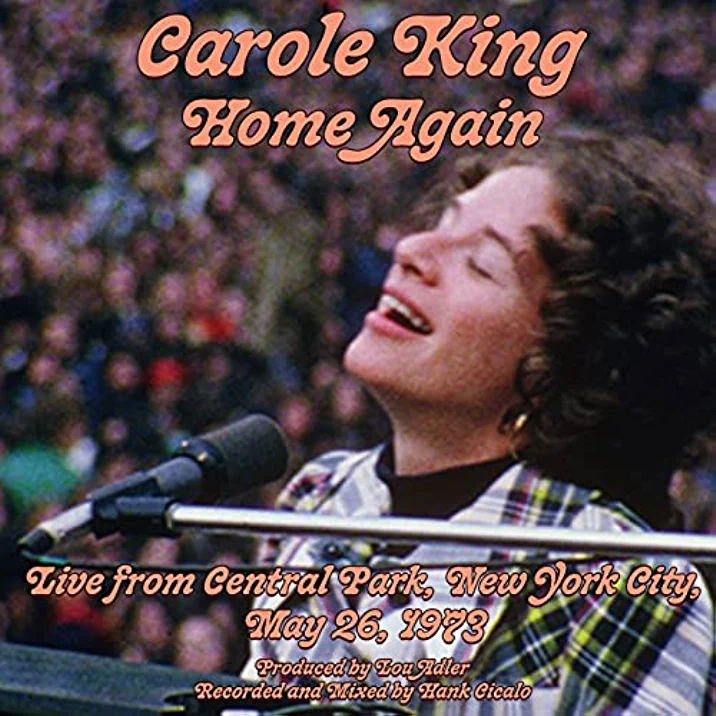 Home Again Setlist
1. Beautiful
2. Been To Canaan
3. Way Over Yonder
4. Smackwater Jack
5. Home Again
6. Sweet Seasons
7. It's Too Late
8. Fantasy Beginning
9. You've Been Around Too Long
10. Being At War With Each Other
11. That's How Things Go Down
12. Haywood
13. A Quiet Place To Live
14. You Light Up My Life
15. Corazón
16. Believe In Humanity
17. Fantasy End
18. You've Got A Friend

Latest posts by Best Classic Bands Staff
(see all)