The Beatles' Forgotten Top 20 Hit: A 'Sweet' Story
by Jeff Tamarkin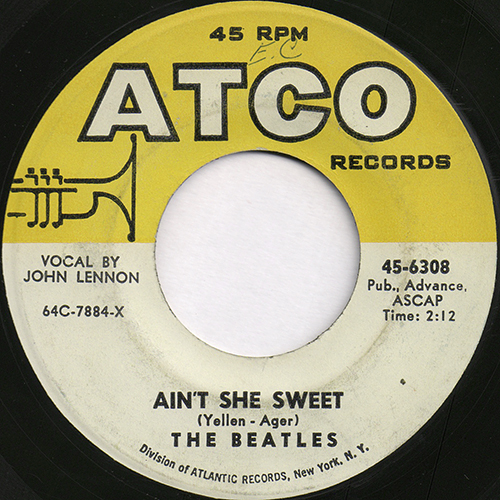 If we told you that The Beatles scored a top 20 single in 1964—the year that they broke in America—that's been all but forgotten, you'd rightfully be skeptical. All of the Beatles' hits are still loved and known inside out and upside down, you'd say to yourself. How could one have been "lost" to time?
But it's true. A #19 hit in America, this song fared better on the Billboard singles chart than such memorable tunes as "From Me to You" and "I'll Cry Instead," yet it has received virtually no radio airplay in decades and is almost never mentioned in accounts of the band's early days.
The tune in question was a cover, recorded in Germany all the way back in 1961, when Pete Best was still the band's drummer. It hit the U.S. chart the very same day as the title song from A Hard Day's Night, which of course rocketed to #1, but this particular song was considered a curiosity even as it climbed the charts.
What could it possibly be?
The record was "Ain't She Sweet," composed by Milton Ager with lyrics by Jack Yellen in 1927, sung by John Lennon 34 years later and released in America on Atco Records, a subsidiary of the R&B titan Atlantic Records, and in England by Polydor.
Related: Our review of the Beatles documentary Eight Days a Week
The song had amassed a rich history by the time the young British musicians found it. It had been recorded by dozens of artists starting in the year it was penned, mainly by now-forgotten singers and orchestras alongside a few whose names are still well known (Paul Whiteman, Jimmie Lunceford). Over the years it returned to favor on occasion, making its way to waxings by Pearl Bailey, Eddie Cantor, Tommy Dorsey, Benny Carter, Harry James, Big Joe Turner, jazz organist Jimmy Smith and others. Frank Sinatra would also cut the song, but not until a year after the (still-unknown) Beatles did.
Listen to a 1927 recording of "Ain't She Sweet," by Gene Austin
The version that Lennon hooked onto was Gene Vincent's, recorded in 1956 for Bluejean Bop!, the rockabilly singer's debut album for Capitol Records (ironically, the label the Beatles would ultimately sign with in the U.S.). Vincent treated it as a smooth semi-rocker, bathed in reverb, but the Beatles turned up the tempo and placed a pronounced rock 'n' roll beat under the tune when they started performing it.
Lyrically, the song was quite simple.
"Oh ain't she sweet?
Well, see her walking down that street
Yes, I ask you very confidentially
Ain't she sweet?"
If you think about it, the sentiment is rather silly. Why does the narrator need to maintain confidentiality in his discussion of her sweetness? It's not as if they're discussing state secrets or bedroom habits, after all. If he thinks she's sweet, who cares what anyone else thinks?
Yet he continues seeking validation. In the following verse, he declares the objection of his affection to be "nice," then asks whoever is on the receiving end of this gushiness to "look her over once or twice" and agree with his assessment. This insecure banter is repeated several times, with no definitive agreement being reached, until the tune winds down after a couple of minutes or so.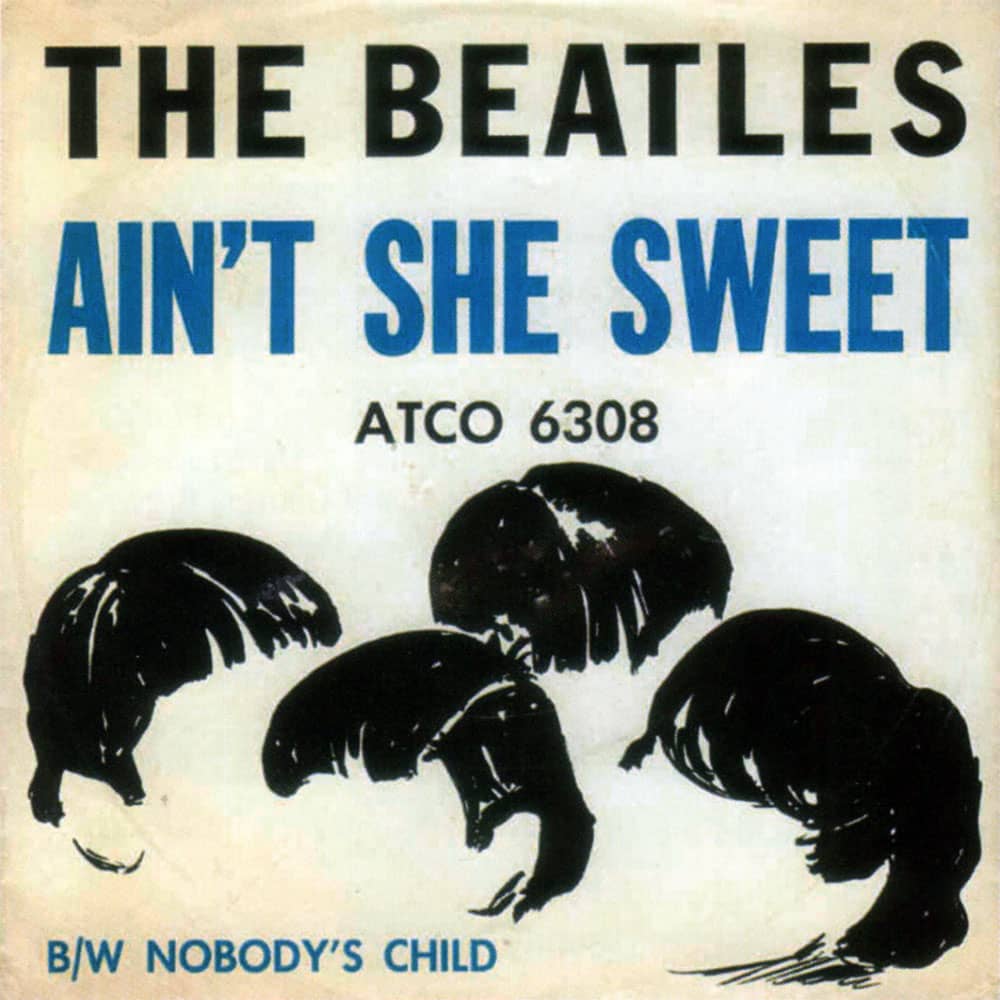 The nascent Beatles most likely cut their version of the song on June 24, 1961, during sessions in Hamburg for producer Bert Kaempfert. The group was in the studio to supply backup music for British singer Tony Sheridan. One of their members, bassist Stu Sutcliffe, wasn't included, leaving John Lennon, Paul McCartney, George Harrison and Pete Best to do the task.
In addition to the Sheridan-fronted numbers—which included "My Bonnie," also released as a single in 1964; the Hank Snow country tune "Nobody's Child"; bluesman Jimmy Reed's "Take Out Some Insurance on Me, Baby" and others—the Beatles had time to cut a couple of tunes on their own. "Ain't She Sweet" was one; the other was a group original, "Cry for a Shadow," an instrumental tribute to Cliff Richard's backup band the Shadows.
Listen to the Beatles' 1961 recording of "Ain't She Sweet"
Why would the Beatles have chosen such an old and semi-obscure song for one of their first studio sessions? At the time, they considered it their duty to be versatile musically, to be able to play many different styles for different occasions. That same attitude led to them learning and customizing "Till There Was You," a song from the Broadway musical The Music Man, which the Beatles would record in 1963 and perform on their first appearance on The Ed Sullivan Show.
Related: When Pete Best was on I've Got a Secret
In the liner notes for The Beatles Anthology 1, on which their 1961 rendering was included, McCartney explained the reasoning behind the group's covering such material: "A lot of our tracks may not have been 'cool,'" he said. "I think if we'd just been cool, we wouldn't have made it how we did…The fact that we weren't ashamed of those [cabaret] leanings meant that the band could be a bit more varied. And there was a need for that, because we played cabaret a lot. Songs like 'Till There Was You' and 'Ain't She Sweet' would be the late-night cabaret material. They showed that we weren't just another rock 'n' roll group."
"Ain't She Sweet" did not become a regular feature in the Beatles' repertoire though. Lennon had been singing the song with his various groups as early as 1957 (the year after Vincent released it), but by 1962 it had been dropped from the Beatles' shows.
That doesn't mean it was dead. When fame arrived, record labels scoured their contracts and tape vaults to see if they might have the distribution rights to any Beatles recordings that the band's official labels—EMI in England and Capitol in the U.S.—had passed on. In America that meant a confusing whirlwind of competing 45s on different labels flooding the market in early 1964: "From Me to You" (Vee-Jay Records, and actually released in the summer of 1963, predating Capitol's involvement), "She Loves You" (Swan Records), "Twist and Shout" (Tollie, a Vee-Jay subsidiary) and MGM (the tracks with Sheridan). "Ain't She Sweet" came out on Polydor in the U.K., where it rose to #29, and was leased to Atco in the United States, where it was released on July 6, 1964, with "Nobody's Child" on the flip side. It entered the Billboard Hot 100 on July 18 and reached its #19 peak – #13 on Record World – on the chart of the week ending August 22.
In October 1964, Atco released an album titled Ain't She Sweet, also featuring three of the other Sheridan sides: "Nobody's Child," "Take Out Some Insurance on Me, Baby" and another cover of a standard, "Sweet Georgia Brown." The album, whose cover promised "Other Great Group Sounds from England," was filled out with tracks by a group called the Swallows, who remained unknown and were quite likely not even British.
The Beatles' version of "Ain't She Sweet" remains a footnote in their unparalleled career—historically interesting (the only time Pete Best appeared on a top 20 single in America) and surprisingly durable as a basic rocker, but largely ignored.
It did, however, turn up one more time before the Beatles were completely finished with it—toward the very end of their run. During an Abbey Road recording session on July 24, 1969, for "Mean Mr. Mustard" and "Sun King," a somewhat hoarse Lennon broke into an impromptu version of the song, which was captured on tape. Similar to the slower Gene Vincent arrangement, with a bit of a bluesy feel injected, it was later included on The Beatles Anthology 3.
Someone, it seems, had remembered it.
I ask you, very confidentially, ain't that sweet?
Listen to the Beatles revisiting "Ain't She Sweet" in 1969
Years later, Paul, Ringo and George sang the song together.
Related: Links to 100s of classic rock tours

Latest posts by Jeff Tamarkin
(see all)