'Smiley Smile': The Beach Boys Album That Wasn't Supposed to Be
by Jeff Tamarkin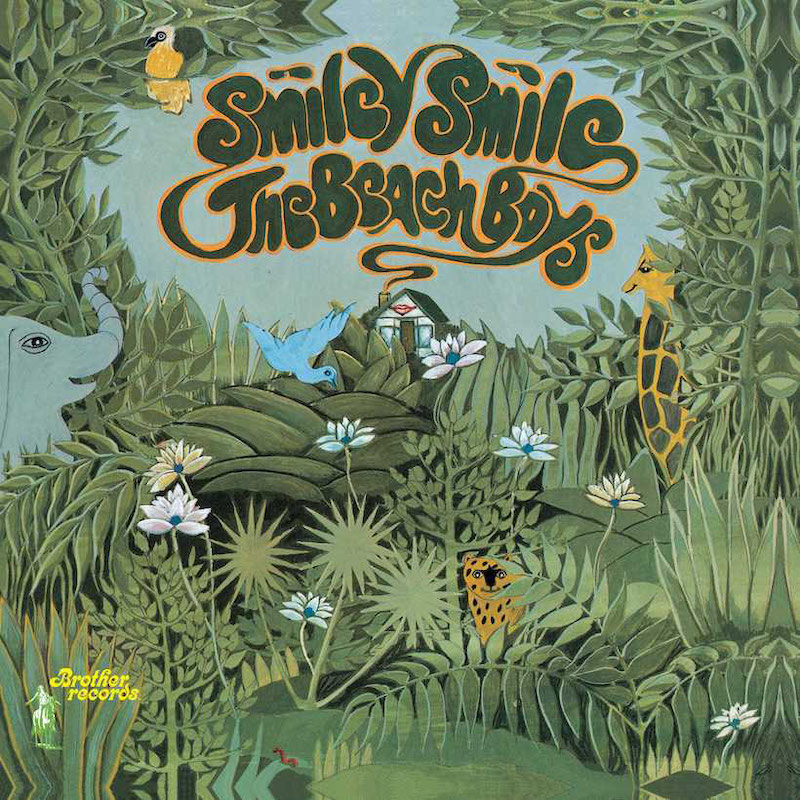 Since 1967, when Brian Wilson scrapped it, The Beach Boys' Smile album has been called the "most legendary unreleased album" in the history of rock. The story behind the collapse of the project, which would have followed the now-lionized Pet Sounds, is a central component of rock lore; it became accepted as fact that the album, had it been released, would have rivaled the Beatles' Sgt. Pepper's Lonely Hearts Club Band as a cornerstone recording not only of that year but of the rock era.
Wilson's plan for the band's 12th studio album had been to create a glorious, complex masterpiece from assorted loose ends: new songs co-composed with lyricist Van Dyke Parks, random snippets of sound and other ephemera. In its entirety, the finished work—if all had gone according to plan—would, in theory at least, have served as the ultimate American music album, encompassing multiple genres, plus found sounds, comedic bits and all sorts of what-not.
But Smile wasn't to be. For various well-documented reasons, it never got off the ground. While some music intended for the album was produced, few finished songs resulted from the sessions begun in early 1966. The recording was never fully mapped out or definitively sequenced and in May of '67—his state of mind already fragile since his withdrawal from the group as a touring member, the situation exacerbated by various legal and corporate issues—Brian Wilson gave up on Smile.
Listen to the long version of "Heroes and Villains" from The Smile Sessions
Rumors circulated at the time, including one famous one that had Brian convinced his creation of the "Fire" portion of a suite called "The Elements" was responsible for a nearby building fire. It was said that Brian had destroyed the Smile tapes, so spooked had he been. Eventually the word got out that there would be no Smile.
For decades after that, fans conjectured: What would Smile have been? Which songs would have been on it, and in what order? Would it have been the greatest album ever made?
Some tunes intended for the album (including the magnificent "Surf's Up") were released on other Beach Boys albums; others found their way to bootlegs; several were never heard. Finally, in 2004, a reenergized Brian Wilson returned to the concept and released a newly recorded version of the album he called Brian Wilson Presents Smile. Then, in 2011, Capitol Records, the Beach Boys' original label, issued both a five-CD boxed set and a more manageable two-disc compilation titled The Smile Sessions, rounding up every known piece of tape, some just seconds long, that had sat in the vaults all those years (they never were actually destroyed).
Listen to "Whistle In"
With the demise of the Smile project after a year of misfires, the Beach Boys and Capitol had to move quickly. Pet Sounds, although it had reached #10 in Billboard, did not sell as well as previous Beach Boys albums. Additionally, rock was evolving quickly and the Beach Boys stood to be considered an anachronism when compared to new arrivals like Jimi Hendrix and the Doors. Although Pet Sounds had moved them into new territory, and its sophisticated songwriting and immaculate production had influenced countless contemporary artists—the Beatles included—the Californians needed to show they were still viable.
Listen to "Wonderful"
What they came up with as a salve was Smiley Smile, quickly assembled nearly from scratch. Only a couple of pieces of Smile were utilized, although some of its songs ("Vegetables," "Wonderful" and "Wind Chimes") were reworked from the ground up. In the end, the minimalist, often experimental Smiley Smile numbers, cut at Brian's new home studio over a six-week period in the spring of 1967, had next to nothing to do with the abandoned album other than a similar title.
Listen to "Vegetables"
Eschewing the studio musicians used on their previous recordings, the Beach Boys themselves played most of the instruments (including organ, melodica, percussion, bass, piano and found objects) on the new sessions. The entire group, rather than just Brian, was credited with the production.
Listen to "Gettin' Hungry," one of the more rocking pieces on the album
(The one major exception to all of this is the instrumental "Fall Breaks and Back to Winter [W. Woodpecker Symphony]," a lush, gorgeous, if still kind of quirky orchestral piece that builds upon "Let's Go Away for Awhile" from Pet Sounds.)
In record time, so to speak, they had their next album.
Related: What were we listening to in 1967?
But before anyone had even heard a note, Smiley Smile's reputation suffered by comparison: Smile was supposed to be a pop music landmark and the Beach Boys had failed to complete it. How could this mere replacement possibly come close?
Relatively few fans were interested in finding out. Smiley Smile, released on Sept. 18, 1967—16 months after Pet Sounds—on the band's new Brother Records label (via Capitol distribution), was a commercial dud. It stalled at #41 on the charts, the Beach Boys' lowest placement to that time. Although a few critics praised it, it was largely considered a failure. Sure, it contained the recent chart-topping single "Good Vibrations" (which had been released after Pet Sounds), and the followup single, "Heroes and Villains," one of the collaborations with Parks, was rather ambitious. (Fans didn't know, at the time, that the original version was longer and weirder.)
Listen to the session masters of "Good Vibrations"
But what were these other oddball filler tunes? Why were the Beach Boys, of all people, singing an ode to "Vegetables"? What were these quiet, airy trifles about "Wind Chimes" and a "Little Pad" in Hawaii? Why was the balding Mike Love singing a song about a woman going bald—with a dramatic but silly spoken word coda about oral sex, no less?
Listen to "Little Pad"
For some longtime fans, Smiley Smile was just too far out there. Pet Sounds had been a drastic but acceptable departure from the surf oeuvre that had defined the Beach Boys from the start. Many fans embraced Pet Sounds for all of the reasons that have since come to light every time it's named one of the greatest albums of all-time. But this Smiley Smile was just plain weird; some of it sounded more like Frank Zappa than the Beach Boys.
Listen to "With Me Tonight"
Then, something happened to Smiley Smile: time. Over the years, attitudes softened. Many who had originally dismissed it came to see in it a subtle, tender beauty. In its own way, it was as much a statement on 1967 as Are You Experienced? The Beach Boys' Bruce Johnston (who did not participate in much of the album's creation) has been quoted as saying that some drug treatment centers even found that the album's more relaxing, wispy tunes helped calm down those on bad LSD trips.
Listen to "She's Goin' Bald"
Indeed, several of the tunes, now considered precursors of a subgenre known as lo-fi, served as something of an antidote to the blaring, guitar-heavy rock that was emerging at the time. With Brian Wilson still serving as the band's primary composer, often in tandem with Love or Parks (who had walked out on the Smile project due to inner-band tensions), delicate songs like "With Me Tonight" and "Wonderful" (both featuring the lead vocals of Carl Wilson) were calming in nature. And while there is undoubtedly a large helping of esoterica to be found—the startling and seemingly random jolt of sound that interrupts "Wind Chimes," the entirety of the aforementioned "Vegetables" and "She's Going Bald" (which includes a section wherein Mike Love's lead vocal is sped up)—for the most part Smiley Smile, in retrospect, was the natural next step forward from Pet Sounds.
Listen to "Wind Chimes" from Smiley Smile
Now listen to the earlier, very different version of "Wind Chimes" from The Smile Sessions
Now loved by many, Smiley Smile often turns up on lists of rock's all-time greatest albums, never quite as high up the list as Pet Sounds, but above most other Beach Boys albums. Perhaps it was just ahead of its time.
No one—even the Beach Boys—knows what Smile would have actually been if Brian and the group had completed it in its own time. The remakes and reconstructions made posthumously are just that, someone's idea of what might have been. Smiley Smile, on the other hand, is what it is. To some it will always be an also-ran, a substitute for something that would have shadowed it, but to others it is a masterpiece in its own right.
Listen to the single version of "Heroes and Villains"
Related: The story behind "Good Vibrations"

Latest posts by Jeff Tamarkin
(see all)