Our newest contest is for one of popular music's most important recordings of all time, The Beach Boys' iconic 1966 album, Pet Sounds, which is being re-released in special expanded editions to commemorate the album's 50th anniversary. On June 10th, The Beach Boys and Capitol/UMe will release the masterpiece worldwide in several configurations with numerous alternate takes and live recordings. ENTER TO WIN BELOW!
Related: Click for complete track listing
Best Classic Bands' contest winner will win a four CD/Blu-ray Audio collectors edition presented in a hardbound book, featuring the remastered original album in stereo and mono, plus hi-res stereo, mono, instrumental, and 5.1 surround mixes, session outtakes, alternate mixes, and previously unreleased live recordings.
The 50th Anniversary release is also available for purchase in the following formats: a 2CD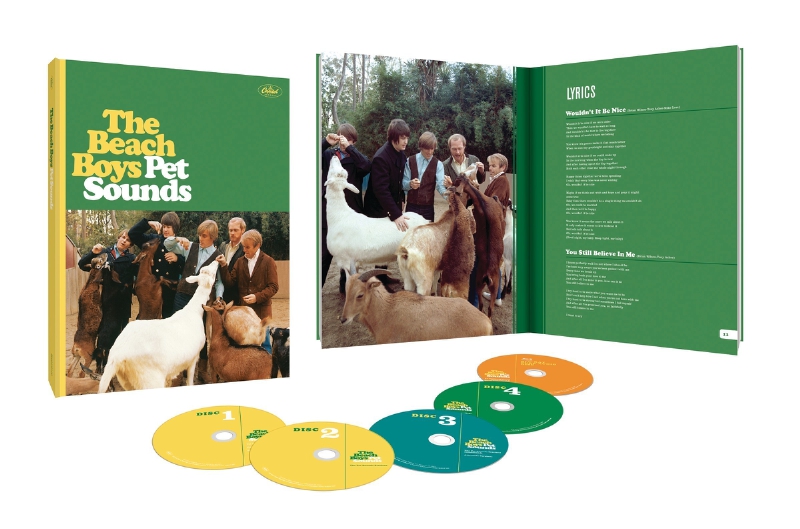 and digital deluxe edition pairing the remastered album in stereo and mono with highlights from the collectors edition's additional tracks; and remastered, 180-gram LP editions of the album in mono and stereo with faithfully replicated original artwork.
The Beach Boys' 11th studio album, Pet Sounds wasn't initially met with the enthusiasm it has subsequently received. The band's five preceding studio releases all charted higher. Yet its impact as a concept album came to be appreciated in later years and has earned a rank as one of popular music's greatest albums ever recorded. It entered the Grammy® Hall of Fame in 1998 and was ranked #2 in Rolling Stone's list of the 500 Greatest Albums of All Time.
Brian Wilson recently told Best Classic Bands: "I decided to experiment with a new kind of music. I was young and creative and we really did good. I'm glad that people still like the album. It makes me proud."
Pet Sounds' most well-known songs are its three most popular singles: "Sloop John B," "Wouldn't It Be Nice" and "God Only Knows."
Related: Our appreciation of Pet Sounds 50th Anniversary collection
So what are you waiting for? Enter our contest stat! Since only one of you will win, we'll understand if you can't wait and want to buy one of the versions right away via the links below…
No purchase necessary. Deadline for entries is 11:45PM Eastern time on June 9, 2016. For complete Best Classic Bands contest rules, click here.
[wcc_contest id=22373]

Latest posts by Best Classic Bands Staff
(see all)