Bauhaus Live Review: A Commanding Tour de Force
by Randy Miller
Following their performance at Cruel World, a revival festival that brought together a cohort of '80s modern rock bands, Bauhaus opened their 2022 tour at the Arlene Schnitzer Concert Hall in Portland, Oregon, on May 17, making it clear that they are anything but a nostalgia band. Forty years after the release of their debut album, Bauhaus remain a commanding tour de force.
To see Bauhaus live is a rarity. In 1983, the band closed its opening chapter with a performance at London's Hammersmith Palais so that vocalist Peter Murphy could focus on Dali's Car (with Mick Karn) and his solo work, while the other members—Daniel Ash, David J and Kevin Haskins—began to record as Tones on Tail and then Love and Rockets. Since then, Bauhaus has reunited only twice, for tours in 1998 and 2005. The 2005 tour kicked off at Coachella with Murphy, hanging from the rafters upside down like a vampire bat, performing the band's signature tune, "Bela Lugosi's Dead."
Listen to the original "Bela Lugosi's Dead"
Seventeen years have passed since that landmark performance and in Portland, Bauhaus proved to be as powerful and chaotic as ever. Setting the mood for the evening, Murphy, visibly angry and cursing over a production delay, stormed onto the stage alone, demanding that his bandmates join him. Ash and Haskins followed closely as they hurried into a cover of John Cale's "Rosegarden Funeral of Sores." David J showed up a couple of minutes later with the band already halfway through the song.
Three songs later, Bauhaus had settled into a ferocious performance of "In the Flat Field" and the energy never let up through the rest of the set. When Bauhaus got into that zone, the individual musicianship was imposing.
Watch the band's performance of "In the Flat Field" from Cruel World
Haskins performed with the relentless power of a human drum machine, never easing up. Creating an utterly unique sound that belies his instrument, Haskins blended jazz, bossa nova and industrial-dance rhythms with triggered sounds and samples that drove the band's frenetic energy. David J. played a fretless bass like a keyboard, creating a synthesis of vibrato tones that ranged from fuzzy and twangy to spooky sounds as he slid between notes and chords. Together, Haskins and J made an orchestral rhythm section that was as powerful as any band's.
Ash is one of the most underrated guitar players in rock. He employs an idiosyncratic style of moody atmospheric effects, howling riffs, fuzz and distortion to create a sharp metallic style that is all his own. He showed it off with aplomb in the majesty of "She's In Parties," the caustic drive of "Dark Entries" and the discord of "Stigmata Martyr."
At this show, Murphy was on edge. He ranted at band mates, raged at the crew, stared down the audience. His deep baritone is as powerful as ever and, sporting a pointy beard, he prowled the stage like a bald-headed Man of La Mancha. His command was Shakespearean as he cradled the microphone before offering it to the audience to sing along on "Kick In the Eye." He melded a mystical swoon into a mesmerizing gothic chant in "Stigmata Martyr" and then, bathed in a halo of blood red light, transformed his microphone stand into a crucifix as he appeared to hang over the band.
A Bauhaus show is not complete without a performance of "Bela Lugosi's Dead." It is not their best song but it is their cause of being. This night's performance was no exception. It only contains three bass notes, but it is David J's signature. This was the piece de resistance for the worshiping audience of aging goths suited up in their blackest of black nightwear. Murphy transformed: He's dead. He's dead. He's dead.
The show came to an end with the blurring maelstrom of "Dark Entries" and then the band encored on a lighter, glammier note with covers of T. Rex's "Telegram Sam" and David Bowie's "Ziggy Stardust."
Bauhaus adopted both of those songs as their own from their onset and, although perfectly expected, it would be a welcomed change for them to introduce some fresh cover songs. Maybe even an homage to their own individual work would make a unifying moment, for the band and the audience: Bauhaus interpretations of Love and Rockets' "No New Tale to Tell" and Murphy's "Cuts You Up," perhaps?
Bauhaus is a band that you should see. They are the creators of a lasting sub-genre of rock music. Their music and musicianship have become timeless and influential. You don't have to be a fan or be familiar with the songs. You will leave the concert knowing that you've witnessed a band that has made a legendary impact on rock 'n' roll.
SET LIST
Rosegarden Funeral of Sores (John Cale cover)
Double Dare
In the Flat Field
A God in an Alcove
In Fear of Fear
Spy in the Cab
She's In Parties
Kick in the Eye
Bela Lugosi's Dead
Silent Hedges
The Passion of Lovers
Stigmata Martyr
Dark Entries
ENCORE:
Telegram Sam (T. Rex cover)
Ziggy Stardust (Bowie cover)
Tickets to see Bauhaus are available here.
Watch a live version of "Bela Lugosi's Dead" from the 2005 Coachella festival
Related: Listings for 100s of classic rock tours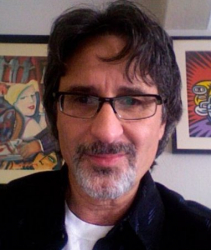 Latest posts by Randy Miller
(see all)