Alice Cooper in Concert: Less Shock, Still Plenty of Rock—Review
by Randy Miller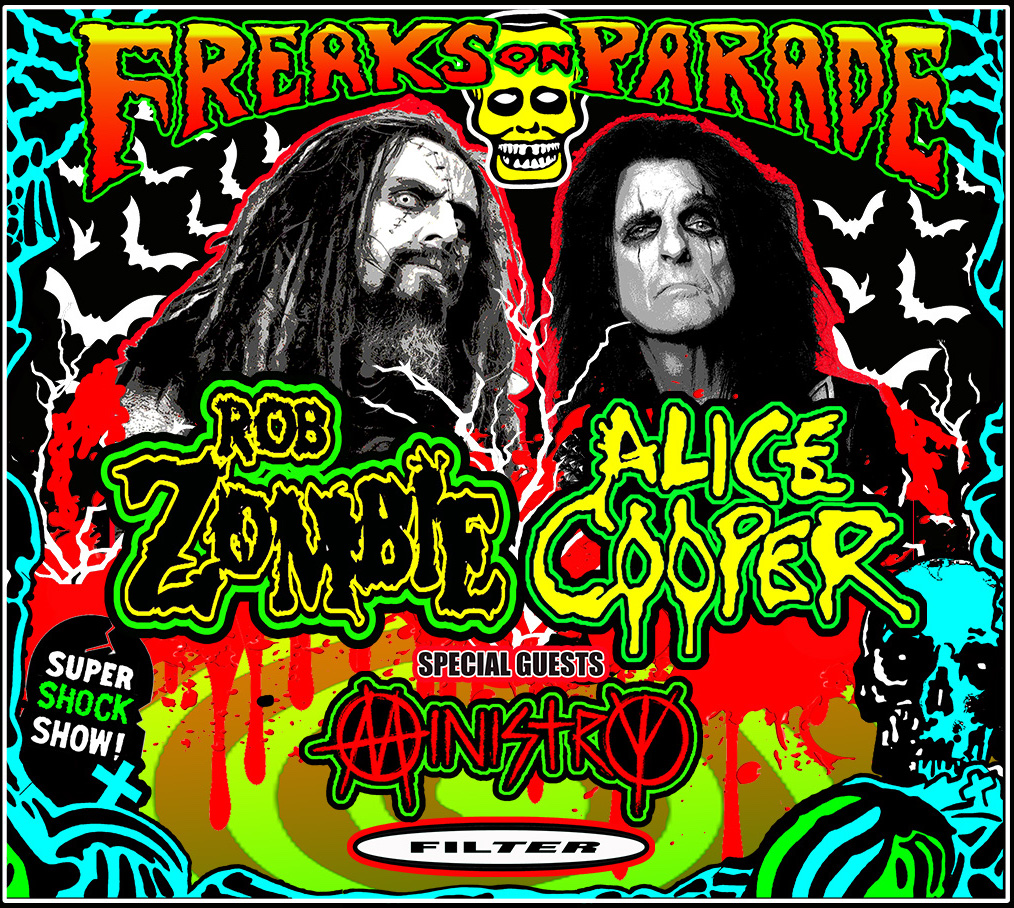 Over the span of two short years, some in the early '70s, Alice Cooper spawned shock-rock with four albums that were thrillingly disruptive for the times and, in doing so, became one of the biggest rock stars on the planet. The breakthrough album, Love It To Death, was released in March 1971 and the masterwork, Billion Dollar Babies, in March 1973. In between those two albums the band sharpened its garage-band sound and sleazy image and took to the stratosphere with Killer and School's Out.
Armed with a litany of rebellious teenage anthems and a #1 chart-topping album (Billion Dollar Babies), the band embarked on a world tour that would be one of the first to usher in the era of arena-rock. With knee-high leopard boots, shredded clothes, blackened eyes and a trove of grisly theatrical props, the band shocked and rocked through a set that included "I'm Eighteen," "School's Out," "Elected," "No More Mr. Nice Guy," "Under My Wheels" and a repertoire of songs that horror films are made of. Nothing like it had ever been experienced before but the unearthly tour de force was as terrific as it was horrific. A year later the Alice Cooper band would implode, opening a door for Alice Cooper the showman.
On Sept. 19, 2023, the Freaks on Parade show, featuring Rob Zombie, Alice Cooper, Ministry and Filter, rolled into the RV Inn Style Amphitheater in Ridgefield, Wash. Sharing the top of the bill with Zombie prompted a shorter than usual set from Cooper but he packed in all of those classic anthems and a few more from his 22 solo studio albums. With characteristic spidery eyes and an endless display of Alice-esque regalia, Cooper wielded canes and crutches, boa constrictors and Frankenstein monsters, dead babies, swords and guillotines to take us back to the time when all of that scared the daylights out of our parents. It was a performance that no longer shocked but was instead quaintly theatrical.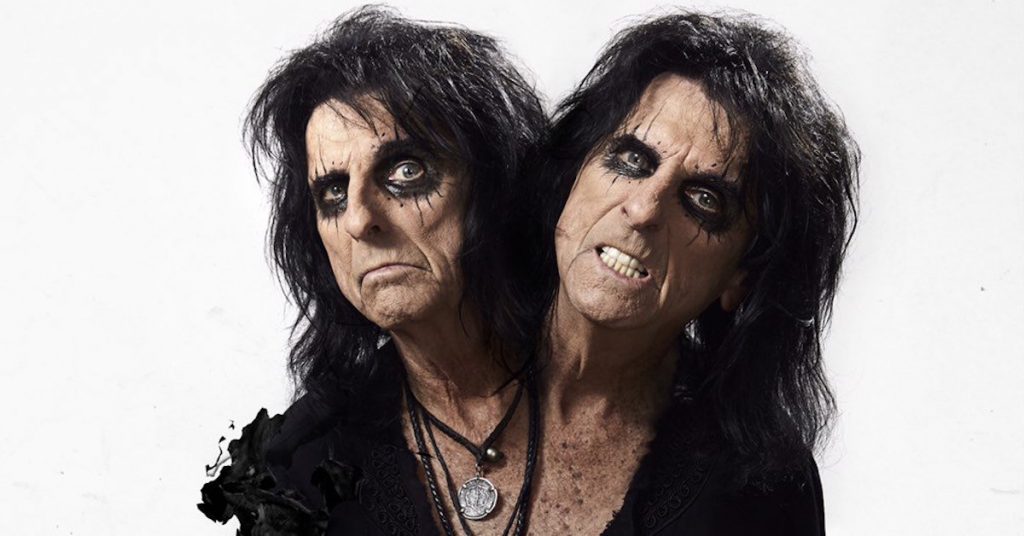 The show opened with a silhouetted Cooper behind a floor-to-rafter-sized newspaper with a headline that read "Alice Cooper Banned in Washington." Singing "Lock Me Up," he sliced his way through the faux-newspaper and quickly segued into the first classic of the night, with the audience singing along: "I got no friends 'cause they read the papers…No More Mr. Nice Guy."
Cooper himself was in fine form. Although his face is that of a 74-year-old man, he showed no signs of his age, commanding the stage with the same menacing presence that made him a star all those years ago. His vocals were strong and when he sang "I'm a boy and I'm a man, I'm eighteen, and I like it," it was with all of the spunk and conviction of his younger days.
Taking a break from the classics, Cooper took the opportunity to showcase some highlights from his solo career. "Hey Stoopid" and "Lost In America" both played to his fun side while "Snakebite" introduced Cooper's famed boa constrictor, wrapped tightly around his neck and shoulders. "Poison," the biggest hit of Cooper's solo album Trash, cloaked the tale of forbidden sexual encounter in a sugary sweet pop metal melody.
Watch Alice Cooper perform "Poison" at an earlier show on the tour
On "Ballad of Dwight Fry," Cooper, wrapped in a straitjacket and looking terribly insane, took on the song's character with the perfection of a method actor, telling the haunting tale of Fry's escape from an abusive asylum. In a delusional haze, Marie Antoinette, played by Cooper's wife Cheryl, enlisted the audience's support in consent of his beheading. Once downright spine-chilling, Cooper's trademark guillotine trick is now just a comic gimmick with Marie Antoinette dancing across the stage swinging his decapitated head like a rag doll.
The Alice Cooper band of yesteryear may be long gone but Alice Cooper the person has surrounded himself with ace musicians, led by the guitar trio of Nita Strauss, Ryan Roxie and Hollywood Vampire Tommy Henriksen. The three slingers took turns swapping rhythm and lead, creating a sound that was more ''80s shred metal than the heavy blues and choppy snarl of original guitarists Michael Bruce and Glen Buxton. Still, the threesome played together with a ferocity that exploded with energy, especially notable in "Billion Dollar Babies." Rounding out the band was bassist Chuck Garric and drummer Glen Sobel. Worth noting: all of the guitar players added backing vocals that richly complemented Cooper's raspy baritone.
A vintage video of Cooper and Vincent Price allowed the star to exit the stage for a costume change while the extraordinary Strauss stepped into the spotlight to show off why she's earned the nickname "Hurricane Nita" and is rightfully considered one of the finest guitarists on the scene today. As Strauss wrapped her masterful solo she was joined by Roxie and Henriksen for an enthralling three-way "Black Widow Jam" shred-fest.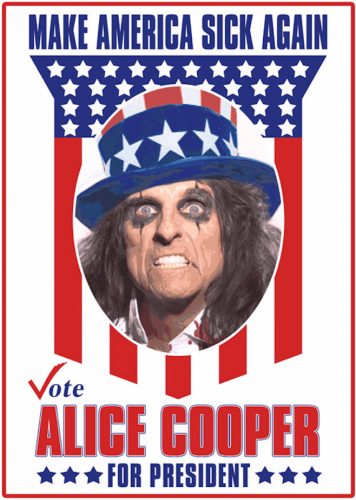 The set came to an end with a rousing version of "Elected," with Cooper, the presidential candidate, proclaiming, "Why not me?" and offering his answer to the country's problems: "I don't really care…do you?" Hmmm. The timeless classic "School's Out" was the finale and as Cooper popped giant confetti-filled balloons with a sword, the band segued into Pink Floyd's "Another Brick In the Wall, with the audience singing along all the while. With a wish for a happy Halloween and a hope that "all of your nightmares are horrific," rock's greatest vaudevillian and the godfather of shock-rock bid an appropriate adieu.
Tickets to see Alice Cooper are available here and here.
Watch Alice and band perform "School's Out" at a 2022 show
Related: Our Album Rewind of Billion Dollar Babies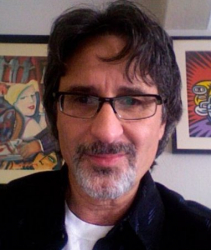 Latest posts by Randy Miller
(see all)