The Animals: An Interview with the 5 Original Members (Part 2, the Breakup and Beyond)
by Jeff Tamarkin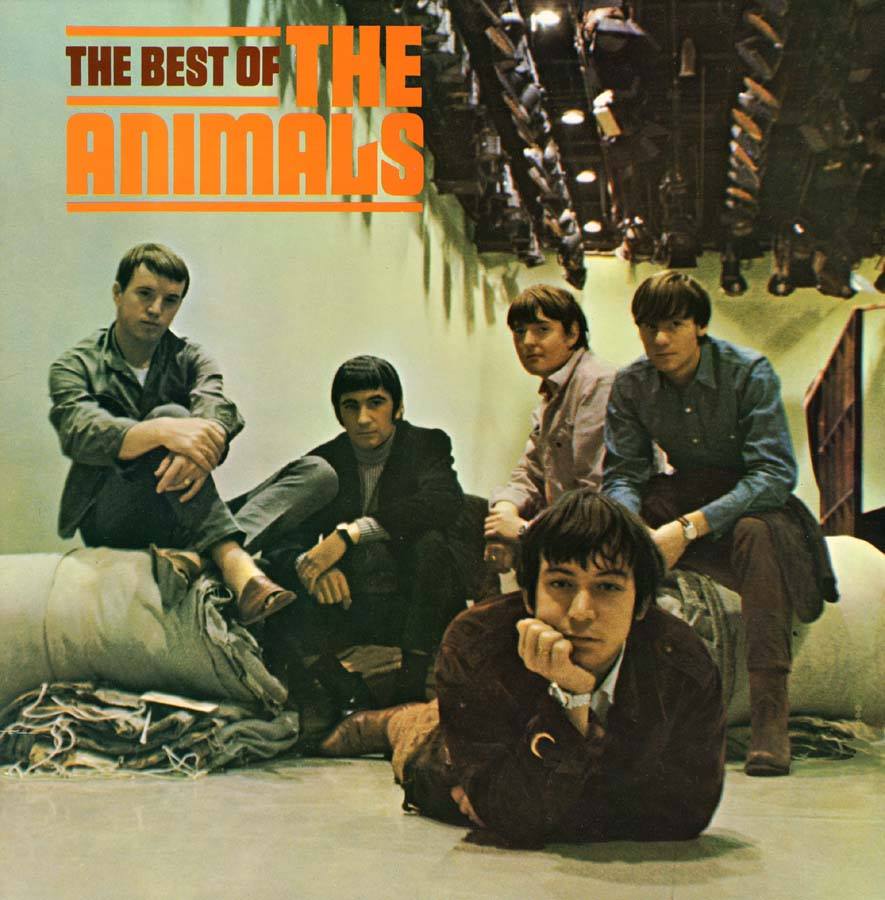 In 1983, the original members of The Animals—Eric Burdon (vocals), Hilton Valentine (guitar), Alan Price (keyboards, background vocals), Chas Chandler (bass, background vocals) and John Steel (drums)—reunited for an album and tour. At that time, Best Classic Bands' future editor interviewed all five musicians about the history of the band. In part one of the interview, which had been out of print for decades, the former members talked about their start and the hits that established the Animals as one of Britain's greatest blues-rock bands. Here, in the second and final part, we asked each to tell us about what they did immediately after leaving the Animals—and some other things.
Alan, you were the first to leave the Animals. Why did you quit?
AP: I was tired and confused. I was the first to give up the struggle between the demands that were made on us and what we were trying to experience. We were really enjoying what we were doing before. Then when we turned professional and had a major success, demands were made on us and they never took into account what we felt, or what we wanted to play, or even what our ideas were. Decisions were made on our behalf without our even knowing about it. It had a castrating effect. If you start in music because you want to express yourself, and all of a sudden you've done the hard part and you've got that, and you're still not allowed to express yourself… it's like when people get married and start out and want a house. They get it and fill it with furniture and then they sit down and say to the walls, "Talk to me." That's what I felt like: a guy in this band who'd gone through all this shit and made number one, and I still wasn't happy at all. It went on, and all we did was gigging and gigging and I hated it. It might have been because of my conception of what being a professional musician was. So I bailed out at the first available opportunity.
John, you were next to leave. Why did you drop out?
JS: It was '66, I think. I was just pissed off because it seemed we never stopped touring but at the same time we never seemed to have a lot of money. I remember once coming out of the Ready, Steady, Go! studios and wondering if I was going to be able to catch the tube [subway] home. Then [producer] Mickie Most drove up in his first Rolls Royce, and he rolled down the window and said, "Can I give you a lift?" I just said, "Piss off!" He looked very perplexed.
CC: Hilton and I dropped out next. It was the same thing. We were just sitting in a bar somewhere, I think it was in France, and we said, "This isn't what it used to be." We signed up for another tour and then two days before the tour started. I met up with Jimi Hendrix and I knew what I was going to do when the tour finished. When it was over, I just walked away from it.
Where did you discover Hendrix?
CC: In Greenwich Village, a place called the Café Wha? A friend of mine came up to me at a place called Ondine's and said I had to see this guy. So I went the next afternoon and he was playing a showcase with a couple of guys he'd just met. I had just heard a record by a guy named Tim Rose, called "Hey Joe." I decided when I got back to England, I was going to find someone to record the song and when I went to see Hendrix that day, the first song he was playing was "Hey Joe."
Had he developed his act and his look by then, or was he just some guy playing great guitar in a bar?
CC: He was just playing with this young runaway named Randy California [later of the band Spirit—ed.]. He wanted me to take Randy to London as well, but he was just a 15-year-old runaway, so I couldn't quite get him a work permit. So we just went to England and started looking for musicians to form a band. I stopped working with Jimi about a month before he started Electric Ladyland, intending to drop out for a while, and I walked right into Slade. I produced and managed them for 12 years.
How did you hook up with Slade?
CC: I walked into a club one night and they were playing. A friend of mine had told me I ought to see the band so I did.
Why do you think Slade never caught on in America, although they were huge in Europe?
CC: America was going through some hard times then, don't forget, and had lost its sense of humor—from Vietnam to Watergate. But everywhere else they were huge. At one time in Australia, they were one, two, three, four and five on the singles charts, and one, two, three on the albums charts. They had a song called "Merry Christmas, Everybody" that was number one for eight months; it was still up there in August!
Hilton, what did you do after leaving the Animals?

HV: I just stayed around London for a while. I was quite spaced out in those days! I kept trying to call Eric every time he came back to England because he owed me some money. I'd been writing some songs, some peace-and-love kinds of things, kind of Donovanish. I went into the studio to record them and made a solo album. After that, I had a few bands here and there.
Watch Hilton Valentine (who passed away in January 2021) perform "House of the Rising Sun" solo
John, what did you do?
JS: Fled north for about 18 months. Then we did a one-off reunion for a charity in Newcastle. By that time Chas had his management company and he asked me to come and work for him. Then the two of us concentrated on breaking Slade. I was with Chas for about 10 years after that.
How did the 1977 Animals reunion album come about?
JS: That was just a half-hearted one-off thing. Circumstances were that I was working with Chas, and Eric came over to Europe for the first time in a while. Alan happened to be free. I think it was the head of Polydor Records who dropped the idea and it took root. We got Hilton in from California and borrowed the Rolling Stones' mobile [recording studio]. But nobody was committed to going out and promoting it so we made it and flung it out there to see if anybody would buy it and then went back to what we were doing before.
Eric, why did you decide to base yourself in California after you broke up the original Animals?
EB: It was warm. I felt at home in California.
You became pretty involved in the West Coast hippie scene.
EB: Not really. I jetted in and out all the time. I made a lot of friends there but I was never really part of the Frisco scene. I just passed through it.
What do you remember about playing the Monterey Pop Festival with your new group of Animals in '67?
EB: I remember a lot about it. For me, it was like a religious festival in a way. It was a true high point of the '60s vision of having a music/religion festival. You had Ravi Shankar coming out and telling everybody to put out their joints and they did. They stopped doing the one thing that they'd come there to celebrate. I didn't really get a chance to see too much of the festival because I was involved checking out what was going on in the hotel. But I went out front for Otis Redding and it was very emotional because he'd just gotten into the Black power thing and here he was in front of a white audience. I understood what he was going through. When he was on, it was pouring rain. I remember I didn't get cold though. I was standing next to a strange chick, who I later found out was an English actress. We just held hands. The whole thing was like that; it was unreal. And Hendrix was unbelievable.
Watch Eric Burdon and the Animals perform "Paint It Black" at Monterey
How do you feel now about your Winds of Change album, and the songs "San Franciscan Nights" and "Monterey"?
EB: I quite like them. You know, I hear this jive all the time about being part of flower power, but yeah, sure, I hung out in Haight-Ashbury and dropped a lot of acid like a lot of people did. There were periods when it sort of flopped over into recording. But in our live gigs we stayed true to being a rock 'n' roll band. We played loud, psychedelic rock 'n' roll. The bands were quite good. It got carried away when we got into the studio. Who doesn't, you know? There's photo of me lying on the floor of the recording studio with the microphone cord strangling me, among Barry Jenkins' drum kit, which was destroyed. And I thought it was supposed to be peace, love and brotherhood.
Related: Eric Burdon's love song to "Monterey"
How did the last Animals break up and how did you become involved with the band War?
EB: We just started smoking a lot of dope and said, "This is better than working." We all looked in our pockets and said we had enough money to buy dope for the next year so we got a big house in Belair and we laid back and smoked bales of it. We made home movies and had a lot of laughs. I stayed in Laurel Canyon and did naughty things until I ran out of money. I was living with this chick and I started her making pillowcases for both of us to survive. She walked into a record company with one of her pillowcases and my name came up and the guy she talked to happened to be [producer] Jerry Goldstein. He had a band who were looking for a new singer and we got together and called it War.
Watch Eric Burdon and War perform "Spill the Wine"
Why did you only stay with War for two albums?
EB: I never intended to be with War for too long. That's why It was Eric Burdon and War. As soon as I heard their own music evolving in the studio, I realized it was time for me to move over. What held me there that long was that the people who put War together supposedly had a Jimi Hendrix movie and they told me if I put War together and had a million-selling record, I could have the movie. But it turned out they didn't even own it.
Didn't Hendrix die right after playing a set with you and War?
EB: He came down and jammed with War and two nights later that was it. That broke my nerve, it broke my belief in the business and in everything and everybody.
If you can boil down your solo career during the '70s into one highlight, what would it be?
EB: There weren't any highlights. I spent the '70s on the road while most people stayed at home. It was hell on the road but I got some good stories out of it.
You mentioned that there's no reason you can't still be playing when you're in your 70s or 80s because people like Muddy Waters did it.
EB: Yeah, but I want to do something different, man. I think I've given enough time to this particular form of expression. I don't want to stop but in order to do something else you must stop for a while. The other times that I stopped was out of sheer frustration and hatred for the business and because of all the lies that I was told.
Watch the reunited original Animals perform "We Gotta Get Out of This Place" in 1983
Related: Read the first half of our "lost" interview with The Animals

Latest posts by Jeff Tamarkin
(see all)