Al Stewart's 'Year of the Cat': Musical Cinema
by Mark Leviton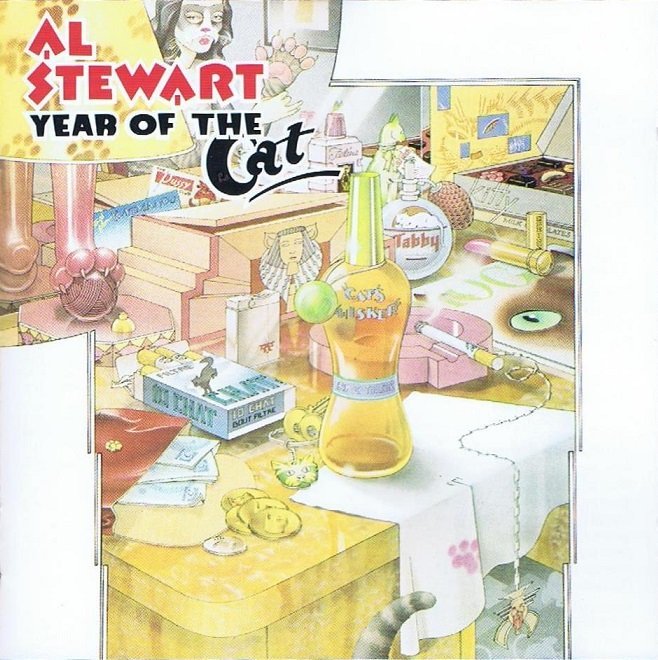 The success of Al Stewart's breakthrough album Year of the Cat in 1976 was a long time coming. His first album, Bed-Sitter Images, came out in 1967; he'd already issued four well-regarded albums in Great Britain before he got his first U.S. releases with 1973's Past, Present and Future and 1974's Modern Times on the small Janus label. His career path was slow and steady, building far too slowly for someone so innately talented. As he entered Abbey Road Studios with producer Alan Parsons in January '76 to record his seventh LP, the tune called "Year of the Cat" wasn't even their main focus, but it was to become Stewart's signature song.
Born in Glasgow, Scotland, on September 5, 1945, but raised in England's Dorset region, Stewart had come up in the same late '60s London Soho folk scene that nurtured Cat Stevens, Roy Harper, Bert Jansch, Ralph McTell and Paul Simon (who roomed with Stewart for a while before returning to the States when Simon and Garfunkel hit the big time). Stewart played the very first Glastonbury festival, and developed his engaging, smooth singing style, at the intersection of folk, pop and jazz; he had a knack for setting his voice in sympathetic instrumental arrangements. Despite what Stewart's childhood friend, the guitar prodigy Robert Fripp, had told him ("There's no money in lyrics"), the bookish Stewart filled his songs with unusual words and multiple verses, singing tales drawn from history, classical literature and philosophy. "I want to show you a movie when I'm playing a song," he's said. "It's aural cinema."
Songs like "Nostradamus" (clocking in at 9:43), from Past, Present and Future, were too long for AM Top 40 radio, but became quite popular on U.S. college FM stations. When Stewart brought in Parsons to produce Modern Times in 1975, Parsons was already famous as an engineer/producer for the Beatles, Pink Floyd, the Hollies, Pilot and Cockney Rebel. Parsons' commercial instincts served Stewart well: the album was like a book of short stories, with the single "Carol" getting radio play around the world and the LP reaching the top 30 on the American album charts.
Stewart says he immediately knew he was recording his strongest set of commercially viable songs for the follow-up to Modern Times, with Parsons at the producing helm again, but insisted the folk-rock "Sand In Your Shoes" was the obvious hit single. Nobody agreed with him, and "Year of the Cat," originally tucked away as the LP's final cut, became the 45 rpm release and title track.
Listen to the long version of "Year of the Cat"
The composition of "Year of the Cat" began the year before, when Stewart, on his first U.S. tour as the opening act for Linda Ronstadt, heard his keyboardist Peter Wood obsessively noodling with a piano riff during soundchecks. He asked Wood if he could write some lyrics to it, but at first he got nowhere. Stewart then tried to match a set of old lyrics for an unfinished song called "Foot of the Stage," about the English comedian Tony Hancock, to the melody, before noticing a reference to "the year of the cat" in a Vietnamese astrology book his girlfriend had left out. Since Hancock wasn't known in America, Stewart took the hint, and over the remainder of 1975 developed new lyrics, setting the story in North Africa, kicking off with a reference to Humphrey Bogart, Peter Lorre and the film Casablanca.
Crucially, aside from excellent work from guitarists Tim Renwick and Peter White, bassist George Ford and drummer Stuart Elliot, an extended alto sax solo by Phil Kenzie was added (he reportedly nailed it in two takes, hurrying back home to finish watching a favorite TV program). Stewart liked the track, but at 6:40 (over half of it instrumental) he didn't consider it suitable as a single, until Parsons and the record company convinced him of its destiny, and a 4:38 single edit became his first major hit in America and Great Britain. The follow-up single, "On the Border," also did well, helping lift the album to platinum status.
Year Of the Cat, released in July '76 in the U.K., and in October in the U.S., is one of those rare albums with no weak cuts. Stewart's intellect and personality shine through, even as he borrows templates from other artists (he's said "If It Doesn't Come Naturally, Leave It" is his attempt at writing a Bruce Springsteen song, and "Sand In Your Shoes" was inspired by Dylan's "Like a Rolling Stone"). "Lord Grenville" is one of his historical "sea songs," and was difficult to record, with Stewart repeatedly failing to hit the highest note he'd written while Parsons fumed in the booth (he eventually got it). Chosen as the LP's opening track, "Lord Grenville" shares some DNA with George Harrison's "Something" and Procol Harum's "A Salty Dog" without losing sight of its own unique qualities.
Listen to "Lord Grenville"
Related: What were the top albums of 1976?
"Midas Shadow" was inspired by a stay at Hollywood's notorious Hyatt ("Riot") House, where Stewart noticed the reaction of Latina hotel maids to the antics of Led Zeppelin. He sees the search for fame as a "shadow" that follows rock stars, and portrays the great wealth disparity between the guests and servants ("You're looking down on the tropical trees/While the Spanish maids pick up the sheets/Conquistador in search of gold").
"On the Border" features the Spanish guitar of Peter White and some of Stewart's most evocative, poetic lyrics ("The wind whips up the waves so loud/The ghost moon sails among the clouds/And turns the rifles into silver").
Stewart says his personal favorite is "Flying Sorcery," which he reveals allowed him to write "an aeronautical number" with mentions of Kitty Hawk, Tiger Moth airplanes and the myth of Icarus, all disguising an extended metaphor about a romantic relationship that ends with the plea 'Just call me if you ever need repairs.'" The track "One Stage Before" came from Stewart's continual thoughts, as he toured the world, about who had stood on that particular stage before him, and whether there might be a kind of reincarnation at work ("It seems to me as though I've been upon this stage before/And juggled away the night for the same old crowd/These harlequins you see with me, they too have held the floor"). It's his personal variation on Rodgers and Hart's American standard "Where or When."
Stewart has issued nearly two dozen studio and live albums in his career. Audiences never let him leave the stage without performing "Year of the Cat."
Watch Stewart perform "Year of the Cat" live
Stewart, born September 5, 1945, continues to tour. Tickets are available here and here.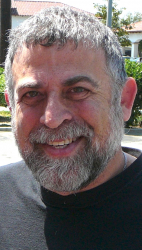 Latest posts by Mark Leviton
(see all)