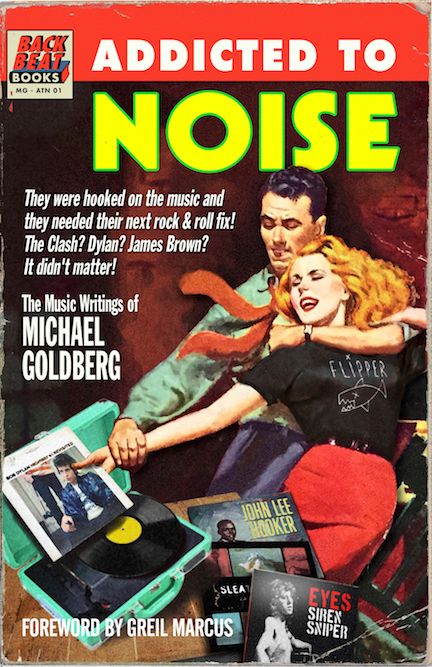 A forthcoming book collecting the writings of Michael Goldberg, Addicted to Noise, will feature the best interviews, profiles and essays written during the author's 40-plus years as a music journalist. The book spans combative interviews with Frank Zappa and Tom Waits to essays on how Jack Kerouac influenced Bob Dylan and the lasting importance of San Francisco's first punk rock club.
Addicted to Noise will be published by Backbeat Books on November 1, 2022. Pre-orders are available here. (The U.K. publication date is in Jan. 2023.)
Contained within the pages are interviews with Patti Smith, Lou Reed, John Fogerty, Neil Young and Rick James, along with profiles of Brian Wilson, Dennis Wilson, Robbie Robertson, John Lee Hooker, James Brown, the Clash, Richard Thompson, Prince, Michael Jackson, the Flamin' Groovies, Ramblin' Jack Elliott, Sly Stone, Laurie Anderson, Stevie Wonder, George Clinton, Devo, Gil Scott-Heron and more.
In addition, Addicted to Noise features short takes on Muddy Waters, Townes Van Zandt, Captain Beefheart, Professor Longhair and others.
Related: What were the best music books of 2021?
Says Gerri Hirshey, author of Nowhere to Run: The Story of Soul Music and We Gotta Get Outta This Place: The True, Tough Story of Women in Rock, "In Addicted to Noise, Michael Goldberg flies far above the pop/cult clichés of the rock journalist as sweaty fanboy or hyper-analytic smarty pants. The man just dug in and did the work as an informed, respectful, and engaged interviewer. It shows in this compilation of interviews and profiles. Even the wariest artists let him in—backstage, at home and deep in the midnight hour."
Michael Goldberg is a journalist, novelist and photographer. He has been interviewing and photographing musicians since he was 17. While a junior at Tamalpais High School in Mill Valley, California, he managed to interview the Grateful Dead's Jerry Garcia. He was a senior writer and associate editor at Rolling Stone magazine for a decade. In 1994, he founded the first web music magazine, the award-winning Addicted to Noise, and was a senior vice president at the SonicNet music site, and subsequently at MTV Online. His books include Wicked Game: The True Story of James Calvin Wilsey, True Love Scars, The Flowers Lied, and Untitled.
Watch Goldberg discuss his previous book, Wicked Game: The True Story of James Calvin Wilsey

Latest posts by Best Classic Bands Staff
(see all)