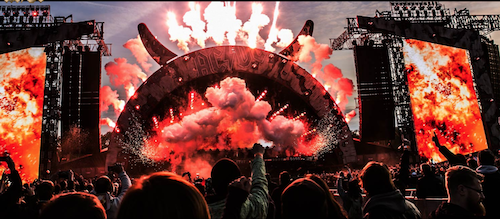 In February, we reported that Guns N' Roses singer Axl Rose would continue his involvement with AC/DC, with which he has been performing in concert since the 2016 retirement of the band's frontman, Brian Johnson, due to hearing loss.
Now, in a new update published by Britain's NME, it's been revealed that the American rock star and the Australian band are collaborating on a new album. The website quotes Rose Tattoo frontman Angry Anderson confirming that AC/DC guitarist Angus Young and Axl Rose are currently writing new material together.
Related: Angus Young joins GNR onstage
"I was talking to Angus earlier last year when we were doing the encores and we were opening for Guns N' Roses, but Angus and I were asked to do the encores and I said to him 'What are you going to do?' and he said 'Mate, I'm writing a new album'," NME posted, quoting from another source called The Rockpit. It further  quotes Anderson: "I thought 'cool' so I asked him who was in the band and he said 'Axl.'"
Watch AC/DC perform "Thunderstruck" with Axl Rose at Madison Square Garden
If it does happen, it won't likely happen any time soon: Guns N' Roses are scheduled to continue their Not in This Lifetime tour through July, when they will wrap it up in Sweden. But according to other reports online, Angus Young, AC/DC's lead guitarist, is eager to get into the studio with the often unpredictable Rose. Young joined GNR onstage in Germany last year.
Related: Revisiting AC/DC's Back in Black album
AC/DC has had a rough time of it in the past year. Malcolm Young, the band's co-founding rhythm guitarist, backing writer and songwriter, died Nov. 18 at age 64, having suffered from lung cancer and dementia. The older brother of Angus Young, his death shook the rock world. Before that, last October, George Young, the older brother of both Malcolm and Angus, also passed away. He was the producer of many of AC/DC's albums and also a core member of the Easybeats, the group that scored a best-selling hit in 1966 with "Friday on My Mind."
Watch AC/DC and Axl perform "Back in Black" in Denmark in 2016

The BCB team brings you the latest Breaking News, Contests, On This Day rock history stories, Classic Videos, retro-Charts and more.

Latest posts by Best Classic Bands Staff (see all)