It looks like the bromance between Guns N' Roses and AC/DC is an ongoing thing. When the American band arrived in Sydney for the start of the Australian leg of their Not in This Lifetime tour, they were greeted—before they even got off the plane—by a fellow who looked a little familiar. He then joined the GNR onstage last night. What was that about?
The story starts at the airport when the Guns musicians were told they had to stay on the plane while additional checks were being carried out. The airline worker bringing the bad news looked like someone they might know, they said among themselves.
"Told we had to stay on plane last night in Sydney; 'airport security' wanted to do a check. We waited. It was Angus Young in an orange vest!" tweeted GNR's bassist Duff McKagan.
The AC/DC guitarist greeted the Americans with a bouquet of flowers, which were accompanied by a card welcoming them to Sydney.
Related: Angus Young joins GNR at Coachella
That wasn't the end of it though. When Guns N' Roses played their show last night, at ANZ Stadium, Young—dressed in a t-shirt and jeans rather than his customary schoolboy uniform—joined them for performances of "Whole Lotta Rosie" and "Riff Raff."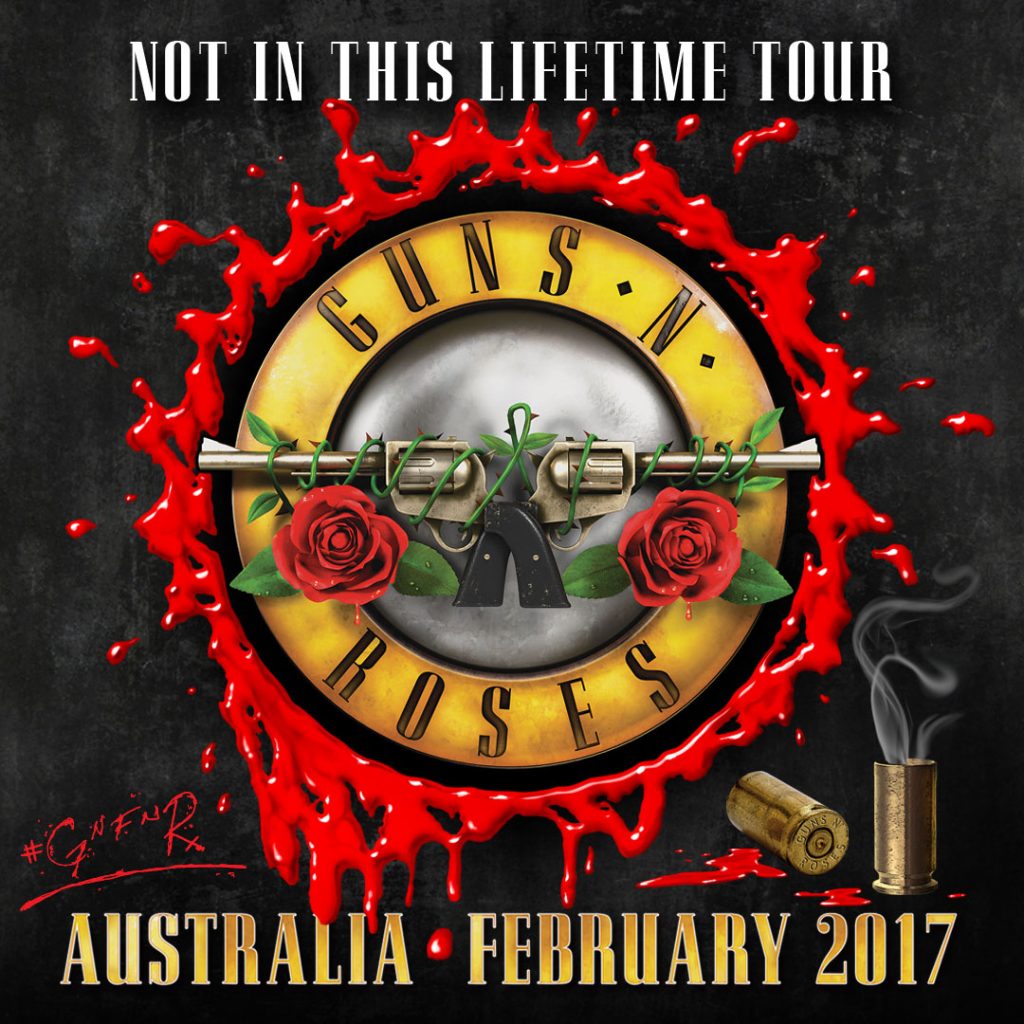 The GNR and AC/DC band members have grown increasingly close recently. Guns' Axl Rose replaced Brian Johnson on AC/DC's last tour after the singer was ordered to stop performing live in order to save his hearing.
GNR will continue to tour Australia throughout much of February before heading to Europe for further dates. They will then return to North America for an extensive run here.
The setlist for last night's show is below…
"It's So Easy"
"Mr. Brownstone"
"Chinese Democracy"
"Welcome to the Jungle"
"Double Talkin' Jive"
"Better"
"Estranged"
"Live and Let Die"
"Rocket Queen"
"You Could Be Mine"
"Attitude"
"This I Love"
"Civil War"
"Speak Softly Love"
"Sweet Child O' Mine"
"Whole Lotta Rosie"
"Riff Raff"
"Wish You Were Here"
"November Rain"
"Knockin' on Heaven's Door"
"Nightrain"
"Don't Cry"
"The Seeker"
"Paradise City"
Watch Guns N' Roses and Angus Young in Sydney
If you're a new Best Classic Bands reader, we'd be grateful if you would Like our Facebook page and/or bookmark our Home page.

Latest posts by Best Classic Bands Staff
(see all)