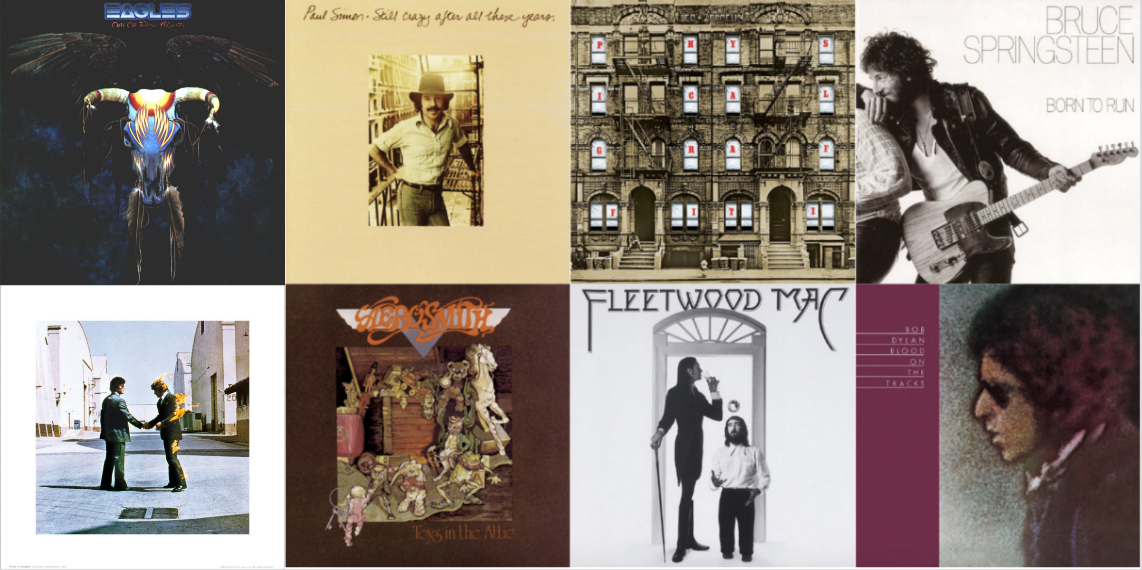 Diverse. That's the first word that comes to mind when looking over the list we've compiled of 50 great albums of 1975. By the middle of the decade, rock had gone in so many directions—from the country-rock of the Eagles to the hard rock of Led Zeppelin to the art-rock of Roxy Music, the prog of Rush and the Southern rock of Lynyrd Skynyrd and the Outlaws. The first stirrings of the punk revolution were suggested by Patti Smith while mainstream FM radio favorites like Elton John, Paul Simon, David Bowie and Pink Floyd were still enjoying massive popularity (so too were those guys who used to be in a band called the Beatles). An old-school blues-rock band named Fleetwood Mac transformed itself, Bob Dylan released some of the best music of his life and so did that still-new kid named Springsteen. R&B was in full flower with bands like Parliament-Funkadelic and Earth, Wind and Fire.
Don't let anyone tell you the mid-'70s was a dull period for music—a simple survey of what we were listening to disproves that notion.
For this survey, we looked back at hundreds of albums released in 1975 and whittled the list down to the 50 that we think represent the cream of the year's crop. Many of these titles remain cornerstones of any essential classic rock record collection, sounding as fresh now as when we first removed the vinyl from the shrink-wrapped album jacket.
Were there others? You bet! This is not meant to be definitive, nor are these necessarily all personal favorites of the BCB staff. We welcome your input on what we should have included, and if you disagree with some of our choices, what we could have omitted.
We're not ranking them; they're arranged alphabetically by artist. How many of the 50 do you own?
10cc—The Original Soundtrack—If only for the beautiful ballad "I'm Not in Love," their breakthrough, this masterful production would still be a keeper. Our interview with 10cc's Graham Gouldman is here.
ABBA—ABBA—The Swedes' third album was not a big hit in the States, despite the presence of "Mamma Mia," "I Do, I Do, I Do, I Do, I Do" and "SOS," but today it's acknowledged as a pop essential.
Aerosmith—Toys in the Attic—They just missed the top 10 with their third studio LP, but with rock radio favorites like "Walk This Way" and "Sweet Emotion," it secured its place in history.
Bad Company—Straight Shooter—The followup to their #1 debut solidified the rep of Paul Rodgers and company as one of the most impressive new hard rock bands on the scene.
Joan Baez—Diamonds & Rust—The title track, her tribute to an old friend named Bob, helped the album become one of her most popular.
Related: How the title track came to be
The Band—Northern Lights-Southern Cross—Released just months after The Basement Tapes, their homegrown collection of late '60s Dylan collaborations, it wasn't a huge seller, but the quality was still there throughout.
Jeff Beck—Blow by Blow—The British guitar genius had the most successful album of his career with this all-instrumental release that put him squarely into the jazz fusion camp.
Bee Gees—Main Course—Saturday Night Fever was still a couple of years away, but this set prepared us, with dance tunes like "Nights on Broadway" and "Jive Talkin'."
David Bowie—Young Americans—The restless chameleon showcased his more soulful side on tunes like the title track and "Fame," eschewing the glam that had made him a sensation.
Eric Clapton—There's One in Every Crowd—The followup to 461 Ocean Boulevard isn't often cited as landmark Clapton, but it's a solid effort packed with blues, reggae and more.
Alice Cooper—Welcome to My Nightmare—His first solo effort was a guitar-heavy concept album that provided him with standards for years to come, including "Only Women Bleed." Our interview with Alice is here.
Bob Dylan—Blood on the Tracks—One of his most treasured works, BOTT probed the artist's deteriorating marriage in powerful, personal songs that reminded us why he's so important.
Eagles—One of These Nights—Their first #1 album, it was packed with the massive hits "Lyin' Eyes," "Take It to the Limit" and the title track.
Earth, Wind & Fire—That's the Way of the World—One of the year's biggest sellers belonged to this adventurous R&B /funk outfit led by Maurice White. Includes the #1 single "Shining Star."
Electric Light Orchestra—Face the Music—Featuring the blockbuster hits "Evil Woman" and "Strange Magic," the fifth album by Jeff Lynne and company was their most fully realized and first top 10.
Fleetwood Mac—Fleetwood Mac—With the addition of Stevie Nicks and Lindsey Buckingham, the venerable British blues band made the big leap into pop-rock and scored a #1 LP. "Rhiannon" and "Say You Love Me" just missed the singles top 10. Read about the expanded edition here.
John Fogerty—John Fogerty—His first proper post-Creedence release (following the country Blue Ridge Rangers) didn't win over much of the band's mass audience but it was a solid effort nonetheless.
Foghat—Fool for the City—The British boogie-rock band was chugging along steadily when they finally caught on big-time with their fifth LP, which went platinum in the U.S. "Slow Ride" gave them their only top 20 single.
Emmylou Harris—Pieces of the Sky—Her second studio album (but generally considered her debut) showed the young country-rocker who'd previously partnered with Gram Parsons to be a formidable interpreter,
Janis Ian—Between the Lines—Having made a splash in her teens with her self-penned topical songs, this singer-songwriter came back in a big way with the #3, Grammy-winning hit "At Seventeen" and the chart-topping album on which it appeared.
Keith Jarrett—The Köln Concert—One of the best-selling jazz albums of all time was this solo piano performance recorded in Germany. Mostly improvised, it even resonated with many who didn't normally dig jazz.
Jefferson Starship—Red Octopus—Having recently assembled a new lineup after the demise of Jefferson Airplane, Paul Kantner and Grace Slick invited the earlier band's singer Marty Balin into the new group. The reward was a #1 LP and the #3 single "Miracles."
Elton John—Captain Fantastic and the Brown Dirt Cowboy—Only one hit single came out of it ("Someone Saved My Life Tonight") but the album was massive, rocketing to the top and staying there for seven weeks. Later in the year, Rock of the Westies also hit #1.
Kiss—Alive!—Their reputation as a jaw-dropping live act unlike any other was building steadily, but it was their fourth album that showed that it wasn't all about the visuals.
Led Zeppelin—Physical Graffiti—Like nearly all of their original albums, it vaulted right to the top of the charts, and why not? It was filled with stone classics like "Kashmir," "Trampled Under Foot" and Jimmy Page's exquisitely played "Bron-Yr-Aur."
John Lennon—Rock 'n' Roll—The recording of the album was mired in problems but in the end what emerged was a loving tribute to the music that excited him as a young Liverpudlian: songs originally cut by Buddy Holly, Little Richard, Chuck Berry, et al.
Little Feat—The Last Record Album—Not their last LP at all, the funky California band's fifth release included some of their most popular tunes, among them "All That You Dream" and "Long Distance Love."
Lynyrd Skynyrd—Nuthin' Fancy—The third studio release by the Florida rockers certainly advanced their recognition factor—it was their first top 10.
Bob Marley—Live!—Recorded in London in the summer of '75 and released before the end of the year, this was, for many, the first taste of the in-concert charisma of the rising reggae great.
Paul McCartney and Wings—Venus and Mars—Following the mega-successful Band on the Run, Macca and friends used this #1 album as the anchor for their first major world tour.
Related: The #1 albums of 1975
Joni Mitchell—The Hissing of Summer Lawns—The renowned singer-songwriter stayed in a jazz-influenced mode for much of her seventh release. Some critics were not impressed but it's grown in stature.
Nazareth—Hair of the Dog—The Scottish hard-rock band finally found mainstream success with their sixth LP, which went platinum.
Willie Nelson—Red Headed Stranger—For his debut for Columbia Records, the veteran country singer-songwriter put together a concept album that gave him his first major chart album in Billboard.
Related: Our Album Rewind of Red Headed Stranger and the unlikely birth of outlaw country
Ted Nugent—Ted Nugent—He may be controversial today, but first he was a force in hard rock. This was his debut outside of the Amboy Dukes, a classic slab of Motor City rock.
Outlaws—Outlaws—The debut by the Southern rock band established them as a formidable new entry in that genre. The closing track, "Green Grass & High Tides," was a radio staple for years.
Parliament—Mothership Connection—The first big album by one of two monster funk outfits (basically identical) led by George Clinton, this concept album featured stellar musicianship—and the classic "Give Up the Funk (Tear the Roof off the Sucker)."
Pink Floyd—Wish You Were Here—How do you follow up a game-changer like The Dark Side of the Moon? With this equally masterful collection, which included the Syd Barrett tribute "Shine On You Crazy Diamond." Our Album Rewind is here.
Queen—A Night at the Opera—Their first top 10 album, it gave the world "Bohemian Rhapsody." What, isn't that enough?
Related: Our Album Rewind of A Night at the Opera
Rainbow—Ritchie Blackmore's R-a-i-n-b-o-w—Emerging from Deep Purple, guitarist Blackmore teamed with vocalist Ronnie James Dio on this debut by the hard-rock pacesetters.
Related: Our Album Rewind of Ritchie Blackmore's R-a-i-n-b-o-w
Linda Ronstadt—Prisoner in Disguise—She'd already demonstrated her formidable vocal gifts on Heart Like a Wheel and several others, but this one further proved she could make any song her own. Read our interview with Linda here.
Roxy Music—Siren—The Bryan Ferry-led British art-rock band arguably peaked on this sophisticated, inventive set and its leadoff track. "Love is the Drug."
Rush—Fly by Night—On their second album, the Canadian trio found its true direction, turning out forceful, complex prog. It marked Neil Peart's debut with the band, a vital addition.
Paul Simon—Still Crazy After All These Years—His solo career had gotten off to a good start a few years earlier but this superb recording confirmed that he didn't need any help. The title track and "50 Ways to Leave Your Lover" were among his best.
Patti Smith—Horses—No one was calling it punk-rock yet, but this marriage of pure poetry and aggressive, no-frills rock was refreshing and, in some ways, startling.
Bruce Springsteen—Born to Run—Had this album, his third, not been a success, he might have been dropped by his record label. So the future Boss took his time and created an all-time classic. We're glad he did.
Related: Our appreciation of Born to Run
Steely Dan—Katy Lied—What had been a full band now became Donald Fagen and Walter Becker and session players. Record buyers made it a hit and critics praised it.
The Tubes—The Tubes—There was a good amount of humor and sass in this new San Francisco band's debut, but also superb writing and performance. Top cuts: "White Punks on Dope" and "What Do You Want from Life?"
Tom Waits—Nighthawks at the Diner—The too-cool emerging singer-songwriter went the live route on his third album, displaying a jazzy style and unique approach.
The Who—The Who By Numbers—In retrospect, it probably wasn't among their greatest, but it still landed in the top 10 and produced memorable tunes like "Squeeze Box" and "Dreaming from the Waist."
Neil Young—Tonight's the Night—Recorded in 1973 but released in '75, it was one of Young's darkest albums. Zuma, which came later in the year, lightened the mood a bit (and included the great "Cortez the Killer").
Related: Links for 100s of classic rock tours

Latest posts by Jeff Tamarkin
(see all)