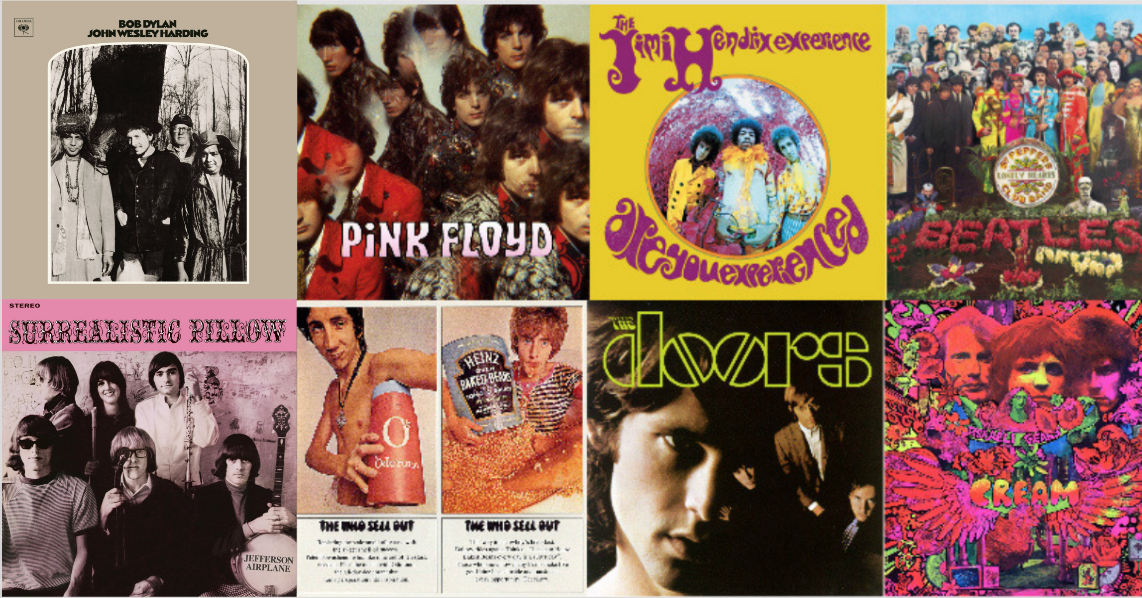 When it came to rock music, 1967 was heaven! The rock album had only begun to come of age in the past couple of years, as emphasis gradually shifted from the 45 RPM single to the larger statement that could be made with an LP. Not coincidentally, as rock radio stations became more prevalent on the FM dial, where a disc jockey could play longer and more sophisticated music without having to stop for commercials every three minutes, a while new culture of rock blossomed.
We looked back at hundreds of albums released in 1967 and whittled the list down to the 50 that we think were the year's best. Many of these titles remain cornerstones of any essential classic rock record collection, with works by such established acts as the Beatles, Bob Dylan, the Rolling Stones and the Beach Boys taking their place alongside groundbreaking introductions by such newcomers as the Jimi Hendrix Experience, the Doors, Pink Floyd and Traffic.
We're not ranking them; they're arranged alphabetically by artist. How many of the 50 do you own?
13th Floor Elevators—Easter Everywhere—Led by wildman Roky Erickson, these Texans defined manic psychedelic rock. This was their second LP, and while not as shocking as the debut, it's still pretty insane.
The Beach Boys—Smiley Smile—It's a tough choice between this album, something of a cobbled-together substitute for the aborted Smile, and Wild Honey, which arrived just a few months later. But Smiley Smile contains both "Good Vibrations" and "Heroes and Villains," and some of the other tracks are among the quirkiest they ever cut.
The Beatles—Sgt. Pepper's Lonely Hearts Club Band—What more can be said about Sgt. Pepper? It may or may not be the Beatles' greatest achievement. It may or may not be one of the most significant recordings ever, by anyone. It's Sgt. Pepper, period. And then they came up with Magical Mystery Tour before the end of the year, which, although intended as a soundtrack of sorts, is no slouch either.
The Bee Gees—1st—It was actually their third album, but the first to have an international release. With songs like "New York Mining Disaster 1941," "Holiday" and "To Love Somebody," we knew right away that they would be a major presence for some time.
Big Brother and the Holding Company—Big Brother and the Holding Company—Although it didn't have nearly the impact of its successor, '68's Cheap Thrills, and was sort of made on the cheap, it did introduce us to Janis Joplin, and that was enough.
Tim Buckley—Goodbye and Hello—The singer-songwriter's sophomore release was an ornate, expansive masterwork that revealed its creator to be way more than just another troubadour with a guitar. The title track is brilliant, as was the single "Morning Glory."
Buffalo Springfield—Again—Although it was created amidst internal tension, the L.A. band's second and best album was where the nucleus of Stephen Stills, Neil Young and Richie Furay truly shone. Highlights include "Mr. Soul," "Bluebird" and "A Child's Claim to Fame."
Related: Our Album Rewind review of Buffalo Springfield Again
The Byrds—Younger Than Yesterday—It was here, on their fourth album, that the Byrds transcended the Dylan-inspired folk-rock that made them stars and became something else altogether. Experimental and diverse, the album took their music to a new level.
Canned Heat—Canned Heat—Blues bands were ubiquitous in 1967 but these Californians, on their debut, proved to be well-steeped in the history and nuances of the music. When they performed at the Monterey Pop Festival in June, they gave notice that they had their own approach to this classic genre.
Captain Beefheart and His Magic Band—Safe as Milk—Few even heard the debut by this ultra-eccentric group—not surprisingly, it came nowhere near the charts. But their influence on "outsider" music would continue to grow, and it all began here.
Chambers Brothers—The Time Has Come—They started out in the gospel and folk fields, then morphed into a psychedelic soul-rock band just at the right time. The title track is a vibrant classic rock radio staple but the rest of the album kicks ass too.
Related: The story behind "Time Has Come Today"
Leonard Cohen—Songs of Leonard Cohen—In retrospect, it's hard to believe that this debut by the master singer-songwriter didn't fare better (it peaked at #83 in the U.S.), but it's had legs: songs like "Suzanne" and "So Long, Marianne" are now seen as helping to define the era.
Judy Collins—Wildflowers—The veteran folk singer branched out (as many were doing) into more of a pop-rock sound with her seventh album, highlighted by her definitive cover of Joni Mitchell's "Both Sides Now" and no fewer than three by Leonard Cohen.
Related: Top radio hits of 1967
Country Joe and the Fish— Electric Music for the Mind and Body—While the Bay Area psychedelic/political-rock band was best known for the title track from their second album (also from '67), I-Feel-Like-I'm-Fixin'-to-Die, the trippy debut remains their most cohesive and impactful creation.
Cream—Disraeli Gears—The trio's 1966 debut  was more blues-oriented. This followup is where they exploded, creating one of the most dynamic and colorfully diverse albums of the year (of the era, actually). It's where songs like "Sunshine of Your Love," "Strange Brew" and "Tales of Brave Ulysses" found a home.
Donovan—A Gift From a Flower to a Garden—Released several months after Mellow Yellow, the Scottish singer-songwriter's fourth album (a double LP) took him far beyond the confines of being dubbed the next "new Dylan." Several songs were ornate, jazzy and more than a bit opaque.
The Doors—The Doors—Released just days into 1967, it introduced record buyers to one of the major American bands of the time, one markedly different than any other. There was, of course, Jim Morrison, but beside that, the band's sound—fashioned by keyboardist Ray Manzarek, guitarist Robby Krieger and drummer John Densmore—was instantly addictive. The LP contained "Light My Fire," "The End," "Soul Kitchen," "The Crystal Ship" and other rock radio cornerstones. Strange Days, later in the year, continued their rapid development.
Bob Dylan—John Wesley Harding—When his 1966 motorcycle accident sidelined him, many wondered if he'd ever return at all. Few could have predicted he'd come back with a toned-down, country-inflected collection of story-songs, among them the title track, "All Along the Watchtower" and "I'll Be Your Baby Tonight."
Aretha Franklin—I Never Loved a Man the Way I Love You—When Atlantic Records snatched the soul singer away from Columbia, they didn't have much of an idea of what to do with her. This debut for the label (her 11th album in all), led off by the Otis Redding-penned smash "Respect," one of the definitive R&B songs of all time, answered their question.
The Grateful Dead—The Grateful Dead—The recording studio was never as important to them as the concert stage, and their debut album was not an accurate representation of what they did best. Still, it provided them with a few songs that they continued to play throughout their career ("Cold Rain and Snow," "Beat It on Down the Line") and some of the most electrifying psychedelia of the San Francisco milieu.
Arlo Guthrie—Alice's Restaurant—The 18-minute title track, chronicling the author's arrest for littering, getting out of the draft and more, was one of the great hippie tales of its day. But the songs on side two were excellent as well.
Tim Hardin—Tim Hardin 2—One of many fine folk singers who emerged in the '60s, he was a particularly insightful songwriter. This album included his oft-covered "If I Were a Carpenter" and "The Lady Came from Baltimore," another FM radio staple.
Richie Havens—Mixed Bag—No one sang or played the guitar like Richie Havens. His skills as a song interpreter were fully formed on this debut, where he made songs by Dylan, the Beatles and others his own.
Jimi Hendrix Experience—Are You Experienced—What in the world was this?! Not only was the wild-haired dude one of the most original and forward-looking electric guitarists to arrive on the rock scene yet, there was an excitement in every track on this groundbreaking debut. And then he returned later in the year with Axis: Bold as Love, which took it all higher.
The Hollies—Evolution—This album, along with Butterfly, released later in the year, marked the end of the Graham Nash era. Evolution was their move into more complex territory. The U.S. and U.K. versions were somewhat different, with the hit "Carrie Anne" leading things off in the States.
Janis Ian—Janis Ian—She was all of 16 when her debut album was released, and already she displayed a vision and maturity of artists twice her age. This album included "Society's Child," a controversial look at interracial dating, as well as other poignant topical anthems.
Watch Janis Ian sing "Society's Child" on The Smothers Brothers Comedy Hour
Jefferson Airplane—Surrealistic Pillow—The second album by the most popular San Francisco band (and the first to feature Grace Slick) captured the essence of the city's psychedelic sound in hits like "Somebody to Love" and "White Rabbit." After Bathing at Baxter's, which followed later in the year, went way deeper into psychedelic weirdness.
Albert King—Born Under a Bad Sign—Many of the great 20th century blues artists were still active in the late '60s, and Albert King proved especially popular with the rock audience. The title song was covered by Cream, but King's original was definitive, and the album included several other future blues staples.
The Kinks—Something Else by the Kinks—If only for "Waterloo Sunset," the Kinks' fifth album would have been a keeper. But add in brilliant tracks like "Death of a Clown" and "David Watts" and we're in masterpiece territory.
Love—Forever Changes—The third album by the Los Angeles band didn't fare well upon its release but is now considered a cult favorite of the era. With most tracks written and sung by Arthur Lee, it was a sophisticated, exquisite work, perfect from start to finish.
The Mamas and the Papas—Deliver—Like the two albums preceding it in 1966, Deliver delivered a set of smartly arranged, finely crafted John Phillips originals and well-chosen covers. This time they included the autobiographical "Creeque Alley," a sensual take on the Shirelles' "Dedicated to the One I Love" and the underrated pop tune, "Look Through My Window."
Moby Grape—Moby Grape—By any measure, this was one of '60s rock's greatest debuts, by a band unlike any other from the San Francisco scene (for one thing, they paid more attention to songcraft than jamming). Sadly, the band was beset by mishaps that quickly derailed them, but the album holds up from start to finish.
The Monkees—Headquarters—While their first and second albums (the latter, More of the Monkees, was also released in '67) were stocked with great pop-rock, the quartet truly came into its own here, playing their own instruments and calling the shots creatively. The album didn't produce any big hits, but you can't beat songs like "Shades of Gray" and "You Just May Be the One."
Moody Blues—Days of Future Passed—When we last heard from them, they were another British Invasion band with a penchant for the blues. Now, they were back with an ambitious, unified work that married orchestration, poetry and sprawling soundscapes to rock. A landmark for sure.
Related: We look back at Days of Future Passed
Van Morrison—Blowin' Your Mind—He would soon eclipse it with superb creations like Astral Weeks and Moondance, but the Irish singer's solo debut (which he reportedly disavowed as he had little say in its release) gave notice that a new, original voice was here. Exhibit A: "Brown Eyed Girl."
The Mothers of Invention—Absolutely Free—The followup to their debut Freak Out! took Frank Zappa and his merry band to places no rock band had ever gone before. The musical sophistication was off the charts, matched by the sometimes zany, sometimes provocative lyrics. It's hard to believe songs like "Plastic People" and "Call Any Vegetable" got actual airplay, but the new FM rock stations (and magazines) loved them.
Van Dyke Parks—Song Cycle—He had only recently come into the consciousness of most rock fans as Brian Wilson's writing partner on the aborted Smile album. Now he had an album of his own, which ranged from complex and contemplative to way out there. Parks seamlessly mixed up genres, told fascinating stories and took a journey through history and culture, all in one set of memorable songs.
Phil Ochs—Pleasures of the Harbor—Leaving Elektra Records, where he had established a reputation as a powerful folk protest singer, Ochs moved into other lyrical and musical areas on his fourth LP. Still, his greatest strength was in songs like "Outside of a Small Circle of Friends," which offered pointed commentary.
Related: What were the musical highlights of 1967?
Peter, Paul & Mary—Album 1700—Even the somewhat sanitized folk trio knew it was time to try something new. They added more instrumentation and looked into songs that went beyond the boundaries of folk: John Denver's "Leaving on a Jet Plane" gave them their biggest hit (albeit two years later) while the self-explanatory "I Dig Rock and Roll Music" went top 10.
Pink Floyd—The Piper at the Gates of Dawn—Well, this was something different. The debut album by this British psychedelic band, much of it the brainchild of Syd Barrett, barely registered in America but they would have more to say soon enough.
Procol Harum—Procol Harum—"A Whiter Shade of Pale" defined the year 1967 as much as Sgt. Pepper, Hendrix and the Doors. A soulful masterwork, it remains a staple of rock radio more than 50 years later. The album proved that it was no fluke—even if there were no other songs remotely like it. Truly brilliant stuff.
The Rascals— Groovin'—Coming after Collections, released several months earlier, the New York group came into its own as a creative force on its third album, writing all of the songs and moving beyond the blue-eyed soul/garage sound that had birthed them. The title track is one of the great ballads of the Summer of Love.
The Rolling Stones— Their Satanic Majesties Request—We could just as easily have made the case for the punkier Between the Buttons, released earlier in the year, but Their Satanic Majesties Request is just such a weird anomaly in their discography that it's worth showcasing. Some Stones fans hated it (it was often called a Sgt. Pepper ripoff), but others love its experimental, spacey, sloppy weirdness—never to be duplicated.
Traffic—Mr. Fantasy—There was little indication, when Steve Winwood sang his heart out with the blues-rocking Spencer Davis Group, that he had this kind of creativity in him. This stunning debut is filled with great songwriting, vocals, etc., but mostly it's packed with inspirational, daring ideas, fueled not only by Winwood's gifts but bandmates Dave Mason , Chris Wood and Jim Capaldi.
Related: Our Album Rewind of Mr. Fantasy
The Turtles—Happy Together—They started out as just another L.A. folk-rock group but pretty quickly outgrew that, with each new single a totally new experience. It all came together on the chart-topping hit "Happy Together," and the supporting album, their third, confirmed that they had a barrelful of great ideas.
Vanilla Fudge—Vanilla Fudge—What a concept! Basically, they were a blue-eyed soul-rock band from the East Coast that took others' hits, slowed them down, threw in tons of Hammond organ and turned each piece into an extended psychedelic showpiece. Their version of the Supremes' "You Keep Me Hanging On" blew a lot of minds in '67.
Related: Our Album Rewind of the Fudge's psychedelic debut
The Velvet Underground—The Velvet Underground & Nico—Never mind all of that peace and love malarkey: The NYC-based Velvets were here to show that there was a danker, nastier side that could not be ignored. Lou Reed, John Cale and bandmates—masterminded by Andy Warhol and featuring guest vocalist Nico—were not embraced by many at first, but ultimately became one of the most influential bands in history.
The Who—The Who Sell Out—The group's third effort flirted with the idea of the concept album, with bogus commercials tucked in between its songs and a hilarious album cover that raised many eyebrows. Its songs, mostly written by Pete Townshend, were somewhat esoteric and the band's execution of them was magnificent. The single "I Can See for Miles"—their only U.S. top 10, if you can believe that—was a larger-than-life sonic wonder.
The Yardbirds—Little Games—The fourth (U.S.) album by the ever-morphing Brits found Jimmy Page moving over to the sole lead guitar position and the band veering further away from its blues roots. Some might argue that the roots of Led Zeppelin (and, to a lesser extent, Keith Relf's Renaissance) were evident here.
The Youngbloods—The Youngbloods—Released just as the year began, the debut by the New York band fell squarely into the folk-rock slot but also displayed a love for R&B, jugband music, ragtime and blues. The track "Get Together" would later become a generational anthem.

Latest posts by Jeff Tamarkin
(see all)