Vanilla Fudge's 1967 Debut: Maximum Psychedelia
by Mark Leviton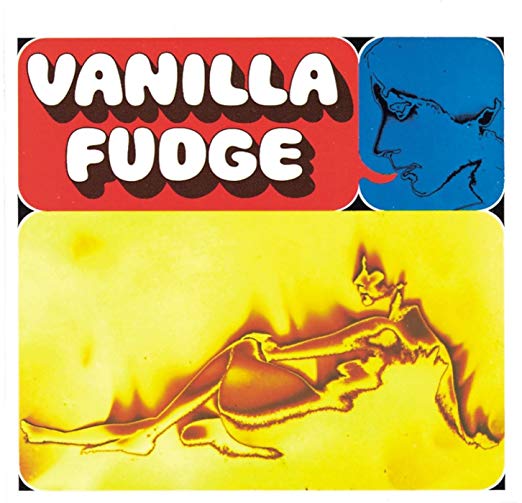 It's August 1967—smack in the middle of the Summer of Love—and there's a new record album on the Atlantic label. The LP cover features distorted "solarized" photographs of a naked woman, with a cartoon balloon coming out of her mouth announcing the album was by something called "Vanilla Fudge." The super-saturated red, blue and yellow color scheme suggests the musical content might be just as extreme and oddly enticing as the artwork, but if you flip the LP jacket over, you see very conventional black and white photos of Vinny Martell (guitar), Carmine Appice (drums) and Mark Stein (keyboards/lead vocals), wearing natty sport jackets and ties, looking like they were on the way to a country club dance. Only the bass player sports a more casual, untucked button-down shirt, but he has nerdy eyeglasses and his name is "Timmy" Bogert.
If that weren't strange enough, the track list consists entirely of songs by other acts: the Beatles, the Zombies, Curtis Mayfield, Evie Sands—even Cher and the Supremes, for crying out loud! And it says "Produced and directed by Shadow Morton," like it's a movie or something. Hey, isn't Morton the guy who made "Leader of the Pack" with the Shangri-Las? What the hell is going on with this band? Is this some kind of inside joke?
It was definitely not a joke; the album actually represented a new kind of genius. In fact, Vanilla Fudge was in many ways the most confounding, exciting, unusual, psychedelic and downright heavy debut of 1967. It fit in with contemporary releases by Cream, Jefferson Airplane, the Doors, the Jimi Hendrix Experience, Pink Floyd and the Grateful Dead, and yet remained its own strain of weird. It was rock music pushed to its limits, with a radical use of soft-loud-soft dynamics and the emotional drama of rhythm and blues and soul. It was a musical hybrid that melted doo-wop, classical and Top 40 pop into an audio LSD trip. It was dark and light, black and white—maybe the group name wasn't so silly after all.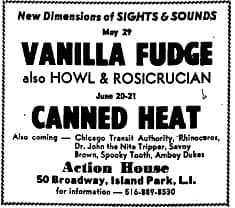 All four members of the group had spent years singing on street corners and playing with bar bands in the extensive go-go club circuit that stretched from New Jersey through New York City to Long Island. Patrons furiously frugged and hully-gullied to current pop tunes at Ungano's, the Peppermint Lounge, Cheetah Club and other working class or posher joints; groups supplied the choreographed dance moves, snazzy matching suits and five-sets-a-night repertoire, often featuring the driving Hammond B-3 organ. When local phenoms the Young Rascals signed to Atlantic Records in 1965 and the Vagrants to Vanguard the following year, "the Long Island scene" began to be a possible ticket to the big time.
Listen to the full-length album version of "You Keep Me Hangin' On"
Bogert, Stein, Appice and Martell, tightly bound by shared professional and personal experiences and, like most teenagers and young adults in '67, enticed by experimental drugs and "free love," had transformed their sound. Some club owners complained that their slow, moody, stop-start, whisper-then-scream arrangements of songs like "Ticket to Ride," "People Get Ready" and "Eleanor Rigby" were emptying dancefloors. With the patronage of George Francis "Shadow" Morton, an extremely talented but somewhat unhinged producer-about-town, the group known as Mark Stein and the Pigeons, who'd impressed Morton with their showmanship and instrumental expertise, was transformed into Vanilla Fudge and signed to Atlantic's ATCO subsidiary. They spent the spring of '67 in the tiny Ultra-Sound and Mirasound recording studios, basically playing their club set without overdubs, linking the songs, none original to them, with some abstract noodling they dubbed "Illusions of My Childhood." Morton had caught lightning in a bottle—the power of the band was shocking, and jumped out of the grooves.
Related: Meanwhile, here's what was happening on the other coast…
Word spread fast, and burgeoning FM and college radio stations programmed every cut on the LP, sometimes playing the whole thing late at night as the soundtrack to many an alcohol- or drug-fueled celebration. Atlantic label head Ahmet Ertegun discovered to his amazement he could sell a ton of albums with virtually no AM radio airplay, but he still commissioned an in-house editor to chop the 7:20 "You Keep Me Hanging On" to 2:58 for a single release (losing some great organ and guitar solos), and it made it into the top 10 on the pop charts, helping the LP to gold status. Vanilla Fudge became a well-seasoned, popular attraction on the national concert circuit, at first supporting Cream, Hendrix and the Who (and "blowing them off the stage" according to Appice), before graduating to headlining slots that found them dogged by upstarts like Led Zeppelin nipping at their heels. (There's a terrific Fillmore East show from New Year's Day 1969 on Rhino's Box of Fudge set.)
Watch three-quarters of the original Fudge–Stein, Martell and Appice–with Pete Bremy on bass, performing "Eleanor Rigby" in 2011
Related: Our review of Vanilla Fudge's 2015 album Spirit of '67
"You Keep Me Hanging On" is probably the most impressive album cut, focusing on the pain in the Holland-Dozier-Holland lyrics in a way that the Supremes' peppy version obscured. "Take Me For a Little While" is the most traditional arrangement on the disc; based on Evie Sands' failed 1965 single for the Blue Cat label, it sounds not unlike the Young Rascals, with Stein's passionate, over-the-top lead vocal and his bandmates singing backup. "She's Not There" opens with a swirling duel between all four members, with Martell's snaking guitar prominent, and once underway shows off Appice's incredible agility and speed with snare rolls and bass drum, and Stein's versatility on the organ.
Listen to "People Get Ready"
Vanilla Fudge released several other albums for Atlantic, and grazed AM radio a few times ("Shotgun" and "Season of the Witch" are stellar), but never again achieved the impact of their debut. Morton and the group often said their second LP, The Beat Goes On, was a disaster from which they never really recovered. They broke up in 1970. Bogert and Appice formed the band Cactus in the '70s, and worked with Jeff Beck in their eponymous group; Appice became Rod Stewart's go-to drummer and co-wrote "Do Ya Think I'm Sexy," which didn't hurt his bank balance. Martell and Stein worked on less high-profile projects, but kept their hands in. Vanilla Fudge reformed several times, with varying personnel, and issued some excellent new albums, including The Spirit of '67 in 2015. Bogert retired from the road in 2009, but the other original members continue to tour, just as feisty and ear-splitting as ever. They're not just hanging on—they're still blazing a trail.
Bonus video: Watch the Fudge perform "You Keep me Hangin' On" live in 1967
Related: Bogert died in 2021
–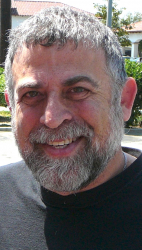 Latest posts by Mark Leviton
(see all)