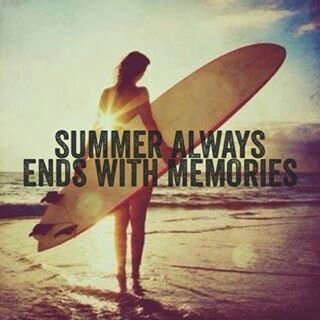 If you have a favorite summer memory, chances are it plays in your head to the soundtrack of a summer song. There are plenty of great ones – "Hot Fun in the Summertime," "Summer in the City" – and, of course, much of the Beach Boys catalog.
In 2015 The New York Times wrote about summer-themed songs like these, as well as that special class of songs that were hits during the summer.
Any way you look at it, summer is pretty well covered musically. With packed beaches, convertibles, and barbecues, music provides a soundtrack to some great summer memories. And some songs capture that wistful sense that special times are ending, the warmth is fading and a chill is coming on.
With summer upon us, here are some classic rock songs that capture that moment when seasons change. (Since we've limited this list to just 10, you'll notice we've left out many favorites that have the word "summer" in the title such as "Summertime Blues" and "Summer of '69." There are hundreds to choose from and we went with these…
10) "Summer Nights" by John Travolta and Olivia Newton-John
Danny and Sandy share their slightly different points of view and how they enjoyed each other's company, in Grease.
9) "Cruel Summer" by Bananarama
"My friends are away and I'm on my own…" Well, you can pass the time away with Sara, Siobhan and Keren. They look like they'd be fun to hang out with…
If you're a new Best Classic Bands reader, we'd be grateful if you would Like our Facebook page and/or bookmark our Home page.
8) "Harvest Moon" by Neil Young
An ode to longtime love and how it sweetens the aging process: there's still plenty to celebrate, even though it won't last forever.
7) "Summer in the City" by The Lovin' Spoonful
We love the #1 smash from 1966 even though it always makes us want to find a place with a great air conditioner.
6) "Hot Fun in the Summertime" by Sly and the Family Stone
Released as the band were making a splash at Woodstock, this song was one of the biggest hits of 1969.
5) "See You in September" by The Happenings
Though many groups recorded this song from 1959, this is our favorite version, which reached #3 in 1966.
4) "Indian Summer" by Al Stewart
Summer's over and the earth's cracked and waiting for the rain.
3) "The Boys of Summer" by Don Henley
The ultimate nostalgic post-summer, post-romance song.
2) "Maggie May" by Rod Stewart
It's late September and he really should be back at school. Yep, when it's over it's over.
1) "All Summer Long" by The Beach Boys
A summing up of a great summer romance. How could anything go wrong?

Laura often says, "Music is my madeleine," a Proustian reference meaning that when she hears certain classic songs she can completely transport mentally to another time and place. She has used her deep connection to music in her career, including three memorable years at Billboard as queen of music video and three years at RCA Records she prefers not to discuss.

More recently, after a move from New York to Los Angeles and a long stint in interactive multimedia, Laura moved into internet/social media marketing for music and other clients. In 2012 she wrote The Cusp of Everything, a novel incorporating a full soundtrack. In 2014 she wrote and performed a one-woman show about online dating, All the Wrong Men. Currently she is working on a new show, My Life as a Shiksa, and workshopping her play, Worldly Possessions.

Latest posts by Laura Huntt Foti (see all)