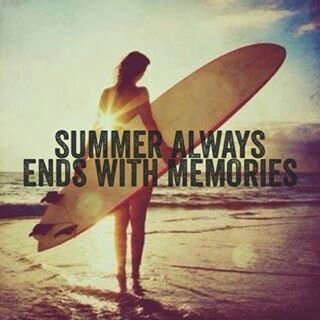 If you have a favorite summer memory, chances are it plays in your head to the soundtrack of a summer song. There are plenty of great ones–"Hot Fun in the Summertime," "Summer in the City"–and, of course, much of the Beach Boys' catalog.
Any way you look at it, summer is pretty well covered musically. With packed beaches, convertibles and barbecues, music provides a soundtrack to some great summer memories. And some songs capture that wistful sense that special times are ending, the warmth is fading and a chill is coming on.
With summer upon us, here are some classic rock songs that capture that moment when seasons change. There are hundreds to choose from and we went with these…
11) "School's Out" by Alice Cooper
The 1972 song was well-timed, as it was released on April 26 as the academic calendar was winding down. It became Alice Cooper's first major hit, peaking at #7 on August 12, just in time for… back to school shopping!
10) "Summer Nights" by John Travolta and Olivia Newton-John
Danny and Sandy share their slightly different points of view and how they enjoyed each other's company, in Grease.
9) "Sunny Afternoon" by The Kinks
Ray Davies' laidback vocal says it all on this #1 1966 U.K. smash.
8) "Summertime" by Big Brother & the Holding Company
Janis Joplin's final album with Big Brother & the Holding Company, Cheap Thrills, includes her brilliant vocal on George Gershwin's "Summertime." The album, with its iconic artwork from Robert Crumb, was 1968's #9 biggest seller.
If you're a new Best Classic Bands reader, we'd be grateful if you would Like our Facebook page and/or bookmark our Home page.
7) "In the Summertime" by Mungo Jerry
This 1970 skiffle-style debut from the British rock band hit #1 in over a dozen countries, peaking at #3 on the Hot 100. Note: the hirsute frontman is not actually named Jerry. He's Ray Dorset, the group's founder.
6) "Summer in the City" by the Lovin' Spoonful
We love the #1 smash from 1966 even though it always makes us want to find a place with a great air conditioner.
5) "Hot Fun in the Summertime" by Sly and the Family Stone
Released as the band was making a splash at Woodstock, this song was one of the biggest hits of 1969.
4) "Summertime Blues" by Eddie Cochran
It would have been easy to choose covers by The Who or Blue Cheer, but we opted for the 1958 original, which holds up remarkably well.
3) "A Summer Song" by Chad & Jeremy
This 1964 hit remains a guilty pleasure for many of us. No less an authority than Dick Clark called it "one of the prettiest songs ever written." When the duo sing the wistful lyric "They say that all good things must ennnnd somedaaayyyy… autumn leaves must fall," who among you doesn't sing along to the car radio?
2) "The Boys of Summer" by Don Henley
The ultimate nostalgic post-summer, post-romance song.
1) "Surfin' U.S.A." by the Beach Boys
Did you think we were going to omit the Beach Boys?!? The toughest decision was which to choose, from dozens of worthy candidates. But this one won out. It's hard to believe this timeless song was released in 1963.

Latest posts by Best Classic Bands Staff
(see all)