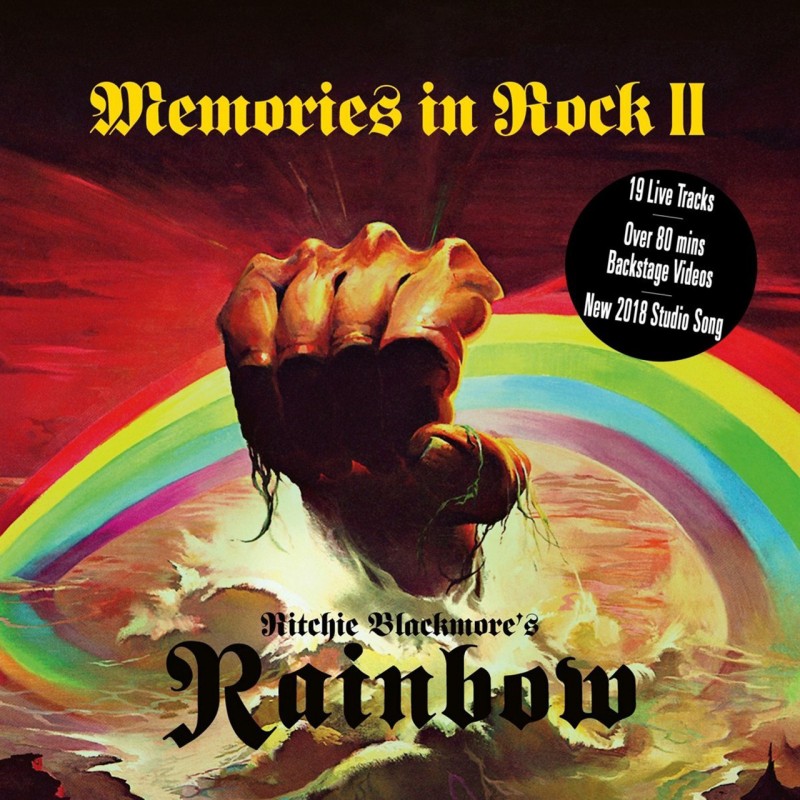 Ritchie Blackmore's Rainbow released a new album, Memories In Rock II, on CD and DVD on April 6. In advance of the album release, the band released its first new single since 1996, "Waiting For a Sign." (Scroll down to hear it and the live version of "Smoke on the Water" and more.
A press release provides the back story of the new release: "In 2017, legendary guitarist Ritchie Blackmore brought his new Rainbow lineup to the U.K. for three unique concerts; these memorable musical moments will be released in high quality format on a double-disc CD set. Also included in this amazing package will be the first-time-ever-seen backstage videos. Go behind the scenes with Rainbow. Special interviews exclusive to this video set with Ritchie Blackmore, Ronnie Romero, Jens Johansson, Bob Nouveau, Drummer Dave, the lovely backing singers Lady Lynn and Candice Night, as well as the phenomenal crew that brings these shows to the fans; production managers, lighting director, guitar technician etc. Over 1 hour of special backstage interviews and impromptu footage. This is the most unique Rainbow package ever released!"
The setlist, combines classic tracks from both Deep Purple and Rainbow. Some of the highlights are "Spotlight Kid," "I Surrender," "Mistreated," "Man on the Silver Mountain," "Woman from Tokyo," "Perfect Strangers," "Black Night" and "Smoke on the Water."
Listen to "Smoke on the Water" from the new collection
Related: The story behind "Smoke on the Water"
This double CD also includes a brand new Rainbow song, "Waiting For a Sign." This is the first new Rainbow single released since 1996, featuring Ritchie Blackmore on guitar and Ronnie Romero on vocals.
Listen to "Waiting For a Sign"
The band lineup for this show featured Ritchie Blackmore (guitar) Ronnie Romero (vocals), David Keith (drums), Bob Nouveau (bass), Jens Johanssen keyboards), Candice Night (backing vocals) and Lady Lynn (backing vocals).
Watch a 10-minute promo giving a sneak peek into the DVD release
Memories In Rock II 2-CD/DVD Track List
Disc 1
01. Over The Rainbow
02. Spotlight Kid
03. I Surrender
04. Mistreated
05. Since You've Been Gone
06. Man On The Silver Mountain/Woman From Tokyo
07. 16th Century Greensleeves
08. Soldier Of Fortune
09. Perfect Strangers
10. Difficult To Cure
11. All Night Long
12. Child In Time
Listen to "Since You've Been Gone"
Disc 2
01. Stargazer
02. Long Live Rock'n'Roll/Lazy
03. Catch The Rainbow
04. Black Night
05. Carry On Jon
06. Temple Of The King
07. Smoke On The Water
08. Waiting For A Sign
Disc 3
01. Ritchie Blackmore Interview
02. Ronnie Romero Interview
03. Jens Johansson Interview
04. Bob Nouveau Interview
05. David Keith Interview
06. Candice Night Interview
07. Lady Lynn Interview
08. Dave David Interview
09. Andreas Bock Interview
10. Michael Bockmühl Interview
11. Bonus Backstage Clip
12. I Surrender 2017 Backstage Clip

The BCB team brings you the latest Breaking News, Contests, On This Day rock history stories, Classic Videos, retro-Charts and more.

Latest posts by Best Classic Bands Staff (see all)