ZZ Top's 'Eliminator' @40: Hot-Rods, TV Dinners and Sharp-Dressed Men
by Mark Leviton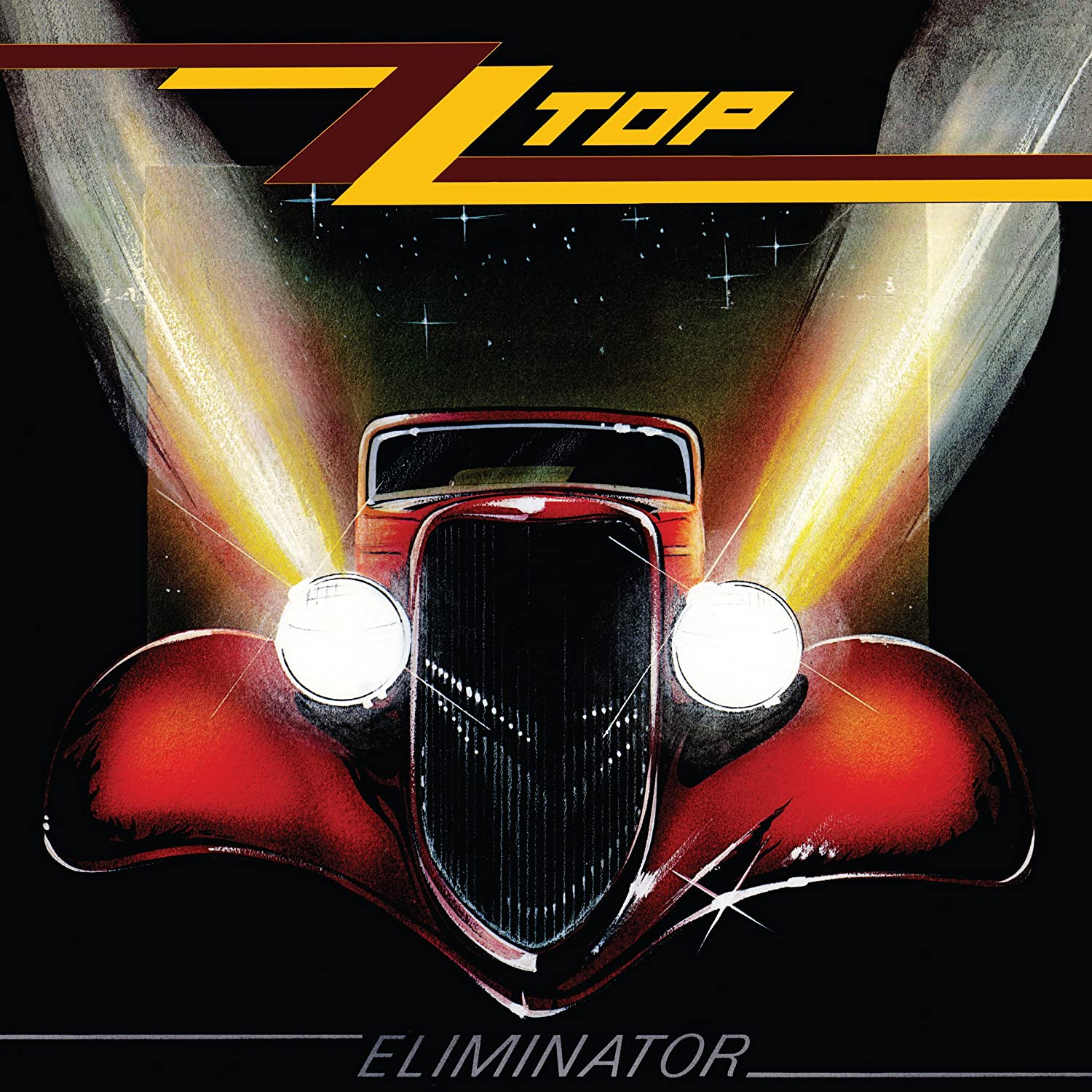 When ZZ Top finished their 18-month Worldwide Texas Tour with a 1977-78 New Year's show in Amarillo, they were exhausted. Guitarist Billy Gibbons, bassist Joe "Dusty" Hill and drummer Frank Beard hadn't had a real break from touring and recording since their inception in 1969, and the latest trek was their most ambitious. As Beard later described it, it was "one giant piece of craziness." Eschewing their previously minimal stage design, this show featured a 35-ton tilted set in the shape of their home state and a 180-foot panoramic hand-painted backdrop. On-stage corrals, surrounded by cactus and other native Texas plants, held a live menagerie including a longhorn steer, a buffalo and rattlesnakes—with immense buzzards perched ominously on rails above the band. The whole spectacle had to be hauled from city to city in several tractor-trailers. And the three members, who used to get on stage in overalls, dungarees or blue jeans, as if on dinner break from working on an oil derrick, now adorned themselves with rhinestone-studded suits, hand-tooled boots and jaunty cowboy hats.
After receiving some of the best paydays of their professional careers, the band agreed to take a short hiatus to recharge, but a projected three months off became two years. Beard freely admits in the 2019 documentary That Little Ol' Band From Texas that during this period he was spending every penny he earned on drugs, including heroin, amphetamines and cocaine. He says he absolutely loved heroin, and considered it "a vacation for the mind," while also realizing it was destroying his personal relationships and health. Now that the band wasn't working, he called their manager Bill Ham to tell him he was going into rehab, and got sober. Hill cut his hair and took a job at Houston Airport, enjoying the anonymity and new friendships. Gibbons traveled in Europe, and tuned into the Clash, Sex Pistols and Devo. Ham, angry that their label London Records released a "greatest hits" album without permission, extricated the band (taking their LP catalog rights with them) and signed a lucrative new deal with the super-hot Warner Bros. Records.
Watch the official music video for "Legs" from Eliminator
After regrouping, ZZ Top's first two albums for the new label, 1979's Degüello and El Loco in 1981, did well; their experimentation with synthesizers, vocal effects and additional instruments (saxophone, keyboards) were well-integrated, and the influence of punk rock on Gibbons' playing produced some playful effects. By the time they convened in 1982 at Ardent Studios in Memphis to record their eighth studio album, Eliminator, they had a focused musical direction, some new gear, newly-iconic facial hair, and renewed enthusiasm for transforming their "little ol' band from Texas" into a redesigned powerhouse whose success would eclipse everything they'd done before.
ZZ Top, formed out of the ashes of Gibbons' Houston band Moving Sidewalks in 1969, broke new ground as a psychedelic-blues-country hybrid, infused with John Lee Hooker, T-Bone Walker, Jimi Hendrix, Marty Robbins, Tejano music and the spirit of offbeat Texas legends like Doug Sahm, Sam "The Sham" Samudio and Roky Erickson. In live performance, Hill and Gibbons shared lead vocals, choreographed cheesy dance steps, and produced a mighty blast from a simple trio format, with Gibbons' slide guitar often featured and Beard's drums thundering in a John Bonham mode. They never took themselves too seriously, often enjoying a Wile E. Coyote-ish sense of absurd invention, and their lyrics were ironic, lusty and full of pop-culture references.  From the start of their touring life, and the release of their debut ZZ Top's First Album (1971), the shrewd Ham secured them artistic control, ownership of their master recordings and the kind of independence that mirrored the history of Texas, which at one time had been a sovereign republic before somewhat reluctantly joining the United States.
Related: 11 great Southern Rock albums
Like Grand Funk Railroad, another maverick group beloved of the American heartland and disdained by critical elites, ZZ Top worked tirelessly, playing the small markets that bigger acts neglected, getting more radio airplay than was ever reflected in the mainstream sales charts. Finally, their 1973 album Tres Hombres cracked the top 10 in the Billboard album chart. The growing fanbase that registered the impact of their mid-'70s singles "La Grange" and "Tush" (which peaked at #41 and #20 respectively on the Billboard Hot 100) also filled the auditoriums and stadiums they could now book. Ham, a sophisticated strategist and promoter in the Colonel Tom Parker mold, limited ZZ Top's interviews and TV appearances, and maintained a sense of mystery about the band. Their live shows became tribal gatherings, but of working-class kids rather than college-educated hippies. Ham, relishing ZZ Top's perceived underdog status, paid for music trade advertisements that pointed out to music biz bigwigs that ZZ Top, at least in the Midwest and South, were selling more tickets than the Rolling Stones.
Watch ZZ Top performing live in 1983
ZZ Top had recorded at Ardent before, but the studio was especially suited to pushing the boundaries as the group settled in with a new batch of tunes. Veteran engineer Terry Manning was used to Gibbons' constant pranks, and refrained from telling him his long beard looked ridiculous, remaining laser-focused on capturing the new sound the band wanted. The whole album has a deep "sound of the room" going for it, with stacked overdubs being a standard tactic. Sequencers, drum machines and synthesizers weave in and out, but the album never sounds totally mechanical—you always feel the beating heart beneath the use of machines.
Nonetheless, some published accounts of the recording sessions claim that Hill and Beard's contributions were minor, and that Gibbons constructed the album, with Ham as official producer, from guitar parts and technology. The songwriting credits have also been disputed; according to books by their stage manager David Blayney, and Rolling Stone writer Deborah Frost, the group settled a lawsuit from their longtime sound engineer Linden Hudson, who claimed he had effectively co-written and designed the sonics of the album with Gibbons before the Ardent sessions even started. For the most part, the three ZZ Top members have remained silent, admitting Hudson was involved but denying the particulars.
The music is undoubtedly stellar, whoever is responsible. The album, released on March 23, 1983, was a massive hit, becoming one of the first albums to be awarded "diamond" certification for 10 million units sold. It stayed on the Billboard album chart for three years, and became a significant hit around the world.
What became the album opener and first single, "Gimme All Your Lovin'," has a grinding rhythm and stabbing guitar breaks, sounding like Chuck Berry on steroids (or Prince at his most rocking). The pumping bassline lays down a foundation for Gibbons' multiple, snaking solos, which often hover close to feedback. The inventive off-time fills—which sound much more like Beard's work than a drum machine—are reminiscent of the way Mitch Mitchell backed up Hendrix.
Watch the official music video for "Gimme All Your Lovin'"
The next track "Got Me Under Pressure," ups the tempo, and features one of Gibbons' most urgent, bluesy vocals. Again, his guitar breaks are a highlight, especially the faded outro, where he exhibits a sequence of Jeff Beck-like runs.
"Sharp Dressed Man" is like a twin to "Gimme All Your Lovin," with the same 120 bpm rhythm, spectacular slide guitar work and cheeky lyrics. An edited version that removed 25 percent of the track was released as a single, and replaced the full album version on later pressings, a strange decision that wasn't reversed until the deluxe two-CD reissue of Eliminator in 2008.
The lengthiest track at over six minutes, "I Need You Tonight" starts with half a dozen overdubbed guitar parts before Gibbons launches a heartfelt R&B plea for love with "It's three o'clock in the morning/And the rain begin to fall/But I know what I'm needin'/But I don't have it all." ZZ Top named themselves for the Texan blues singer Z.Z. Hill, and this track shows his legacy is still very much alive in their minds. Gibbons fills half the track, majestically, with echoing overlaid guitars. This very strong LP side one is unfortunately concluded with a clunker, "I Got the Six," sung by Hill and little more than a standard, harsh boogie.
"Legs," the biggest hit of ZZ Top's career, getting to #8 on Billboard's singles chart, begins side two. Here the electronics are up front, with a stuttering synthesizer line, Gibbons' vocal swathed in echo and filters, and lyrics that millions of randy males immediately took to: "She's got legs, she knows how to use them/She's got hair down to her fanny/She's kinda jet set, try to undo her panties." ZZ Top had a substantial female following, despite the testosterone-laden wordsmithing, which might indicate women were in on the joke, or at least were willing to overlook the lyrics as "only rock and roll." Upon release "Legs" was one of the most infectious tracks of the '80s, and Warner Bros. followed up the single with a 7:49 dance remix that packed dancefloors nationwide.
"Thug" features a couple of bass breaks that are probably machine-made, but still sound like something Hill would come up with. "TV Dinners" is marvelous fluff, with purposely dumb lyrics: "TV dinners, they're going to my head/TV dinners, my skin is turning red/Twenty-year-old turkey in a thirty-year-old tin." The drums are obviously synthetic, but Gibbons' guitar work and the funky keyboard sound are amusing.
Unfortunately, the album runs out of steam at the end. "Dirty Dog" is undeveloped filler, and the concluding "Bad Girl" is a shrill performance, strongly resembling an early '70s Deep Purple reject, sung by Hill. "If I Could Only Flag Her Down" has more girl-crazy lyrics and some neat guitar work, but at this point its repetition of the "Gimme All Your Lovin'" template is less impressive.

No consideration of the album would be complete without mentioning the three videos, directed by Tim Newman, commissioned to accompany the album's hit singles. The exposure they got on MTV, the network launched in 1981 that was finally surging in popularity after a rocky start, was a crucial part of the album's success. The band had admired Newman's video for his cousin Randy's song "I Love L.A." and brought him on board to spruce up their visual image. Tim, working with the splendor of Gibbons' 1933 Ford three-window coupe ("the ideal hot-rod" dubbed "Eliminator"), came up with the dramatic scenario of turning the band into "fairy godmothers" who would ride in like the calvary, helping average guys find hot girlfriends or getting them out of jams.
The look and demeanor of ZZ Top were remodeled further, emphasizing their cartoonish aspect, and their synchronized motions now included what they called "The Presentation," a kind of wave that invited the actors and audience to enjoy the fun. Beard characterized the whole approach as "three pretty girls to match three ugly guys." The videos for "Legs," "Sharp Dressed Man" and "Gimme All Your Lovin'" turned out to be groundbreaking, and at the first MTV Video Music Awards in 1984, ZZ Top took away two of the major-category "Moon Man" trophies.
Watch the official music video for "Sharp Dressed Man"
The group continued to sell millions of albums in the ensuing years, and scored another big pop hit with "Sleeping Bag." After their 2004 election to the Rock and Roll Hall of Fame (Keith Richards gave the induction speech), they spent no time resting on their laurels. ZZ Top released their most recent studio album, La Futura, in 2012, and the career retrospective compilation Goin' 50 in 2019.
Following the passing of Hill in 2021, Beard and Gibbons still dress nattily and still tour. Tickets are available here and here.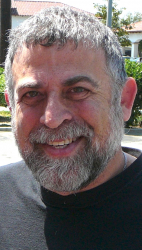 Latest posts by Mark Leviton
(see all)