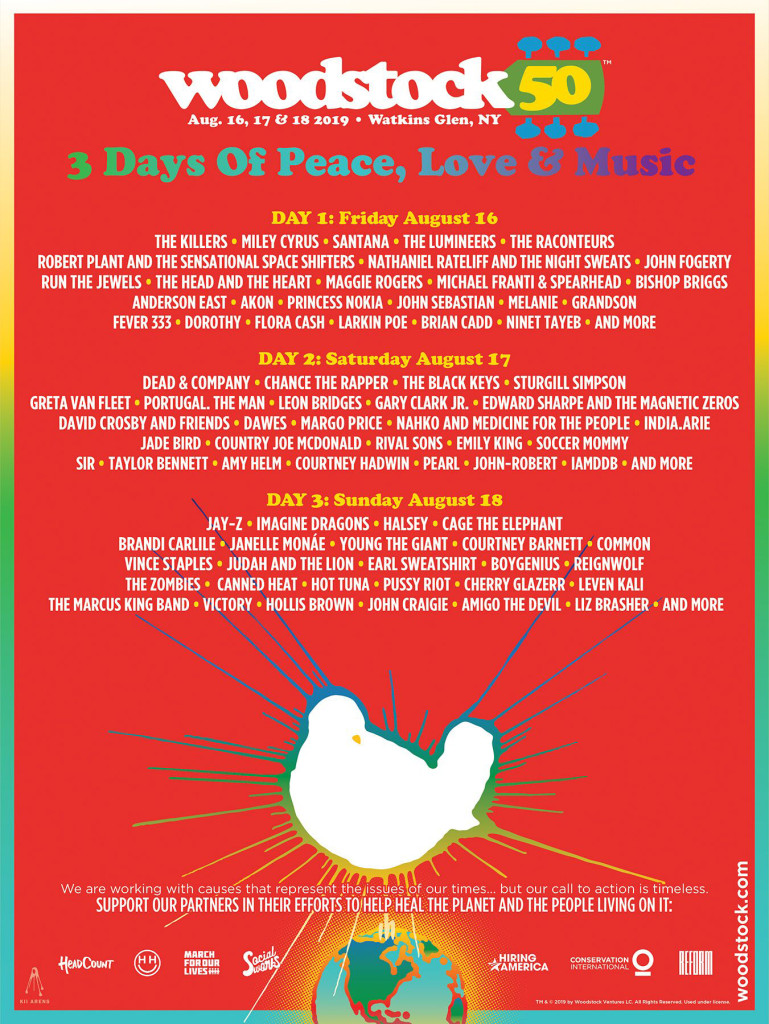 If there will be a Woodstock 50, it won't be held at Watkins Glen, N.Y. The site owners announced on June 10 they had terminated the site license. However, reports began to emerge on June 14 that a missed payment for $150,000 by the organizers led the venue to invoke a breach-of-contract decision.
The festival, while still officially scheduled for August 16-18, is unlikely to find a new location in two months. But promoter Michael Lang faced a nearly identical obstacle 50 years ago, ultimately getting permission from Max Yasgur to hold the 1969 festival on his farm.
If that wasn't enough, the festival's producer has also pulled out. CID Entertainment told Billboard – also on June 10 – it "is no longer involved… in any capacity."
A June 10 statement from the Watkins Glen site owners said, "Watkins Glen International terminated the site license for Woodstock pursuant to provisions of the contract. As such, WGI will not be hosting the Woodstock 50 Festival."
Furthermore, the fight for the financing of Woodstock 50 continues. The two sides in the ongoing legal proceeding–the organizers and its one-time financial partner–are apparently headed for arbitration. The two sides appeared in New York State Supreme Court on Wednesday, May 29, to argue which side is entitled to $18 million that was in a festival account.
The Poughkeepsie (N.Y.) Journal reports that the judge declined to order the original financial backers, Dentsu Aegis, to return the funds to the Woodstock 50 organizers.
The clock is ticking; there is no location and tickets have therefore not been made available.
On May 15, Judge Barry Ostrager of the Supreme Court of New York ruled that Dentsu Aegis had no right to cancel the festival, as it attempted to do on April 29. Woodstock 50 LLC had filed a request with the court on May 9 for a temporary restraining order to stop Dentsu from what the organizers describe as "sabotaging the festival."
But it wasn't a complete victory for promoter Michael Lang's team. Judge Ostrager ruled Woodstock 50 "has not met the high burden entitling it to a mandatory injunction" for $17.8 million it had asked be returned by Dentsu Aegis to the festival's funds.
However, the Woodstock 50 team appealed that decision and the sides argued their case in court on May 29. Judge Andrew Borrok signed a stipulation on May 23 forbidding Dentsu or its Amplifi Live division from contacting any vendors connected to the festival.
The organizers of Woodstock 50 announced on May 17 an agreement with Oppenheimer & Co. as a financial advisor to complete the financing for the festival, following a legal victory earlier that week.
The May 17 announcement noted, "Event preparations will continue as planned as Oppenheimer joins the list of strong institutions producing the festival."
At that time, the organizers announced the ticket on-sale date would be announced "shortly." The festival remains scheduled for August 16-18.
John Tonelli, head of Debt Capital Markets & Syndication at Oppenheimer & Co. Inc., said, "We believe in Woodstock as an important American cultural icon and look forward to its regeneration in the green fields of Watkins Glen this August with all of the artists on the remarkable lineup."
"We've lined up artists who won't just entertain, but will remind the world that music has the power to bring people together, to heal, to move us to action and to tell the stories of a generation," said Lang, co-founder and producer of the 1969 and 2019 Woodstock festivals. "We look forward to putting on an incredible festival. Words cannot express how appreciative Woodstock 50, the artists, the fans and the community are to Oppenheimer for joining with us to make W50 a reality."
Lang said, "We have always relied on the truth and have never lost faith that the Festival would take place. I would like to thank all of the talent and their representatives for their patience and support. Woodstock 50 will be an amazing and inspiring festival experience."
Gregory Pack, identified as the principal of Woodstock 50, said, "Woodstock 50 is on! Now that the court has confirmed that the Festival was never validly cancelled and is going forward, Woodstock 50 can focus on finalizing the necessary funding arrangements. We can't wait to bring this important event to the public this summer. We have one of the greatest lineups of talent of any music festival, and we are grateful to all of the talent for their loyalty and support."
Would-be attendees are still waiting for ticket information.
In a day that rock and rolled back and forth, the Woodstock 50 festival, anticipated for years (decades?), was said to be formally cancelled on April 29. The financial backers called the decision "difficult… but the most prudent decision for all parties involved."
However, the organizers said the festival was still on. That same night, they issued a statement that adamantly insisted "we will of course be continuing.
"We are committed to ensuring that the 50th Anniversary of Woodstock is marked with a festival deserving of its iconic name and place in American history and culture," read the statement. "Although our financial partner is withdrawing, we will of course be continuing with the planning of the festival and intend to bring on new partners. We would like to acknowledge the State of New York and Schuyler County for all of their hard work and support. The bottom line is, there is going to be a Woodstock 50th Anniversary Festival, as there must be, and it's going to be a blast."
If one were to do an Internet search on the key words "Woodstock 50," one would find lots of conflicting info.
Related: Lang issued another statement on April 30 to would-be ticket buyers
Earlier on April 29, the Poughkeepsie Journal quoted a statement from the organizers in response to its now-former financial backers, "Woodstock 50 vehemently denies the festival's cancellation and legal remedy will (be) sought."
The festival, formally announced months ago, and scheduled to take place on August 16-17-18 in Watkins Glen, N.Y., had been beset with several logistical problems.
On April 29, Dentsu Aegis Network, the Japanese advertising giant which was heavily involved in presenting the festival, told Billboard in a statement: "It's a dream for agencies to work with iconic brands and to be associated with meaningful movements. We have a strong history of producing experiences that bring people together around common interests and causes which is why we chose to be a part of the Woodstock 50th Anniversary Festival. But despite our tremendous investment of time, effort and commitment, we don't believe the production of the festival can be executed as an event worthy of the Woodstock Brand name while also ensuring the health and safety of the artists, partners and attendees.
"As a result and after careful consideration, Dentsu Aegis Network's Amplifi Live, a partner of Woodstock 50, has decided to cancel the festival. As difficult as it is, we believe this is the most prudent decision for all parties involved."
The Poughkeepsie Journal's April 29 story also quoted a statement from the New York State Dept. of Health. "From the beginning planning stages, the New York State Department of Health has worked closely and collaboratively with all parties involved in Woodstock 50 to assure a safe and successful event. Today's cancellation announcement is not a result of the permit application pending with the department. The department was surprised to learn of today's decision to cancel the event."
On April 30, Lang sent an email to would-be ticket buyers that read, in part, "Woodstock never belonged to Dentsu, so they don't have a right to cancel it.
"Woodstock belongs to the people and it always will.
"We don't give up and Woodstock 50 will take place and will be a blast!"
The ticket on-sale date had been quietly delayed on April 19. The explanation was the lack of a permit from Schuyler County's Dept. of Health.
When the planned ticket on-sale date of April 22 (Earth Day) was delayed, the festival's official website didn't explain why.
The Poughkeepsie Journal quoted local officials in a April 22 story that the number of attendees for the three-day fest would likely be set at 75,000. Organizers have been said to be hoping for 100,000.
Related: Woodstock organizers plan annual festival
The newspaper quoted an email reply from county administrator Tim O'Hearn: "We have maintained the position that the attendance number would be set at whatever number the production team and promoter could demonstrate they could support with adequate infrastructure and security. That number has been determined to be 75,000…"
Prices were never formally revealed. Festival organizer Michael Lang previously said that single-day tickets would not be sold, only packages covering the entire three-day event. Lang himself had told Bloomberg News in late April that he expected them to cost festivalgoers $450.
Music industry trade publication Hits reported on April 19 that Danny Wimmer Presents, a music festival production and promotion company, had told talent agents for the festival, "There is currently a hold on the Woodstock 50 on-sale date. We are waiting on an official press statement from Woodstock 50 regarding updated announce, ticket pricing, and overall festival information. We will get this information to you as soon as we receive it."
Rumors of the festival's demise were so rampant that its organizer, Michael Lang, told Billboard, also on April 19, "Woodstock is a phenomenon that for fifty years has drawn attention to its principles and also the rumors that can be attached to that attention." As for its being cancelled, Lang called them "just more rumors."
Earlier, hoping to quell the fears of nervous local residents, the organizers of the upcoming festival held what was described as a public information session in Watkins Glen on March 27.
Although the racetrack site has been home to many large-scale events, including a 1973 festival that featured the Grateful Dead, the Allman Brothers Band and The Band, which drew an estimated 600,000 attendees, locals have expressed fears that the crowd for the planned August event could cause havoc. They cited reports from a 1999 Woodstock anniversary event, where violent acts occurred and fires were set on the grounds. Residents were also apprehensive about  the possibility of large numbers of unticketed fans showing up hoping to gain entry, which also happened at previous Woodstock concerts.
Lang, one of the promoters of the original 1969 Woodstock, assured residents that his team is better equipped to handle any problems than they were 20 years ago. He said that he had spoken with presenters of other large festivals, who gave him tips on how to control crowds and avoid potentially negative issues.
"We were the only show in town, people came from all over the world. It's a very different world now, there are festivals in every city in America," Lang told the assembled residents at the March 27 meeting.
Lang pointed out that he was careful to book artists who are unlikely to incite fans to riot. He said that 80 acts in all have been booked for Woodstock 50, that the crowd size will be limited to 100,000 people and that campsite sales will be capped at 27,000, with a limit of four people per campsite. Lang added that campers' vehicles will be searched for prohibited materials, and that security personnel will have a strong presence at the event. He said that some 1,100 security personnel have been hired, and that local law enforcement officers will also be on-site to keep things under control. Healthcare personnel will also be available on-site.
The organizers of the Woodstock Music & Art Fair revealed on March 19 the lineup of the official 50th anniversary festival, including several performers – John Fogerty and Santana, among them – who appeared at the original 1969 festival. Woodstock 50 will be held August 16, 17 and 18, 2019, in Watkins Glen, N.Y.
Headlining the event are The Killers, Miley Cyrus, Robert Plant & the Sensational Space Shifters and Santana on Aug. 16, Dead and Company and Chance the Rapper on Aug. 17, and Jay-Z and Imagine Dragons on Aug, 18.
Many of the names, Dead and Company, Santana and Cyrus, among them, had been leaked in early March.
Just prior to the March 19 announcement, Cyrus tweeted, "Woodstock here I come!"
Among the other Woodstock 50 performers who famously played the '69 festival are David Crosby, Melanie, Country Joe McDonald, John Sebastian and Canned Heat. Hot Tuna's Jorma Kaukonen and Jack Casady played in '69 as part of Jefferson Airplane. Amy Helm's father, Levon Helm, performed at the original with The Band.
Other acts booked to perform at the 50th anniversary concert include The Lumineers, Nathaniel Rateliff & the Night Sweats, Courtney Barnett, Sturgill Simpson, Brandi Carlie, Greta Van Fleet, the Zombies and Gary Clark Jr.

Watch Santana perform at the 1969 festival
The Black Keys announced in April that they had bowed out of the festival due to "a scheduling conflict."

Classic rock fans may recall that the location in upstate New York is famous for previous rock festivals including a 1973 event that featured the Grateful Dead, the Allman Brothers Band and The Band.

In an interview with The New York Times, published Jan. 9, Michael Lang, who co-created Woodstock along with Artie Kornfeld, said, "Coachella's got its thing, as does Bonnaroo and Lollapalooza. But I think they're all missing an opportunity to make a difference in the world. They're all perfect places for social engagement and for fostering ideas, and I think that's lost."
On Dec. 27, Bethel Woods Center for the Arts, site of Woodstock '69 in Bethel, N.Y., announced plans to produce a three-day event on the identical weekend. It's since been scaled down significantly, with separate concerts on each day.
"While the original site in Bethel remains close to our hearts," Lang said in a prepared statement in late December, "it no longer has the capacity to hold a real Woodstock festival.
"I'm delighted that Bethel Woods is doing events in the coming year to celebrate what we brought to life in 1969 and I encourage people to visit the museum and concert venue."
Related: John Fogerty, Santana, Arlo Guthrie and others will perform at the Bethel Woods event
As Best Classic Bands announced in July 2018, PBS and American Experience will air a new two-hour documentary, Woodstock, which bowed at the Tribeca Film Festival earlier this year. It'll have its TV premiere on PBS in conjunction with the 50th anniversary. The film is directed by Barak Goodman, and written by Goodman and Don Kleszy.
Related: Woodstock '69 performers – Where are they now?
Best Classic Bands has been celebrating the greatest rock festival of all-time with a series of feature articles including Joni Mitchell's "Woodstock" – Behind the Song, interviews with all members of Jefferson Airplane, and Melanie's recollections, among them.
Best Classic Bands will continue to update this story.
Related: Listings for 100s of classic rock tours

The BCB team brings you the latest Breaking News, Contests, On This Day rock history stories, Classic Videos, retro-Charts and more.

Latest posts by Best Classic Bands Staff (see all)