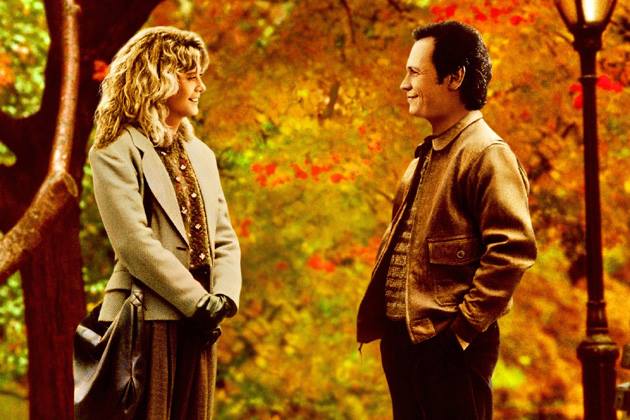 Can a man and a woman just be friends? The question existed long before the feature film When Harry Met Sally… was released in 1989, but director Rob Reiner and screenwriter Nora Ephron turned the debate into one of the most sparkling and popular romantic comedies in movie history.
For its 30th anniversary, When Harry Met Sally… is returning to U.S. movie theaters for two days only – December 1 and 3 – as part of the TCM Big Screen Classics Series, with the winning chemistry and irrepressible charm of its two lead performers, Meg Ryan and Billy Crystal.
If it's been a while since you saw the film, we'll catch you up. Harry and Sally meet on a long drive from New York to Chicago – during which Harry claims that women and men can never be "just friends." Over the years, Harry and Sally keep running into each other, claiming to have nothing more than a platonic friendship – until a climactic New Year's Eve party that threatens (or promises) to upend their assumptions about each other and about love.
Carrie Fisher and Bruno Kirby co-star in the film, as "Sally" and "Harry"'s best friends.
TCM Primetime host Ben Mankiewicz provides commentary and insight prior to these 30th anniversary screenings. Theater and ticket info are available here.
The film is well known for its memorable "faking it" scene, filmed at New York's famed Katz's Deli.
When Harry Met Sally… , with a budget of a reported $16 million, was originally released in early summer 1989 in a few theaters to build word-of-mouth. It did so well, even up against such blockbusters as Batman and Indiana Jones and the Last Crusade, that when the film was given a wide release on July 21, it was embraced by filmgoers. It ultimately earned $92.8 million, good enough to be ranked #11 for the year.
When the film was made, Crystal was 41 years old. The popular actor-comedian would soon score with the two City Slickers movies. Ryan was just 27 but already a film veteran when the movie was released. Four years later, she starred in the 1993 film, Sleepless in Seattle, opposite Tom Hanks.
When When Harry Met Sally… was released, Reiner was 42 and had already directed such classics as This is Spinal Tap, Stand By Me and The Princess Bride.
Related: Spinal Tap is in our feature about movies that rock

Latest posts by Best Classic Bands Staff
(see all)