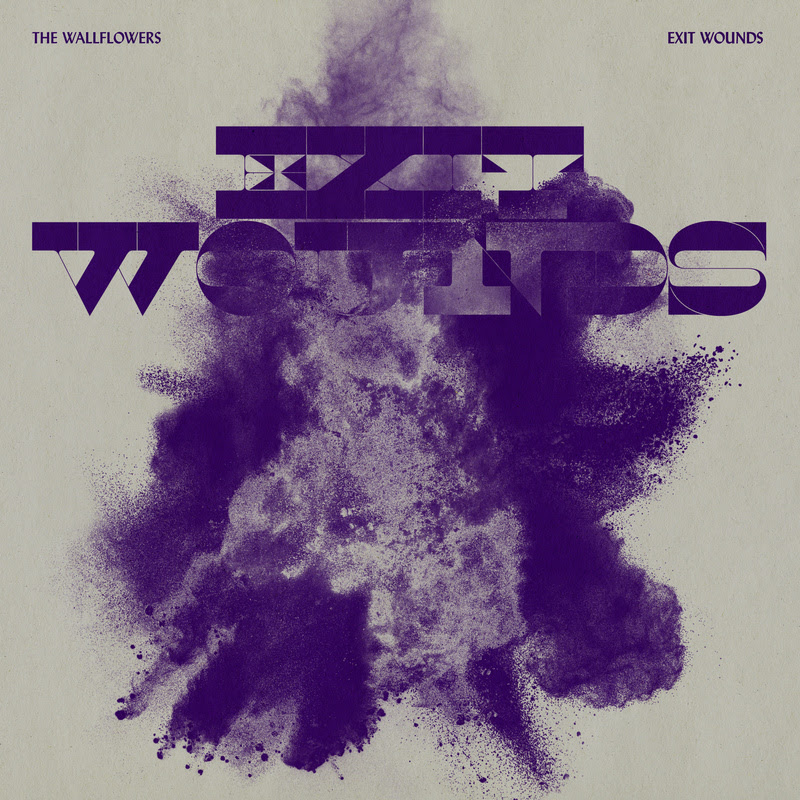 The Wallflowers have released Exit Wounds, via New West Records. The 10-song set, which arrived on July 9, 2021 is their first album in nearly a decade and was produced by Butch Walker (Taylor Swift, Weezer). Exit Wounds was mixed by Chris Dugan (Green Day) and features singer-songwriter Shelby Lynne on four songs. According to a press release: While it's been nearly a decade since we've heard from the group with whom Jakob Dylan first made his mark, he always knew they'd return. "The Wallflowers is much of my life's work," he says simply. The much-anticipated record finds the band's signature sound — lean, potent and eminently entrancing — intact. Listen to many of the tracks below.
The Wallflowers announced their return with a live performance of the first single "Roots and Wings" on ABC's Jimmy Kimmel Live!
Watch their performance on Jimmy Kimmel Live!
Continues the announcement, "For the past 30 years, The Wallflowers have stood as one of rock's most dynamic and purposeful bands — a unit dedicated to and continually honing a sound that meshes timeless songwriting and storytelling with a hard-hitting and decidedly modern musical attack. That signature style has been present through the decades, baked into the grooves of smash hits like 1996's Bringing Down the Horse as well as more recent and exploratory fare like 2012's Glad All Over."
Listen to "I'll Let You Down (But Will Not Give You Up"
Exit Wounds finds Dylan, the youngest child of Bob and Sara Dylan, surrounded with a fresh cast of musicians, which he is quick to point out is not all that unusual. "The Wallflowers have always been a vehicle for me to make great rock 'n' roll records," he says. "And sometimes the lineup that makes the record transfers over into touring, and sometimes it doesn't. But my intention is always to make the Wallflowers record I want to make, using the musicians I have beside me."
Listen to "Maybe Your Heart's Not in It No More," released on May 19
Dylan assembled a backing band of musical associates — "people that I've wanted to play with or that I have played with through the years…This was not the type of thing where it's a rotating cast and you call a different drummer for each song, or you pull out the Rolodex and ring the local session guys," Dylan says. "The record was made as a band – the five Wallflowers. It's just exciting to have guys playing in a room together. That's how you get the one plus one equals three factor. That's the magic."
Listen to the uptempo "Who's That Man Walking 'Round My Garden"
Dylan has repeatedly stepped outside of his band, first with a pair of more acoustic and rootsy solo albums, Seeing Things (2008) and Women + Country (2010). Most recently, he executive produced and starred in the acclaimed 2018 documentary film Echo in the Canyon. The film found Dylan collaborating with a host of artists classic and contemporary, from Neil Young and Brian Wilson to Beck and Fiona Apple. Echo In the Canyon was also the last on-screen appearance by Tom Petty and was the ninth biggest theatrical documentary released that year.
Related: Our review of Echo in the Canyon
The Wallflowers' single "One Headlight" was prominently featured in the Judd Apatow film The King of Staten Island last year and continues to be a massive hit, topping Billboard's "Greatest of All Time Adult Alternative Songs" chart.
The Wallflowers have also announced their re-scheduled tour as opening act for Matchbox Twenty from July through October. Tickets are available here and here.
Listen to the studio version of "Roots and Wings"
The Wallflowers' Exit Wounds will be available across digital platforms, compact disc, and standard black vinyl. A limited opaque purple vinyl edition will be available at independent retailers worldwide while a limited to 500 purple splatter edition will be available via New West Records. A Super Deluxe Vinyl edition limited to 750 copies will be autographed by Jakob Dylan. It will also feature a linen-wrapped jacket, purple foil-stamped and numbered and housed and protected in a clear outer sleeve.

Latest posts by Best Classic Bands Staff
(see all)