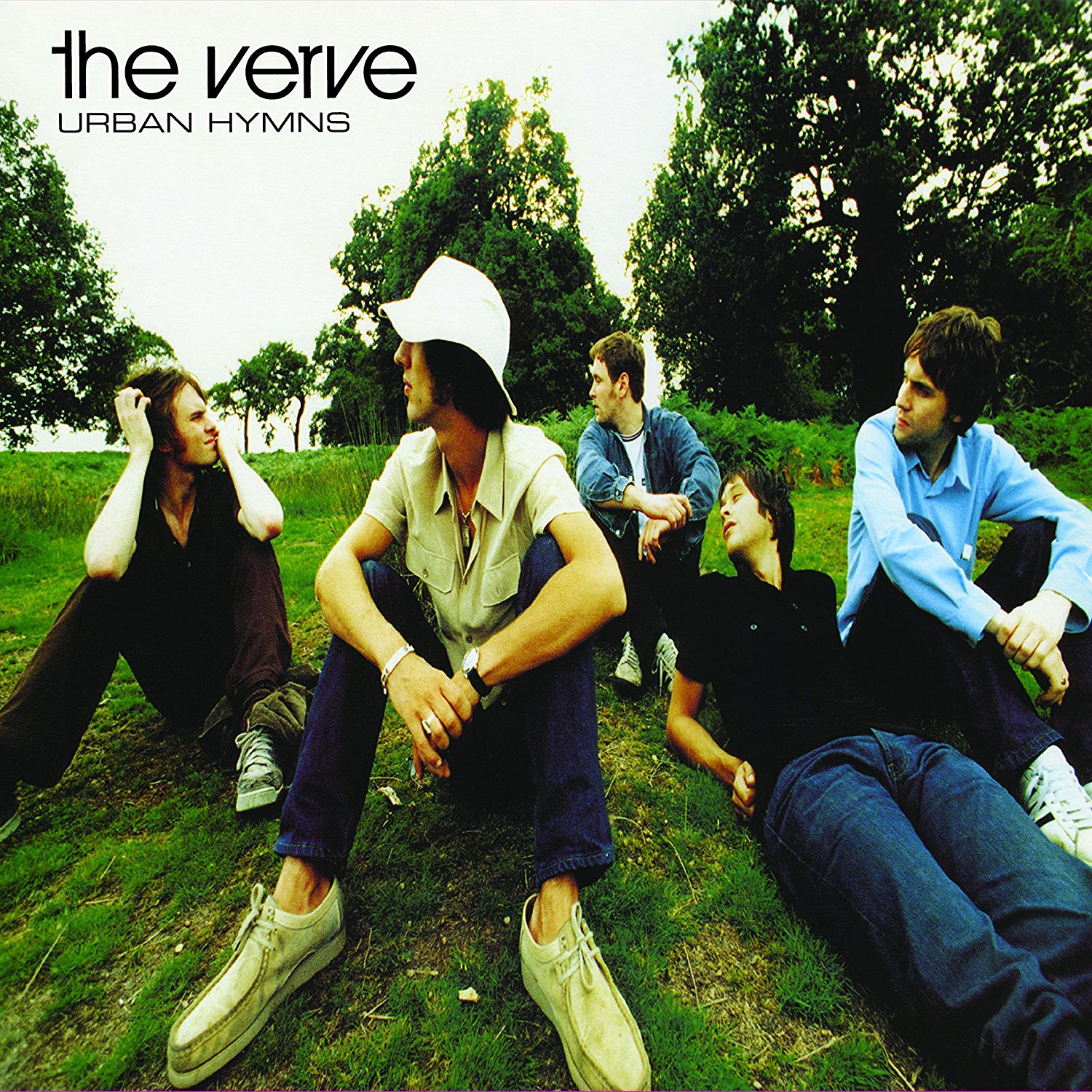 One of the 20 biggest-selling albums ever in the U.K. is undergoing a significant makeover and there's a good chance you're not familiar with it. You should be. The Verve's 1997 album Urban Hymns, released on September 29, 1997, touched a raw nerve throughout the world and allowed the British band to transition from highly respected indie favorites to, however briefly, a genuine rock colossus.
The band members are Richard Ashcroft (vocals), Nick McCabe (guitars), Simon Jones (bass) Pete Salisbury (drums) and Simon Tong (rhythm guitar, keyboards).
For its 20th anniversary, UMe is releasing a remastered version of Urban Hymns on September 1, on CD, Deluxe 2-CD, Super Deluxe 5-CD + DVD box and Super Deluxe 3-LP box with a bounty of bonus material: all of the accompanying b-sides, plus three hours of previously unreleased live material, including the Verve's complete triumphant May 1998 hometown show before 35,000 fans at Haigh Hall, Wigan, on both CD and DVD.
Urban Hymns reached #1 in the U.K. and #23 in the U.S. and has sold a reported 10+ million copies worldwide. The album yielded three big singles: "Bitter Sweet Symphony" (#2 U.K.; #12 U.S.), "The Drugs Don't Work" (#1 U.K.) and "Lucky Man" (#7 U.K.).
Watch Be one of the (literally) 324 million to watch "Bitter Sweet Symphony"
The DVD includes the documentary The Video 96-98, previously only available on VHS.
The deluxe packages also feature new interviews with all of the band and previously unseen photos by Chris Floyd, who first travelled with the Verve on their 1994 U.S. tour. Floyd was granted unprecedented access during the making of Urban Hymns and beyond – up to and including the Haigh Hall show, capturing the band in the studio, on stage, backstage, during down time, on their video sets and tour bus.
The Super-Deluxe 5-CD set includes a lavish 56-page hard cover book plus a poster and five postcards. The vinyl edition comes in a gatefold sleeve and includes a 20-page booklet plus a download card with all audio from the Super-Deluxe CD box.
Deluxe 2-CD Track Listing
CD1 (Remastered Album):
1. Bitter Sweet Symphony
2. Sonnet
3. The Rolling People
4. The Drugs Don't Work
5. Catching the Butterfly
6. Neon Wilderness
7. Space and Time
8. Weeping Willow
9. Lucky Man
10. One Day
11. This Time
12. Velvet Morning
13. Come On
CD2
(Live 1997/98 – All previously unreleased. Tracks 1-11 from Haigh Hall concert – May 24, 1998):
1. This Is Music
2. Space and Time
3. Catching the Butterfly
4. Sonnet
5. The Rolling People
6. Weeping Willow
7. The Drugs Don't Work
8. Lucky Man
9. Life's an Ocean
10. Velvet Morning
11. Bitter Sweet Symphony
12. A New Decade – Washington DC 9.30 Club (3/11/97)
13. History – Brixton Academy (16/1/98)
14. Slide Away – Manchester Academy (11/8/97)
Related: Previous albums from the Verve have been reissued

Latest posts by Best Classic Bands Staff
(see all)