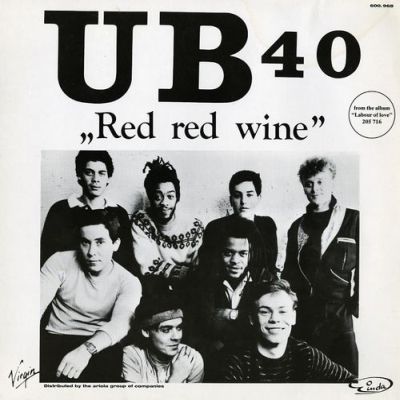 You can't keep a good song down. But sometimes it takes a while to be fully appreciated. In this case, five years. Or 20, depending on where you begin counting.
"Red Red Wine" was written by Neil Diamond and first appeared on his second album, Just For You, on the Bang Records label in 1967. The following year Diamond parted ways with the company, yet they still released the song as a single, albeit with a backing choir added to Diamond's original. It stalled out at #62 on the Billboard Hot 100.
The next year, 1969, Jamaican rock steady singer Tony Tribe released his take of "Red Red Wine" as a single. It reached #42 on the U.K. singles charts.
It was recorded yet again in 1982 by the Birmingham, England-based group UB40 for their '83 album of cover songs, Labour of Love. When they cut the song they did not know that the "Diamond" listed as the writer on the Tribe single they were covering was in fact Neil Diamond.
Labour of Love became the band's second most successful album in the U.S., reaching #15 on the Top 200 and going platinum for sales of a million or more. Their chart and sales numbers in the U.K. and much of the rest of the world are far greater, and they've sold some 70 million albums worldwide with their pop-reggae sound.
"Red Red Wine" only went to #34 as a single in the U.S. in 1983, though it was #1 in the U.K., Ireland, The Netherlands and New Zealand and Top 5 in a number of other territories.
It was re-released in 1988 in the U.S. – this time including the toast in the middle by UB40's Astro that goes "Red Red Wine, you make me feel so fine/You keep me rocking all of the time…" that was edited out of the '83 single. It finally reached #1 in the U.S. on this day that year.
Diamond has said it's one of his favorite covers of a song he has written.
Five years later, the group returned to the top of the chart worldwide with their cover of "(I Can't Help) Falling in Love With You."
Related: UB40's lead singer, Duncan Campbell, retired in 2021 after suffering a stroke

Latest posts by Best Classic Bands Staff
(see all)