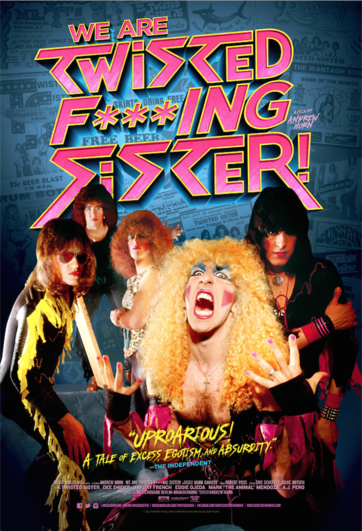 Garish makeup, fringe suits, savage live shows, multi-platinum record sales and music videos plastered all over MTV. This is how we remember Twisted Sister circa 1983, but the band was far from an overnight success. Andrew Horn's forthcoming documentary We Are Twisted F*cking Sister, offers fans the inside scoop on the beginnings of the so-called "band that killed disco" – a glimpse of the 10 years the native Long Islander group spent toiling away in the New York City suburbs before they became famous.
The film opens in New York and Los Angeles on February 19th, followed by a special one-night-only event at Chicago's Music Box Theatre on February 22nd.  There will be preview screenings in LA on February 15th at 7:30 pm and 10:45 pm at the CineFamily Theater 611 N Fairfax Avenue and Dee Snider is expected to introducing both shows. (Click here for detailed info.)
After the film's premiere, you'll be able to get your own copies via DVD, Blu-ray, VOD and digital formats on February 23rd, along with two hours of bonus materials and director commentary.
As punk and new wave took over New York City, the members of Twisted Sister battled their way to the top of the bar band scene with glam metal anthems like "We're Not Gonna Take It" and "I Wanna Rock." From New Jersey bowling alleys and Long Island beach bars to suburban mega-clubs, We Are Twisted F*cking Sister puts viewers in the trenches with the band, selling out shows while being ignored by record labels, sharing stories recounted directly by its members, managers and biggest fans.
Twisted Sister will embark on a 40th anniversary farewell tour this year, the aptly titled "Forty and F*ck It," featuring the band's core line-up of vocalist Snider, guitarists Jay Jay French and Eddie Ojeda, and bassist Mark Mendoza. The first few dates will honor former drummer A.J. Pero, who died of a heart attack last March. For more information, check out the band's official website.
Check out the trailer for We Are Twisted F*cking Sister below:
(If you're a new Best Classic Bands reader, we'd be grateful if you would Like our Facebook page and/or bookmark our Home page.)

Latest posts by Best Classic Bands Staff
(see all)