Traffic 'The Low Spark of High Heeled Boys': Rock on the Fusion Frontier
by Sam Sutherland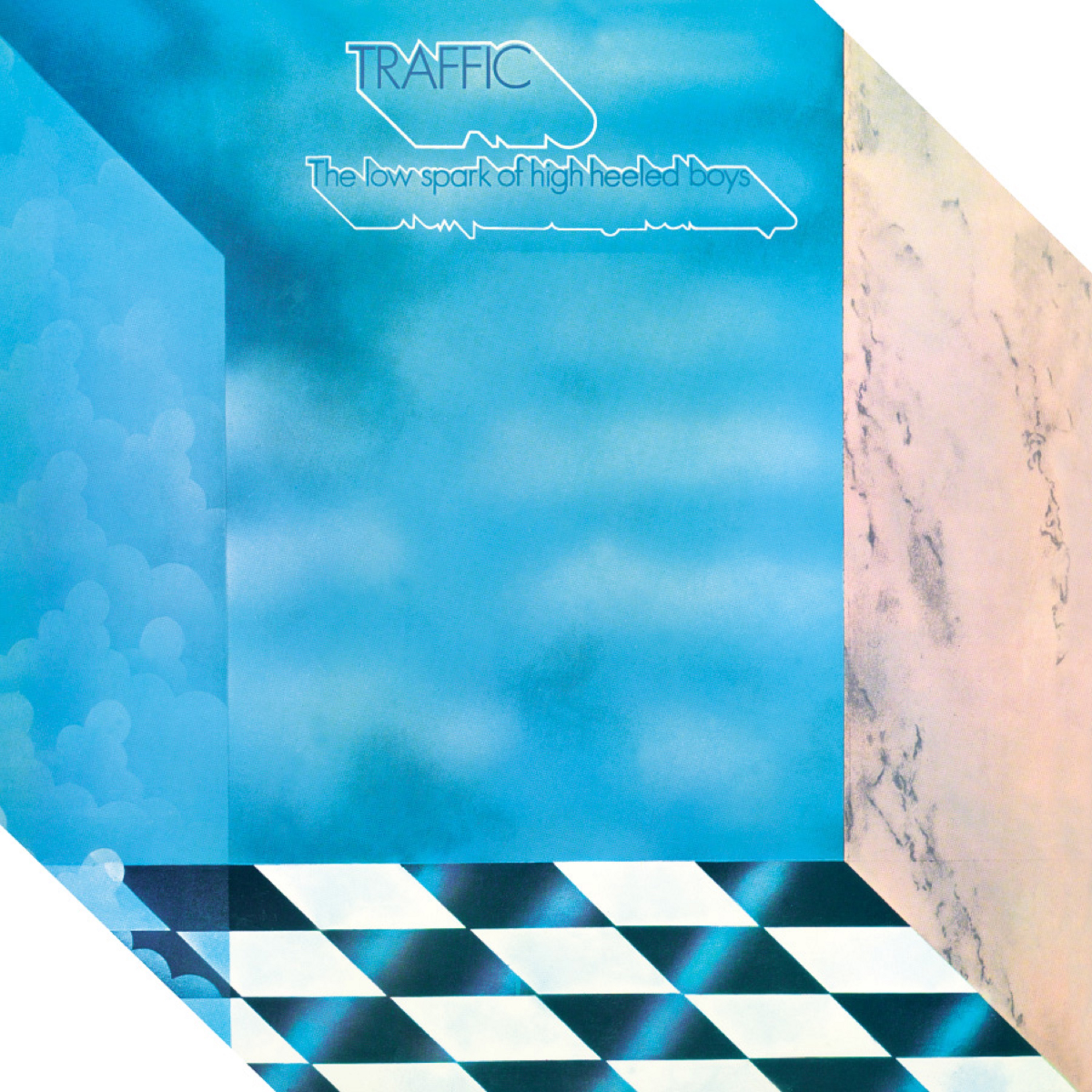 On their fifth full-length studio album, The Low Spark of High Heeled Boys, Traffic cast aside commercial wisdom to build the album around an epic title track that looms as their creative apogee. At just under 12 minutes, the tune draws from the full range of the British band's influences and then steps beyond them with an exploratory intensity that nearly eclipses the set's other originals, yet its power was sufficient to bring them the strongest sales of their career without a competitive single hit.
Between their formation in 1967 and implosion seven years later, Traffic was as mercurial as their music was mesmerizing, thanks to the members' unstable chemistry. What had begun as an on-trend exercise in post-Sgt. Pepper psychedelia turned toward a darker, more idiosyncratic synthesis of jazz, blues, world music and English folk elements as the band's founders—Steve Winwood, Jim Capaldi, Chris Wood and Dave Mason—fluctuated from quartet to trio and back. Mason quit and then rejoined (twice) in revolt over his partners' more esoteric instincts. Winwood, meanwhile, scuttled the band in late '68 to join Blind Faith, the short-lived supergroup he fronted with Eric Clapton.
Listen to the title track, "The Low Spark of High Heeled Boys"
Traffic's subsequent return was less conscious relaunch than casual reunion. At 21, Winwood was already a veteran of three successful bands, a precocious multi-instrumentalist who landed as the de facto star of the Spencer Davis Group in his mid-teens. He began work on a solo debut in February 1970, but after tracking two songs as a virtual one-man band, he longed to interact with other players, enlisting Capaldi (drums, percussion, vocals) and Wood (reeds). The resulting album, John Barleycorn Must Die, pared the group's ensemble sound to a sturdy spine of Winwood's keyboards and guitar, and added a more pronounced British accent in its title song, a traditional English ballad that moved the band toward British folk-rock spearheaded by Pentangle, Fairport Convention and Steeleye Span.
That reconciliation reaped Traffic's highest U.S. album chart performance ever, along with a gold record, as they reinforced the lineup with bassist Ric Grech (Family, Blind Faith), drummer Jim Gordon (Derek and the Dominos) and Ghanaian percussionist Rebop Kwaku Baah. Entering Island's London studios in September 1971, the newly aligned sextet leaned into its more layered rhythm section as it tracked new songs.
Where Traffic's earlier albums teed up with radio-ready singles candidates, The Low Spark of High Heeled Boys opened quietly. "Hidden Treasure" points back to "John Barleycorn" in its modal melody and spacious acoustic arrangement, interweaving Winwood's acoustic guitar with Wood's delicate flute lines. Punctuated with spare percussion, the song is one degree removed from Pentangle's intersection of folk and jazz, with Capaldi's pensive lyrics invoking water imagery and evoking a pastoral atmosphere.
That song's languid close leaves the listener in a silence that lingers beyond the usual between-tracks interval, as the title song doesn't so much begin as lay in ambush. After 13 seconds, a faint pulse begins to surface, distant percussion setting a glacial pace as a five-note piano figure anchors the arrangement in D minor. Hand percussion and tolling piano march slowly forward, as if moving from darkness into a half light. At 1:21, a vibraslap strikes, ominous as a rattlesnake's lunge, jolting us fully awake.
Having taken so slow and deliberate a path to capture the listener, "The Low Spark of High Heeled Boys" has us in its grip as soon as Winwood begins crooning Jim Capaldi's feverish lyrics:
If you see something that looks like a star, and it's shooting up out of the ground
And your head is spinning from a loud guitar
And you just can't escape from the sound
Don't worry too much, it will happen to you
We were children once, playing with toys…
The lyrics' sense of dislocation and distraction, set against the hypnotic languor of the rhythm section's deliberate pace, suggests nothing so much as a drugged torpor that quickens as Winwood's piano and Wood's saxophone shift into double-time figures between the sung lines.
The gauzy euphoria teased in early Traffic songs from the late '60s was by now a distant memory; Winwood and Capaldi would be all too familiar with the harder drugs clouding rock's early '70s demi-monde, while Wood would struggle with drugs and alcohol for much of his adult life. Capaldi's wistful allusion to childhood reveries leads inevitably to a sense of lost innocence and even betrayal as the song swells into the chorus, modulating to D major:
The percentage you're paying is too high a price, while you're living beyond all your means
And the man in the suit has just bought a new car with the profits he's made on your dreams…
And the sound that you're hearing is only the sound of the low spark of high heeled boys
Who those "boys" are remains a mystery beyond the certainty that they're no longer children. (Capaldi reportedly took the phrase from a casual remark by a friend, actor Michael J. Pollard.)
With the band members stretching out on solos, clocking in at 11:41, "Low Spark" can stand favorably beside those fusion standard-bearers. Winwood adds keening synthesizer lines that diverge from more familiar chordal and arpeggiated synth voicings of the era. Instead, he shapes monophonic riffs answering Wood's sax, moving Traffic's ensemble sound closer to the contemporary fusion of Miles Davis' electric bands and Weather Report's next jazz-rock wave.
From that point onward, Traffic lightens the tone with "Light Up or Leave Me Alone," an atypically uptempo rocker featuring a lead vocal from Capaldi, who has sole writer credit. Usually content to add baritone harmonies below Winwood's soulful tenor, Capaldi offers a good-humored takedown of a lover that teases the title's easy implication of something other than tobacco, aided by Winwood's mocking electric guitar figures. That the track would find FM airplay more easily than the album's title song is no surprise.
"Rock & Roll Stew, Parts 1 & 2" splices together the single version of the album track and the extension featured on its B side.
"Rock & Roll Stew" likewise hews to more familiar rock tropes as a mid-tempo ode to life on the road, written by new members Grech and Gordon, with Capaldi's lead vocal and Winwood's electric guitar again grounding the band in foursquare rock in another track more readily added to radio playlists. The album's two remaining songs, "Many a Mile to Freedom" and "Rainmaker," were deep cuts that worked within the atmospheric terrain familiar to fans, yet, on balance, Low Spark would ultimately remain defined by its risk-taking title track. With FM rock radio stations still on the cusp of more freewheeling playlists, "The Low Spark of High Heeled Boys" would earn significant airplay from savvy stations despite its extended length.
Listen to "Rainmaker" and "Many a Mile to Freedom"
Even as the November 1971 release went gold, personnel changes once more roiled Traffic as Grech and Gordon left and Winwood was sidelined with peritonitis. Capaldi recruited Muscle Shoals Sound house band aces Roger Hawkins (drums) and David Hood (bass) to the lineup that tracked their next studio album and a live set captured during the band's 1973 tour before a final studio album, When the Eagle Flies, was recorded by Winwood, Capaldi (back on the drum stool), Wood and bassist Rosko Gee. The original trio's core sound survived, yet none of those later recordings would surpass the high bar set by Low Spark on its defining performance.
Bonus video: Watch Traffic perform "The Low Spark of High Heeled Boys" live at the Santa Monica Civic Auditorium, 1972
On its anniversary in 2022, the album was released in Dolby Atmos. Listen to it here.
Related: Our Album Rewind of Traffic's debut album, Mr. Fantasy

Latest posts by Sam Sutherland
(see all)