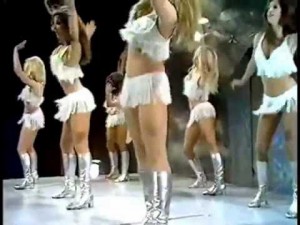 From the late '60s into the mid '70s, when artists weren't available to appear on the popular British music TV series Top of the Pops, the program often used the Go-Go dance team known as Pan's People to, well, dance to a hit song.
Such was the case when Creedence Clearwater Revival's "Green River" was climbing the British charts during the group's remarkable run of success with three big albums in 1969.
How could one band be so prolific in such a short period of time? Of the three albums' 26 songs, no less than 22 were written by John Fogerty. These LPs also include such CCR classics as "Lodi" and "Born on the Bayou," plus their legendary covers of "The Midnight Special," "Cotton Fields" and "The Night Time is the Right Time."
Check out this Classic Video of the Pan's People troupe shaking it during a TOTP rehearsal from January 1, 1970. Did it help the song climb the U.K. charts? Well, while "Green River" reached #2 in the U.S. on Sept. 20, 1969, it peaked at only #19 in the U.K.
So, which version would you have tuned into… CCR or Pan's People?
Pan's People were formed in 1966 and made their TOTP debut two years later. Their final performance on the venerable music series was in 1976.
Related: 50 years later, Fogerty performed the song with his kids during the Covid-19 pandemic

Latest posts by Best Classic Bands Staff
(see all)