Creedence Clearwater Revival's Prolific 1969
by Greg Brodsky
Few recording acts have achieved the kind of artistic success in a single, pivotal year like Creedence Clearwater Revival did in 1969. And the classic rock band's remarkable accomplishment was celebrated with the superb release by their longtime label, Fantasy Records, of a stunning, 2016 box set via Concord: Creedence Clearwater Revival 1969 Archive Box.
As the label's press announcement noted: "The year 1969 brings to mind a wealth of images, emotions and sounds: Apollo 11's Neil Armstrong and Buzz Aldrin, taking mankind's first steps on the lunar surface; the Woodstock Festival reinforcing the power of the baby boomer generation; and, of course, the Vietnam War raging on, endlessly in the background. It was a period of upheaval, of divisiveness and discontent, but it was also a time of hope, unity and progress. For Creedence Clearwater Revival – a young band from Northern California – 1969 would prove to be a year of unmatched creative achievement and global success."
Related: Original CCR members Doug Clifford and Stu Cook look back
The Creedence Clearwater Revival 1969 Archive Box faithfully recreates the band's 1969 output with three studio albums; their CD counterparts with a bevy of bonus tracks; three seven-inch EPs, a 1969 time capsule featuring a 60-page notebook packed with reviews, interviews and more; and a variety of extras. Here's a brief look at what's inside…
To give you a sense of what the band was doing musically, here's a look at CCR's 1969 release schedule:
Jan. 5: their second studio album, Bayou Country, featuring the #2 single "Proud Mary";
Aug. 3: third studio album, Green River, featuring the #2 singles "Bad Moon Rising" and "Green River";
Nov. 2: fourth studio album, Willy and the Poor Boys, featuring the #3 double-sided single "Down on the Corner" b/w "Fortunate Son."
How could one band be so prolific in such a short period of time? Of the three albums' 26 songs, no less than 22 were written by John Fogerty. These LPs also include such CCR classics as "Lodi" and "Born on the Bayou," plus their legendary covers of "The Midnight Special," "Cotton Fields" and "The Night Time is the Right Time." Paul Epstein, owner of Denver's longtime indie record store, Twist & Shout, calls Bayou Country and Green River "two of the best rock albums ever made." Who can disagree?
This deluxe 1969 Archive Box's full list of contents includes: the Japanese pressing of Bayou Country, on red vinyl; the Italian pressing of Green River; and the US pressing of Willy and the Poor Boys, all pressed on 18-gram vinyl and each with the 2008 companion CD that features bonus live versions and alternate takes; and 7-inch singles of the Japanese "Bad Moon Rising" EP, pressed on red vinyl, as well as Brazilian and Mexican vinyl EPs ("Proud Mary" and "Fortunate Son," respectively).
Replicated artifacts include a Willy and the Poor Boys textbook cover, a Green River album poster, a Creedence bumper sticker, a Woodstock ticket and a previously unreleased 8×10 concert photo. A 60-page composition book rounds out the package, featuring an array of press clippings that are so well reproduced you would swear they were the dog-eared originals, plus additional correspondence.
"Great efforts have been made to keep all reproductions as close to original as possible, including misspellings, flipped A- and B-sides, and colored vinyl pressings," says Sig Sigworth, SVP of Catalog at Concord and the box set's producer. "I didn't want new liner notes and remasters, but rather a time capsule of the actual artifacts that we found in the vault."
And of course, the band managed to find time to perform at the Woodstock festival.
Related: The "Green River" single… Admit it, you don't know the lyrics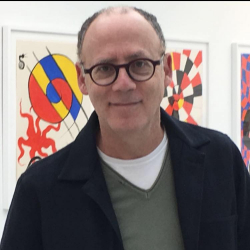 Latest posts by Greg Brodsky
(see all)