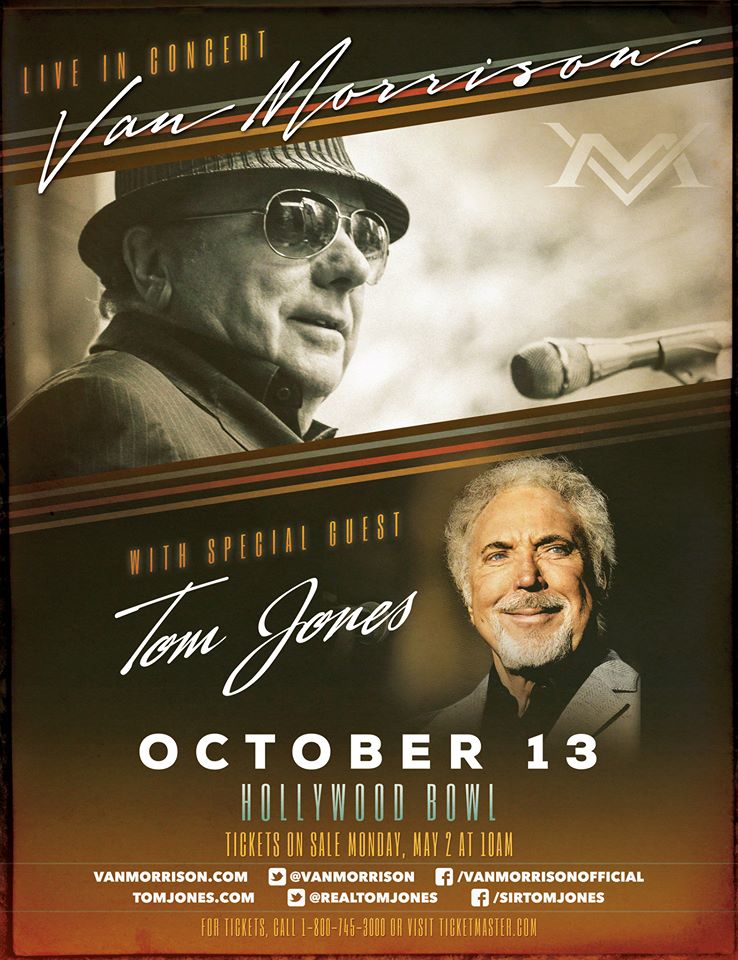 As we noted this spring, despite his earlier comments that he would cease touring if his wife predeceased him, Tom Jones has decided to continue performing. Jones' wife of 59 years, Lady Melinda Rose Woodward, lost her battle with cancer when she died at 75 on April 10, 2016. The singer, now 76, had abruptly canceled his entire Asian tour a week earlier when it was revealed that there was a serious illness of a member of his immediate family.
On his Facebook page on April 27, Jones wrote: "A heartfelt Thank You to all who sent notes of their sympathy and support to me and my family over the last couple of weeks. So many beautiful and meaningful things were said, and reading these genuine and lovely messages has lifted us all. See you soon."
The very next day, a new concert performance was announced- with frequent touring companion Van Morrison – at Los Angeles' Hollywood Bowl on October 13.
And dates previously booked for the U.K. and Europe are still on. Those began on June 8 with a three-night stint at London's Hampton Court Palace Festival and continue through early August (see below).
So we ask: why is the Hollywood Bowl date, with Morrison – a fellow recipient of British knighthood – currently Jones' sole U.S. date? (Tickets are available here.)
Don't miss a story! Sign up for Best Classic Bands' Newsletter; form is on every page.
Jones has had 19 Top 40 singles in the U.S. and sold some 100 million records worldwide. A fan of American blues and soul singers and Elvis Presley (the two later became friends), he was seen in a club in his native Wales in 1964 by manager Gordon Mills, who helped shepherd Jones to international fame. He broke through in the U.S. as part of the British Invasion when "It's Not Unusual" went Top 10. He also scored hits with the themes for the films What's New Pussycat? (written by Burt Bacharach and Hal David) and Thunderball. He went on to win the 1966 Grammy Award for Best New Artist.
His other hits include "She's A Lady," "Green, Green Grass of Home" and "Delilah." Jones hosted a variety show, This Is Tom Jones, that aired on ABC-TV from 1969 to 1971. Though his presence on the U.S. pop charts faded by the 1980s, he continued to place songs in the American country charts throughout that decade. In recent decades he has continued to win new and younger listeners with his recordings of cover songs like Prince's "Kiss" and Talking Heads' "Burning Down the House" as well as his own co-written tune "Sex Bomb" and albums produced by Wyclef Jean and Jack White. He was Knighted by Queen Elizabeth II in 2006.
Related: Jones' Decca LPs box set coming
Tom Jones 2016 Tour:
July 14 – Locarno, Switzerland – Moon & Stars Festival
July 16 – Yorkshire, UK – Castle Howard
July 17 – Hove, UK – 1st Central County Ground
July 20 – St Tropez, FR – Les Soirees de la Citadelle
July 21 – Regenberg, Germany – Thurn und Taxis Schlossfestspiele
July 23 – Vaasa, Finland – Vaasa Festival
July 26 – Isle of Man, UK – Noble's Park
July 28 – Cheshire, UK – Tatton Park
July 30 – Monte Carlo, Monaco – Monte Carlo Sporting Summer Festival
Aug 01 – Marbella, Spain – Starlite
Aug 03 – Uppsala, Sweden – Botanical Garden
Aug 05 – Trondheim, Norway – Olavsfestdagene
Aug 07 – Bedford Park, UK
Aug 09 – Glasgow, Scotland – Kelvingrove Park
Sept 2 – Curacao – Curacao North Sea Jazz Festival
Oct 13 – Los Angeles, CA – Hollywood Bowl
Will Jones add to that Hollywood Bowl date? Will Jones and Morrison tour together? It's getting complicated because Morrison is scheduling tour dates for the fall in support of his upcoming studio album. Best Classic Bands will continue to follow this story.
Related: Morrison announces new album, tour dates

Latest posts by Best Classic Bands Staff
(see all)