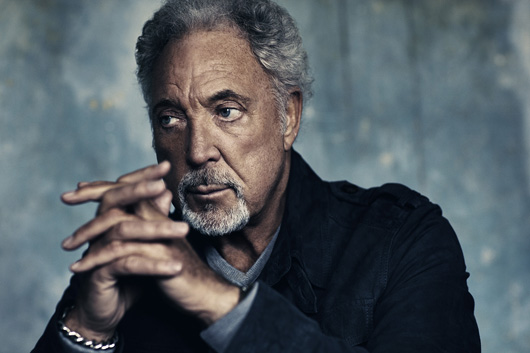 In 1965, along came the album Along Came Tom Jones and the Top 10 hit song "It's Not Unusual" to announce the man who became known – for obvious reasons – as "The Voice." It launched an international pop music music career that's still going strong today, and that eventually earned him a knighthood as Sir Tom Jones.
That album was the first of 15 that he would release on Decca in the next 10 years – an incredible run that saw Jones dominate the charts on both sides of the Atlantic with more hits like "What's New, Pussycat?" "Green Green Grass of Home," "Delilah" and "She's A Lady." His live shows, meanwhile, were the stuff of legend, with Jones rivaling his idol Elvis Presley for stage presence – and the effect he had on female fans. As The Voice staged residencies at Las Vegas he became a life-long friend of Presley's and entered the 70s with a string of hits to his name, comfortably claiming to get the closest a UK star had come to reaching The King's stature.
Scheduled for release on September 2nd, The Complete Decca Studio Albums Collection will present the fullest picture yet of this remarkable stage in Jones' career, collecting as it does all 15 albums he released on Decca between 1965 and 1975. Among its 180 tracks are such lesser-known gems as Jones' take on Otis Redding's "(Sitting On) The Dock Of The Bay" and a cover of Creedence Clearwater Revival's "Proud Mary." It's a fittingly in-depth career exploration of one of music's greatest vocal talents.
Don't miss a post! Sign up for Best Classic Bands' Newsletter; form is on every page.
Jones' singing earned him such admiration in those years that other artists from across the range of classic rock and pop music were eager to collaborate with him (as seen in clips in our Classic Videos section): Janis Joplin, Stevie Wonder and Crosby, Stills, Nash & Young, and later Pink Floyd's David Gilmour on Prince's "Purple Rain."
Tom Jones – The Complete Decca Studio Albums Collection:
Along Came Tom Jones (1965)
A-tom-ic Jones (1966)
From The Heart (1966)
Green, Green Grass Of Home (1966)
13 Smash Hits (1967)
Delilah (1968)
Help Yourself (1968)
This Is Tom Jones (1969)
Tom (1970)
I Who Have Nothing (1970)
Tom Jones Sings She's A Lady (1971)
Close Up (1972)
The Body And Soul Of Tom Jones (1973)
Somethin' 'Bout You Baby I Like (1974)
Memories Don't Leave Like People Do (1975)

Latest posts by Best Classic Bands Staff
(see all)