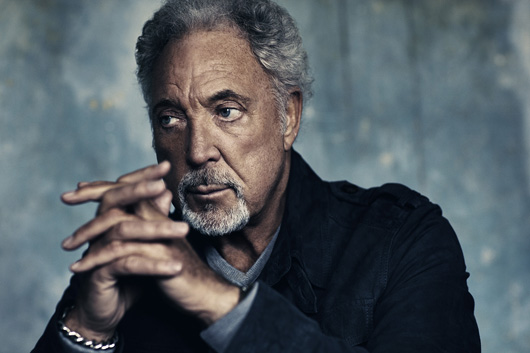 This review originally appeared in September 2016. Jones turned 82 on June 7, 2022.
If you closed your eyes and only listened, you would never know that Tom Jones is a 76-year-old man. His voice today is virtually indistinguishable from what it was when he first arrived more than 50 years ago with "It's Not Unusual" and "What's New Pussycat?" It retains all of the brio and power, all of the swagger—it's still a thing of wonder.
Eyes open, you see the changes. His hair is white now and the days of open shirts revealing a shag rug's worth of chest hair are behind him. Jones dressed for his show at Montclair, NJ's Wellmont Theater on September 28, 2016, modestly, in a suit jacket over black shirt and trousers. He moves less onstage than he did in his heyday and when he does, those moves are less pronounced, somewhat stiffer.
He's a different Tom Jones but he's still the same Tom Jones.
To see Tom Jones in concert in 2016 is a very different experience than it was in his Vegas days. He falls into the category of senior citizen artists who have aged gracefully (think Tony Bennett), content to let the music drive the show. There were nearly as many boomer-aged men in the audience at the Wellmont as there were women, inconceivable in the '70s. They come to hear a blues- and soul-informed rocker and balladeer, whose set draws material from John Lee Hooker and Leonard Cohen, from Sister Rosetta Tharpe and Blind Willie Johnson. He does the hits but he also does the grit; his set list is that of an artist who understands the concept of age-appropriate. But he can soar like it's nothing.
Related: When Tom Jones met Janis Joplin
Perhaps we don't notice much of a difference in the overall sound because Jones never seemed particularly young—even at the beginning there was a robust, brawny quality to his delivery and demeanor. His was always a voice that had been there and back, as if he'd already seen it all at 25. Compared to most of his British Invasion contemporaries, Jones seemed to be from a different generation.
But, make no mistake, even at 76, Tom Jones is still one sexy dude. He can't help that; it's a gift he was given. When he finally gets around to singing "Pussycat" toward the end of his set, it's devoid of the salacious entendre that used to accompany his performance of the song; it's benign, mostly (rearranged with an accordion-led oompah rhythm), but it's still got a little bit of a sly wink going on. He doesn't treat it as camp, he still enjoys singing it—along with "It's Not Unusual," "Delilah" and the country ballad "Green, Green Grass of Home"—but it's a nod to his own past, nostalgia. His heart, he makes clear throughout the night, is in the rootsy, bluesy material that occupies the bulk of his show.
Watch Tom Jones perform "Delilah"
Hooker's "Burning Hell" leads off the set, Jones accompanied only by bass and drums. It borders on nasty and unpolished in a Black Keys sort of way. "Run On," which closed Jones' 2010 Praise & Blame, was one of several songs he included from his albums of this decade—2013's Spirit in the Room and last year's Long Lost Suitcase are the others—and like many of them, it was played tough but with spirit, finding a sweet spot where gospel and boogie intersect. The full band—a nine-piece, including three brass players and two keyboardists—was in place by "Hit or Miss," from Spirit in the Room. The first of two Randy Newman covers—"Mama Told Me Not to Come"—and another traditional gospel, "Didn't It Rain," followed but it wasn't until "Sex Bomb" that Jones truly had the room in his hands. The pervasive power of that voice—he really is Superlungs—was turned up to the max.
He slid into "Sex Bomb" almost tentatively, singing it acappella initially, save for an eerie organ trilling behind him. But then the song, from Jones' 1999 Reload album, which jump-started his flagging career, became something else altogether, a swing tune that allowed Jones to display fully his mastery of vocal gymnastics. Repeating the refrain, "Baby, you can turn me on," he was not suggesting but simply stating what was already patently obvious.
Jones has always adored American soul music, but now he digs deeper into its blues roots. Lonnie Johnson's ballad "Tomorrow Night," which Jones dedicated to his recently deceased wife, was made that much more pointed by omnipresent slide guitar, and it segued neatly into "Raise a Ruckus," the Opry-ready gospel/bluegrass album closer on Long Lost Suitcase (he's always loved country too). An early R&B tune by Little Willie John, "Take My Love," illustrated Jones' allegiance to '50s rock and roll, but the audience's greatest reaction thus far was saved for "Delilah," sung darker now with Diddley-beat drums and accordion, a touch of mariachi sneaking into the break.
From there on, Jones could get away with anything. The traditional "St. James Infirmary Blues," Blind Willie Johnson's "Soul of a Man," "Elvis Presley Blues," a song by Gillian Welch paying tribute to Jones' good friend, and Cohen's "Tower of Song" ranged in mood from fiery to foreboding. The latter was rendered sans drums with ambient accompaniment and the Johnson number sung in front of a screened backdrop of shooting flames, red lightning bolts and teeming rain pummeling a lone cross. Ominous stuff—The Ed Sullivan Show this wasn't.
Jones bunched the other hits together toward the end of his set. "It's Not Unusual" was played closest to its original arrangement and gave the singer an excuse to shimmy around a bit. But he seemed perfectly happy to move on from there, back to his new comfort zone, closing out the set with another Randy Newman tune, "You Can Leave Your Hat On," the funky "If I Only Knew" and Billy Boy Arnold's "I Wish You Would," attacked in a raucous manner similar to the Yardbirds' 1965 take. For the encores, "Thunderball," Jones' hit James Bond film theme, Prince's "Kiss"—one of many songs Jones has made his own—and "Strange Things," one he learned from the great Sister Rosetta Tharpe, and he was gone.
Watch Jones perform "Thunderball"
Watch Jones perform "Kiss" earlier in 2016
When you watch Tom Jones command a stage for more than 90 minutes, you find yourself wondering quite often how he still does it. You never, ever, find yourself wondering when he's going to stop. Catch him at least once, just in case he ever does.
Related: Our interview with Jones on his legendary career
Tickets are available here and here.

Latest posts by Jeff Tamarkin
(see all)