Tina Turner on Phil Spector, 'Tommy,' Touring With the Stones and Being a Sex Goddess
by Harvey Kubernik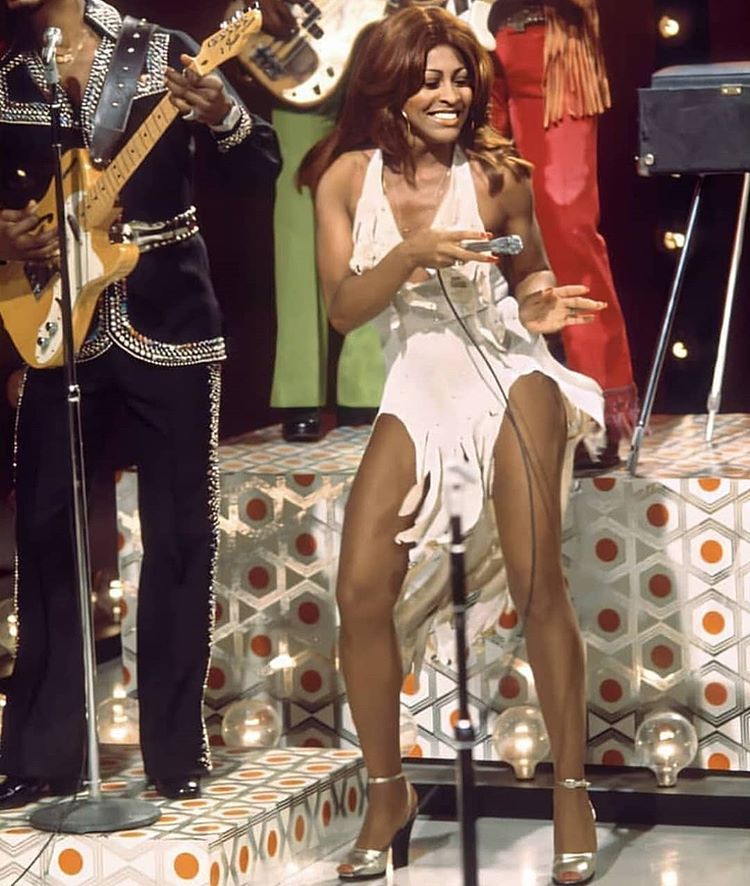 Although Tina Turner had been retired from performing for more than a decade, she was back in the news in recent years. Already a Rock and Roll Hall of Fame inductee as part of the Ike and Tina Turner duo, she was inducted for a second time in October 2021, this time as a solo artist.
Prior to that announcement, Tina—The Tina Turner Musical, based on the singer's tumultuous life story, opened on London's West end in April 2018, then came to Broadway in November 2019, just before Turner's 80th birthday.
In October 2018, My Love Story, a second memoir from Turner, was published by Atria, a division of Simon & Schuster, revealing more confessions and explosive details.
Also in 2018, Tina was honored with the Grammy Lifetime Achievement Award.
Watch Ike and Tina Turner perform "Proud Mary" on The Ed Sullivan Show
"It's really important to me to have the chance to share my full story," said Turner when the musical opened. "This musical is not about my stardom. It is about the journey I took to get there. Each night I want audiences to take away from the theater that you can turn poison into medicine."
Related: Turner died on May 24, 2023
Over the years, this author interviewed Tina Turner as well as other artists and music industry professionals who have interacted with her. One subject that came up when I spoke with Turner was Ike and Tina's days of touring as an opening act for the Rolling Stones and other British bands. "We toured for years with all the English groups and I always liked what they were singing about," enthused Tina at the time. She said she enjoyed covering their songs. "We've always done other people's songs successfully and it's not uncomfortable doing songs by the Who, Led Zeppelin and the Stones," she said. "There's a lot of good music to be covered."
She also talked about her role as the Acid Queen in the 1975 film adaptation of the Who's Tommy rock opera. "Tommy was a whole new trip for me, getting into a room and turning into a madwoman," she said. "At first, I didn't want to play the part of a prostitute. But it was a challenge and it called for drama. That's what acting is all about."
In the mid-'70s, when the interview was conducted, Tina was still half of an act with her then-husband Ike, whom she later left due to his abusive behavior; he has since passed away. "The sexual portion of our show isn't planned," she said about her performance style at the time. "It just happens. It works out well visually and it always seems to get the most audience response. Everybody needs an image. There's a million groups out today: smoke bombs, dancing—fortunately, everybody can't be sexy. We've discussed it a thousand times, the mini-skirt and see-through dresses. People's minds do wander…We may do a song like [Otis Redding's] 'I've Been Loving You Too Long,' and work with it. Every time we do it, the song changes. Sometimes I really have a lot of fun with that song because people expect something to happen.
"For years we've gotten reviews that seem to dwell on the sexual aspect of the show," she added. "I've never really thought of our show as being aggressive. As wild as I am, I know that I maintain my femininity. People have always told me that."
In the interview, Turner also discussed working with producer Phil Spector in the mid-'60s. "We were working around L.A. in 1966 and ran into Phil Spector," said Tina. "He wanted to record me and we cut 'River Deep, Mountain High.'"
In a 1988 interview with Jack Nitzsche at his Hollywood Hills residence, the since-deceased arranger discussed "River Deep, Mountain High" and the landmark recording session at Gold Star studio. Brian Wilson, Dennis Hopper, Mick Jagger and L.A. scenemaker Rodney Bingenheimer were all in attendance, he recalled. The song, written by Jeff Barry, Ellie Greenwich and Spector, was released initially in the U.S. on Spector's Philles Records.
"Phil was the co-writer on the song," Nitzsche said. "He embellished the song and was the producer. Phil would always have the writers come over and write in the room with him. Without Phil Spector in the room that song wouldn't have been that way. He helped. He knew what he wanted it to be. We did the rhythm track in two different three-hour sessions. Even during the cutting of the track, when she was putting on a scratch vocal, Tina was singing along as we cut it. Oh, man, she was great, doing a rough vocal as the musicians really kicked the rhythm section in the ass."
"Phil was screaming like a madman during the sessions," said Bingenheimer. "Tina was loud and sexy. She was wearing a wig and go-go boots, very '60s. Tina's vocals kept on soaring. Dennis Hopper later took photos and did artwork for the River Deep, Mountain High album that came out much later. He was very quiet."
John Lennon called "River Deep, Mountain High" a "masterpiece," while George Harrison provided a front-jacket blurb on the Spector-produced River Deep, Mountain High album: "It is a perfect record from start to finish. You couldn't improve on it," he wrote. The single reached #3 in the U.K. but bombed at home, peaking at #88 in Billboard. Its failure in the States caused Spector to nearly withdraw from the music business.
Nonetheless, Ike and Tina carried on. They toured England in 1966 and then opened for the Rolling Stones on the band's 1969 U.S. tour. "Mick came to the States in 1969 and asked us to tour America with him later in the year," confirmed Tina in our 1975 chat. "We played the L.A. Forum, Madison Square Garden, and all the big arenas. Vogue said, 'They came to see Mick Jagger but they saw Ike and Tina and they've been comin' ever since.' From there on we crossed over to the pop market and it's been that way ever since."
Until, that is, Tina Turner struck out on her own and ultimately became one of the most successful performers of the '80s and '90s.
Watch Ike and Tina perform "Nutbush City Limits" on the Cher show in 1975
Related: Tina Turner's '80s comeback
Latest posts by Harvey Kubernik
(see all)