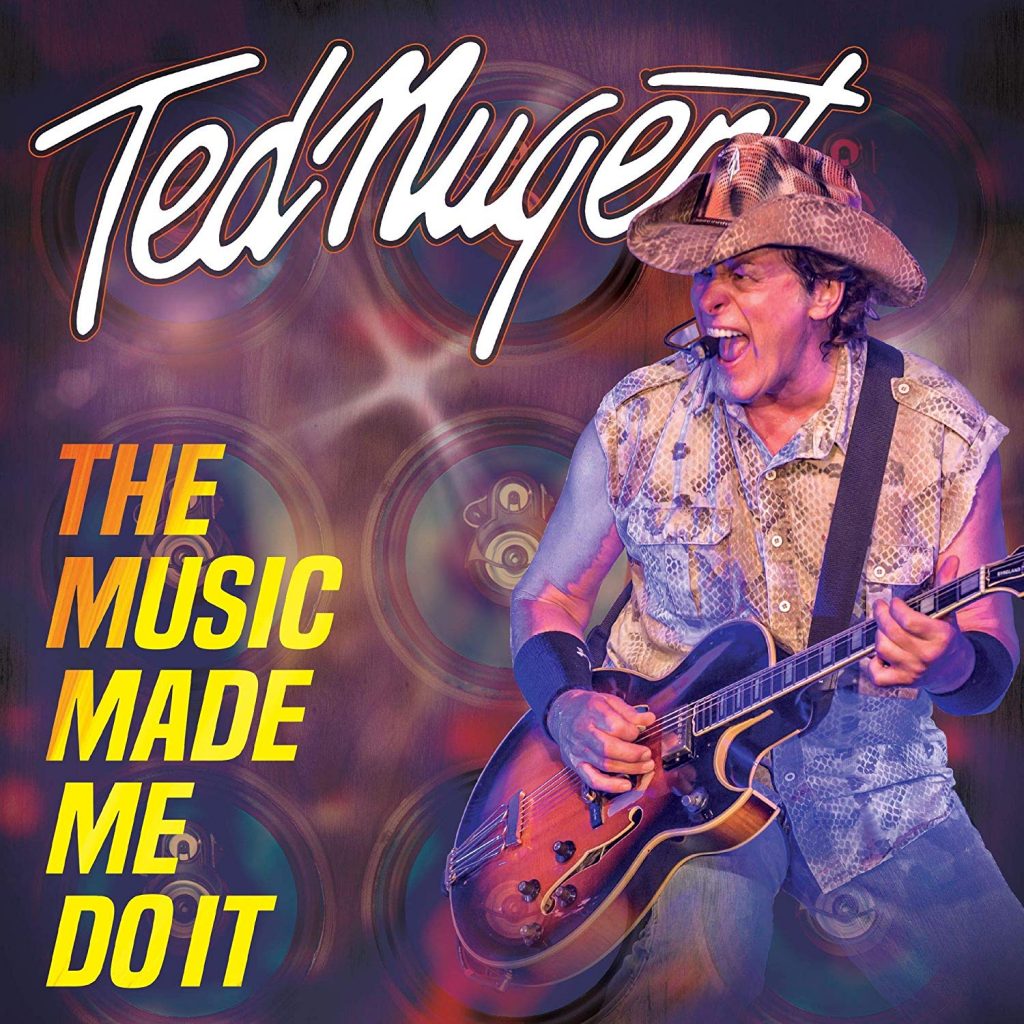 A new full-length Ted Nugent album, The Music Made Me Do It, was released Nov. 9 via Round Hill Records. The effort is Nugent's first studio album in four years and features Greg Smith (Billy Joel, Alice Cooper, Ritchie Blackmore's Rainbow) on bass, Jason Hartless (Joe Lynn Turner, Mitch Ryder) on drums, and Nugent on lead guitar and vocals. Accompanying the CD is a bonus DVD, Live at Freedom Hill, a full-length concert captured at Freedom Hill Amphitheatre in Sterling Heights, Mich.
Nugent turned 70 on December 13.
Before the album came out, the rocker released the live music video for the title track, "The Music Made Me Do It." The video was shot at the Canyon Club in Agoura Hills, Calif., during Nugent's summer tour and, according to a press release, "showcases the raw energy of his legendary live performances, offering a taste of the new studio material he recorded over the last year for the upcoming album, The Music Made Me Do It."
Related: When an audience member took aim at the Nuge
The press release offers this capsule bio: "Ted Nugent has carved a permanent place in rock 'n' roll history as the ultimate guitar-shredding showman, selling more than 40 million albums and performing in excess of 6,700 (and counting!) high-octane live shows. As a budding musician, Nugent was strongly influenced by Chuck Berry and Bo Diddley, and knew he wanted to pursue that type of sound and attitude. Early bands, the Royal Highboys and the Lourds, paved the way for the Amboy Dukes and their psychedelic 'Journey to the Center of the Mind' kicked young Ted's career into hyperdrive. The axe maniac soon broke out as a solo artist, where the guitarist's prodigious talent, ear-shattering volume and over-the-top stage antics quickly earned him the moniker of Motor City Madman.
"Cranking out hits like 'Cat Scratch Fever,' 'Just What the Doctor Ordered,' 'Free For All' and 'Stranglehold,' Ted Nugent garnered international acclaim and truly hit his stride, becoming one of the top-grossing tour acts in America. His no-holds-barred career now spans six decades of multi-platinum hits. The ultimate Road Warrior, touring and recording continue at Ted's breakneck pace. Nugent and his inimitable sound have been featured on VH1's Behind the Music, A&E's Biography and more. He was recently named Detroit's Greatest Guitar Player of All Time by readers of MLive.
Watch the official video for the title track of The Music Made Me Do it

Latest posts by Best Classic Bands Staff
(see all)